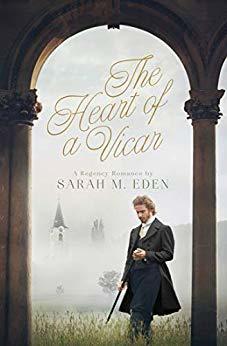 The Heart of a Vicar
(The Jonquil Brothers #6) by Sarah M. Eden.
Audience/Genre: Historical Fiction, Clean Read.
Publication: June 1st 2019 by Covenant Communications.
Young love is all too fleeting, as Harold Jonquil painfully discovered years ago when Sarah Sarvol, the niece of a neighboring landowner, captured his heart. After an idyllic few weeks in the throes of blossoming love, reality intervened. They could have no future. Following their disastrous parting, Harold attempted to push aside thoughts of love and regret, but Sarah has never left his heart. Now, years later, he has achieved his lifelong aspiration of becoming the local vicar. However, the role proves more difficult than he imagined. He feels hollow and uninspired—until the most important person in his past returns, challenging him as no one ever has.

When Sarah's ailing uncle summons her back to the family estate in England, there is only one person from her past she is reluctant to see again: Harold Jonquil, the only man who has ever claimed her heart. But when she comes face-to-face with her former beau, she hardly recognizes the aloof and dull man before her. She is determined to help Harold rediscover the passion he once felt toward his chosen profession. Soon, despite their exasperation with each other, they cannot deny the stirring of feelings long buried—but is it too late for second chances?
Reviewed by Kelly.
I could have told you this was a 5 star book before I even opened it! I have loved all the Jonquil Brothers and I have a connection to Harry, Harold, Holy Harold and Monkey (his life seemed to have given him several nicknames and while he is tormented by some of those, he is also uplifted by another). I am the same type of person as he is. I loved watching him work through figuring out what kind of person he was and how he fit in and what made him whole. I loved his quirkiness. He would have fit well into this day and age. He loved to climb things and climb walls and rocks. He even fashioned his shoes for climbing. In the end, this love of climbing, helps him become a better person and he finds it helps him better connect to people and save the day! Harold is an introvert but he loves to help others. He just needed the right person to help him become the man he is.
Sarah is the woman that has always had a place in Harold's heart. And her heart has always had a piece of Harold in it as well but things ended abruptly years ago and she left for America. But Sarah is back. She finds Harold to be boorish and aloof and knows that the Harold she knew is still there. She issues a challenge that she can be a better vicar than he is. Although it was a sting to his ego, He listened to what she had to say. I keep going back to Harold and I am trying to tell you about Sarah. I just can't help it, I love Harold and all the Jonquils. I really love it when they all get together and have their motto moment and they all rally together for a cause!!! I cried when they do that! Every time with every book!.
Any way, Sarah is really good for him. But meanwhile her uncle is the villain of the story. He is despicable and men could be cruel to women in those days! But the Jonquils know how to save the day!
I love this story and I want more and I am going to go and reread this book right now!.
If you like finding love, villains, loving families, climbing just about anything, historical fiction, finding yourself, becoming a better person, this might be for you too!!
a Rafflecopter giveaway
Sarah M. Eden is a USA Today Bestselling author of witty and charming historical romances, including Foreword Review's 2013 "IndieFab Book of the Year" gold medal winner for Best Romance, Longing for Home, as well as 2014 Whitney Award winner for "Best Novel of the Year," Longing for Home: Hope Springs. Combining her obsession with history and affinity for tender love stories, Sarah loves crafting witty characters and heartfelt romances set against rich historical backdrops. She holds a Bachelor's degree in research and happily spends hours perusing the reference shelves of her local library. Sarah lives with her husband, kids, and mischievous dog in the shadow of a snow-capped mountain she has never attempted to ski.
Goodreads | Amazon | The Book Depository | Barnes & Noble | Deseret Books
Goodreads | Website | Twitter | Facebook