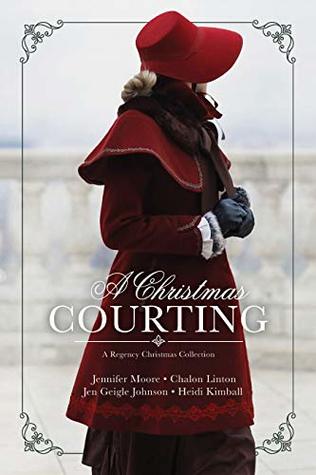 A Christmas Courting by Jennifer Moore, Heidi Kimball, Chalon Linton & Jen Geigle Johnson.
Audience/Genre: Regency Romance.
Publication: October 1st 2018 by Covenant Communications.
This holiday season fall in love, with heartwarming tales of Christmases past in A Christmas Courting, an enchanting collection of Regency romances.
Love and Joy Come to You by Jennifer Moore
Lord Covington has planned a quiet holiday with his grieving mother but finds his plans rudely disrupted when lovely Cassie Weatherby and her young siblings are invited for Christmas. Despite his reservations, however, he begins to recognize in Cassie a kindred spirit.
A Christmas Courting by Chalon Linton
When obligations keep her in London, Keturah Hensley sadly anticipates missing the festivity of Christmas at her family's country home and the company of her best friend, Christopher Shepherd. When she learns that Christopher will be joining her family in London for Christmas, she is delighted--but her elation is short-lived. Christopher is coming to Town to court the woman of his dreams, and Keturah fears she may have lost the chance to win his love.
Mistletoe Memories by Jen Geigle Johnson
From childhood, Patrick, Duke of Montrose, knew he'd found his perfect match in Lady Alice Tarrington. When he's sent on a grand tour, Patrick is confident he'll marry his sweetheart upon his return. But when he receives word that Alice is to marry another, will he be too late to claim her heart?
Second-Chance Christmas by Heidi Kimball
Francie and Gerard have been friends since childhood, but their friendship ended when she declined his heartfelt proposal of marriage. However, when her interactions with Gerard's holiday houseguests provoke in Francie unexpected jealousy, she realizes she must fight for Gerard's affections or risk losing him forever.
Reviewed by Kelly.
I like stories around Christmas. I like getting excited for the season. I like reading short stories only around Christmas! And these four stories certainly got me excited for the season. Especially for snow (of which is a rarity since we moved to South Carolina).
I'm not so sure I like how Christopher started his courting to the love sick Keturah! Just sayin.... Good thing she is a kind and forgiving person. Now what he did, you will have to read for yourself.
And prepare to shed a few tears in the Love and Joy Come to You story! I loved the siblings names!
I don't like stories of jealousy. It is such an ugly emotion but sometimes it pushes us forward too!
IF you like short stories, competition, ice skating, snow, Christmas, wassailing, grief, joy, love, chemistry (as in chemical compounds), jealousy, games in love, coming to someone's rescue then this might be for you.
a Rafflecopter giveaway
Goodreads | Amazon | The Book Depository | Barnes & Noble | iBooks
Schedule:
*Oct. 22nd:
http://mybookaday.com/
,
https://brightlystreet.com/
,
https://www.rockinbookreviews.com
/,
http://bonnieharris.blogspot.com/
, http://www.kindleandme.com/
*Oct. 23rd:
https://www.wishfulendings.com/
,
https://www.lovebugsandpostcards.com/
,
http://empowermoms.net/
,
http://thethingsilovemost.com/
*Oct. 24th: http://lisaisabookworm.blogspot.com/, http://ldswritermom.blogspot.com/, http://lifeiswhatitscalled.blogspot.com/, http://fireandicereads.com/
*Oct. 25th: https://www.singinglibrarianbooks.com/, http://katiescleanbookcollection.blogspot.com/, https://ldsandlovinit.blogspot.com/, http://gettingyourreadonaimeebrown.blogspot.com/
*Oct. 26th: https://whynotbecauseisaidso.blogspot.com/, http://literarytimeout.blogspot.com/, http://heidi-reads.blogspot.com/, http://booksaresanity.blogspot.com/, http://www.blogginboutbooks.com/
*Oct. 29th: http://www.iamareader.com/