Tour Schedule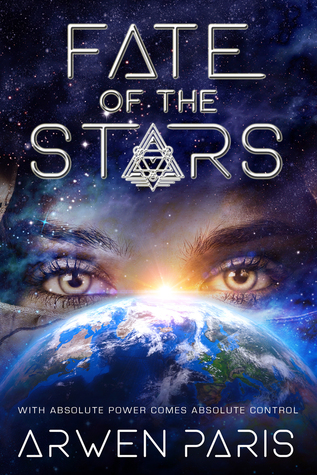 Fate of the Stars by Arwen Paris.
Audience/Genre: Young Adult, Science Fiction, Urban fantasy.
Publication: September 1st 2017 by Legendary Prose.
When the fate of the world rests upon you…

Allison Delaney wants to spend her senior year healing from the loss of her father, to leave the shadows of his death and her junior year break-down behind. A Labor Day beach party seems like a good place to start…but there's more danger lurking than anyone could imagine. Death is coming to Earth if the pods of infectious creatures aren't stopped. But only one human can help…

To live or die is no longer a choice.

Eenoki is a protector of life but must have a sentient host to fight the invasion. A teenage girl would not be the best choice, but out of desperation Eenoki invades Allison's mind and body, granting her unnatural abilities and strengths – and helping her escape certain death when the first wave of pods land.

As destruction rains down on Earth's population, Allison realizes to save everyone, she must make the ultimate choice: Reject her human side and bond with Eenoki to become the Earth's Priestess – or be killed along with the rest of humanity.
Reviewed by Kelly.
If you are looking for action, bravery, some humility and a teenager left to fight for your world than look no further. This story is chocked full of Earthlings fighting against aliens who only want our destruction and a second alien race who only want to annihilate them all. But there is an Alliance of Aliens who seem to have their own agenda. What is a teenager to do when she wakes up with another alien's conscience with hers? She learns to fight. But as a teenager not even finished with high school, she doesn't know where to begin and who to trust. Her mother is dying and her father had already passed away. All she has left is her best friend. But she can't help her. Allison is being tried and tortured in her race to save her piece of Earth! Allison does find some help with the Vongjar people. They believe she is a Priestess because she can suddenly telepathically talk to them and can fight with their weapons. But Allison needs a little boost in believing in herself and needs to learn to bond with Eenoki if she is to help Earth and stay alive!
The struggle for Allison to figure out what to do makes her grow up very quickly. But she is still a teenager!
Every minute is packed with description of Earth being attacked by these aliens and a lot of action. The characters personalities stand out and make it more believable. The book is written in Allison's Point of View with Eenoki's thoughts with hers. It's a fast read, I tore through it quickly as it kept my attention. This is a beginning of a great series! I can't wait for the next book!
If you like science fiction, a teenager who tries to believe she can help and does her best with her own frail beliefs in herself, Aliens who believe in you and will die for you, fighting for what is right knowing there may be little hope, action, the navy, and heroes then this might be for you!
Giveaway:
Tour-wide giveaway (US/CAN)
Apple iPad mini 4
- ends Sept 14th.
a Rafflecopter giveaway
Arwen Paris is the author of young adult fiction. Her debut YA Sci-fi Urban Fantasy novel FATE OF THE STARS releases September 1, 2017. The actions packed pages of her novels are filled with characters that are forced to face fears they never expected. When she's not writing, you can see posts of her (too many) vacations that keep her sane. Arwen lives in Washington, has a big crazy family & after the day job, she writes Fiction For the Fearless - #F3Fanatic

Goodreads | Amazon | The Book Depository | Barnes & Noble | iBooks
Goodreads | Website | Twitter | Facebook