Welcome to our stop on this HOP! After you check out Kelly's Books that she got stuck in, go check out the linky below for other stops of their books for more chances to win! Void where prohibited by law.
For Love or Honor (The Jonquil Brothers #5) by Sarah M. Eden.
Audience/Genre: Historical Fiction, Romance, Clean Read.
Publication: October 1st 2017 by Covenant Communications.
From the moment they met, Marjie's heart has belonged to handsome Captain Stanley Jonquil, younger brother of the Earl of Lampton. But six long months ago, when Stanley's sense of honor required that he do as he had sworn and return to the Continent to fight in defense of King and country, neither Stanley nor Marjie could have dreamed what the cost of his service would be. It has been ages since Stanley last wrote, and Marjie and the Jonquil family are plagued by his unknown fate—until the day he unexpectedly reappears. Marjie's joy, however, is quickly shadowed by confusion—the aloof, battle-worn soldier before her is not the man he once was. In the wake of Stanley's blatant disinterest in renewing their acquaintance, Marjie's devastation turns to determination as she vows to help him find peace. But his scars run far deeper than anyone realizes. Despite his feelings for her, Stanley believes Marjie deserves a man whose hands are not stained with the violence of battlefields and whose mind and heart are not haunted by the horrors he has seen. Honor requires Stanley to return once more to the life he has grown to despise, one he knows will destroy him in the end, even as his heart beckons him to stay with Marjie, the only woman he could ever love, and the promise, at last, of redemption.
For Love or Honor just came out today. I read this book in one sitting! It had me laughing and sobbing at times. I haven't been able to get it out of my head for several days now. In raw terms it is like a soldier from Afghanistan with PTSD returning home. Review coming!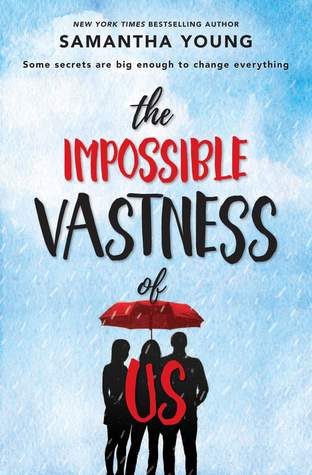 The Impossible Vastness of Us by Samantha Young.
Audience/Genre: Young Adult, Contemporary Romance.
Publication: June 27th 2017 by Harlequin Teen.
I know how to watch my back. I'm the only one that ever has.

India Maxwell hasn't just moved across the country—she's plummeted to the bottom rung of the social ladder. It's taken years to cover the mess of her home life with a veneer of popularity. Now she's living in one of Boston's wealthiest neighborhoods with her mom's fiancé and his daughter, Eloise. Thanks to her soon-to-be stepsister's clique of friends, including Eloise's gorgeous, arrogant boyfriend Finn, India feels like the one thing she hoped never to be seen as again: trash.

But India's not alone in struggling to control the secrets of her past. Eloise and Finn, the school's golden couple, aren't all they seem to be. In fact, everyone's life is infinitely more complex than it first appears. And as India grows closer to Finn and befriends Eloise, threatening the facades that hold them together, what's left are truths that are brutal, beautiful, and big enough to change them forever…
a Rafflecopter giveaway