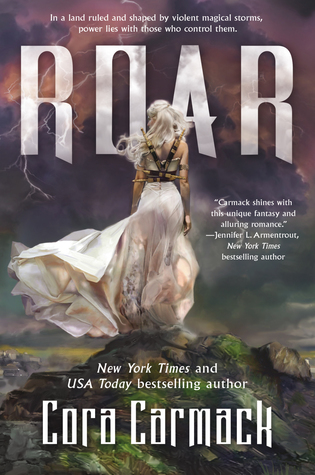 Roar (Stormheart #1) by Cora Carmack.
Audience/Genre: Young Adult, Fantasy.
Publication: June 13th 2017 by Tor Teen.
In a land ruled and shaped by violent magical storms, power lies with those who control them.

Aurora Pavan comes from one of the oldest Stormling families in existence. Long ago, the ungifted pledged fealty and service to her family in exchange for safe haven, and a kingdom was carved out from the wildlands and sustained by magic capable of repelling the world's deadliest foes. As the sole heir of Pavan, Aurora's been groomed to be the perfect queen. She's intelligent and brave and honorable. But she's yet to show any trace of the magic she'll need to protect her people.

To keep her secret and save her crown, Aurora's mother arranges for her to marry a dark and brooding Stormling prince from another kingdom. At first, the prince seems like the perfect solution to all her problems. He'll guarantee her spot as the next queen and be the champion her people need to remain safe. But the more secrets Aurora uncovers about him, the more a future with him frightens her. When she dons a disguise and sneaks out of the palace one night to spy on him, she stumbles upon a black market dealing in the very thing she lacks—storm magic. And the people selling it? They're not Stormlings. They're storm hunters.

Legend says that her ancestors first gained their magic by facing a storm and stealing part of its essence. And when a handsome young storm hunter reveals he was born without magic, but possesses it now, Aurora realizes there's a third option for her future besides ruin or marriage.

She might not have magic now, but she can steal it if she's brave enough.

Challenge a tempest. Survive it. And you become its master.
Reviewed by Kelly.
First off- Don't you just love the cover?? And you really have to check out the trailer below- I love it!!!
What a unique spin of fantasy! I loved the idea that you could control, capture and eliminate all types of storms! There are witches who are over elements too! There is good vs evil. There is a love story. There is action, adventure and my heart beats faster after each page waiting to find out what will happen next! This is all I ever want in a book!
Aurora, Rora or Roar as her name accidentally becomes has no magic. She is the sole surviving heir of her kingdom and her mother has kept her isolated from others so no one will know she doesn't possess the magic to eliminate these storm that threaten their kingdom with destruction. So her marriage is arranged to a Prince from a nearby kingdom. Then she would reveal she had no magic after they were married. I kind of liked her betrothed at first. I was drooling over him like Rora did. Then she overheard him talk to his brother and she felt sickened. She woke up and decided to take her life in her own hands.
So after a few things happen, she follows him one night to an underground market. There were all kinds of storms bottled up for people to use who didn't originally possess it. She realized that maybe she didn't have to marry him and that she could steal some magic for herself and save her kingdom and herself from Prince Cassius Locke. She, with the help of her only friend from her childhood and a servant, plots a story of her kidnapping to give her time to learn and get this magic for herself. What she got was a whole lot more than she could ever have bargained for!
As the ending of book 1 drew near to end, I was reading faster and faster. I needed to know what would happen next. There is a threat that you only get glimpses of during the book and then in the end when you saw how close that threat was and you wanted, no needed to know what will happen it ends! ( I have a love hate relationship with series! I have to reread the first book so I don't miss out all the small details when the next book comes out!)
I love the little band of family that Roar becomes part of.. Each of them are so different but they work together so well! Roar is accepted by most but not all! I loved how slowly the romance grew with Locke (not the prince) and Roar. But the looming threat (which is actually one person) is what I can't wait to get my hands on the next book for. He is pure evil and Roar is the exact opposite and I want to see how she will be the hero of her own story! I also like the laughs I got while reading...
He settled into the sand beside her, his long legs bent at the knee with his elbows braced on top. "I'm not that bad, am I?"
"You are relentless and demanding and unwavering."
"I only hear good things coming out of your mouth."
If you like fantasy, storms of all kinds, earths elements, kingdoms, good vs evil, a slow romance, magic, family (both the blood kind and the formed kind), action and adventure and learning about who you really are then this might be for you!
Aurora's muscles twitched involuntarily as she stood outside the throne room, as if her body might decide to run without her mind's consent. Two of her guard, Taven and Merrin, waited a few steps behind her. They followed her inside, and an eerie silence took hold after the heavy doors closed.
Moments later Cassius Locke melted out of the shadows, looking more like a villain than a prince—dressed all in black with dark hair and eyes to match. At twenty, he was a mere two years older than she. But the prince before her seemed bigger, older…much more a man than she had expected. He reminded her of those thunderstorms that stalled on the horizon—growing bigger and darker as they churned in on themselves.
Their gazes met, and she held his stare, shoulders square and back. Sweat dripped down her spine beneath the elaborate costume, and a headache knocked at her temples from the weight of the headdress, but she did not let it show. His eyes dropped, perusing her form. Rora's heart thumped a little faster. The longer he looked at her, the more uncomfortable she became. And she hated herself for it. For letting him get to her.
If her mother had taught her anything, it was that no one could make you feel small unless you allowed it. So she took a deep breath and let herself believe she was the fierce and powerful girl everyone thought she was. And she stared right back.
Maybe Rora didn't have magic, but Cassius didn't know that. She had spent her whole life preparing to be queen, and she'd be damned if she spared an instant of worry for what he thought of her. She evaluated him in return and spitefully hoped it made him uncomfortable. Starting with his neatly combed midnight hair, she assessed his looks—strong brows, straight nose, pointed chin. His face was almost too symmetrical, as if crafted by an architect. Rora frowned and swept her gaze down to his broad chest and large shoulders.
Instead of making him uncomfortable, she began to feel uneasy with her perusal. He was too attractive. Far more handsome than any of the local young men she might have chosen. But that beauty was tempered by an air of brutality—a hardness in his eyes and the precise, sharp movements of a man who was deadly and wanted everyone to know it.
He stood a handspan taller than she, a rarity for Rora's tall form. When she finally looked back at his face, he was quirking an eyebrow, one corner of his mouth lifted in a smirk.
"Don't stop on my account. Please, look your fill. See what you're getting, Princess."

a Rafflecopter giveaway
Cora Carmack is a New York Times and USA Today bestselling author. Since she was a teenager, her favorite genre to read has been fantasy, and now she's thrilled to bring her usual compelling characters and swoon-worthy romance into worlds of magic and intrigue with her debut YA fantasy, Roar. Her previous adult romance titles include the Losing It, Rusk University, and Muse series. Her books have been translated into more than a dozen languages around the world. Cora splits her time between Austin, TX and New York City, and on any given day you might find her typing away at her computer, flying to various cities around the world, or just watching Netflix with her kitty Katniss. But she can always be found on Twitter, Facebook, Instagram, Pinterest, and her website www.coracarmack.com.
Goodreads | Amazon | The Book Depository | Barnes & Noble | iBooks
Goodreads | Website | Twitter | Facebook
Cora Carmack's ROAR – Review & Excerpt Tour Schedule:
June 5th
As The Book Ends – Review & Excerpt
BookWorm221 – Review & Excerpt
Milky Way of Books – Review & Excerpt
Omg Books and More Books – Review & Excerpt
Reads All the Books – Review & Excerpt
Taylor Fenner's Bookish World – Review & Excerpt
June 6th
AC Suqared Book Blog – Excerpt
Happily Ever After Book Reviews – Review
Letshaveakya – Review
Movies, Shows, & Books – Excerpt
Read more sleep less – Review
Smart & Savvy with Stephanie – Review & Excerpt
June 7th
Ali's Reviews and More – Review & Excerpt
Becky on Books – Review & Excerpt
Books, Dreams, Life – Excerpt
Dazzled by Books – Review & Excerpt
Miss Nicole The Librarian – Review
Quite the Novel Idea – Review & Excerpt
June 8th
Adventures in Writing – Excerpt
BookCrushin – Review
Crazii Bitches Book Blog – Review & Excerpt
NovelKnight – Review
The Rest Is Still Unwritten – Review
What Is That Book About – Excerpt
June 9th
Books Books Books – Review & Excerpt
Bookshelf Adventures – Review
Crystal's Chaotic Confessions – Excerpt
Feeling Fictional – Review & Excerpt
Grownup Fangirl – Review
The Rest Is Still Unwritten – Excerpt
June 10th
Ceres Books World – Review & Excerpt
My Fangirl Chronicles – Review & Excerpt
Red Hot + Blue Reads – Review & Excerpt
Tales of the Ravenous Reader – Review & Excerpt
Zili in the Sky – Review & Excerpt
June 11th
Book Briefs – Review
PBC – Excerpt
Ramblings From This Chick – Review
Vi3tbabe – Review & Excerpt
With Love for Books – Review
June 12th
Feed Your Fiction Addiction – Review & Excerpt
MrsLeif's Two Fangs About It Book Reviews – Review & Excerpt
Reads & Reviews – Review & Excerpt
Swoony Boys Podcast – Review & Excerpt
Take Me Away To A Great Read – Review & Excerpt
Whatever You Can Still Betray – Excerpt
June 13th
Beneath The Covers Blog – Review & Excerpt
Chapter Break – Review & Excerpt
I'm A Book Shark – Excerpt
Moonlight Rendezvous – Review & Excerpt
Resch Reads and Reviews – Review
Two Chicks on Books – Review & Excerpt
June 14th
Boundless Book Reviews – Review
Kindle and Me – Review & Excerpt
Lovely Reads Publishing – Excerpt
My Book Filled Life – Review & Excerpt
Stuck In Books – Excerpt
The Cover Contessa – Review & Excerpt
Bibliobibuli YA – Review & Excerpt
June 15th
A Hopeless Romantic's Booklandia – Review & Excerpt
Books Need TLC – Review & Excerpt
Lit This & That – Review & Excerpt
Seeing Double In Neverland – Review
The Book Hookup – Review & Excerpt
This Jabberwocky Eats Books – Review & Excerpt
Shelf Life-Review
June 16th
Bookish Things & More – Review
Closet Geeks and Slow Mo – Review & Excerpt
Fishing for Books – Review
Library of a Book Witch – Review & Excerpt
The Book Maven – Review & Excerpt
Under the Covers Book Blog – Review & Excerpt
June 17th
Book Lovers Hangout – Review & Excerpt
G & T's Indie Café – Excerpt
Little Red's Reviews – Excerpt
Smokin' Hot Reads Book Blog – Review & Excerpt
The Ordinary Housewife Book Blog – Review & Excerpt
YA Insider – Review