From New York Times bestselling author Samantha Young comes a story of friendship, identity, and acceptance that will break your heart—and make it whole again. Order your copy of THE IMPOSSIBLE VASTNESS OF US today!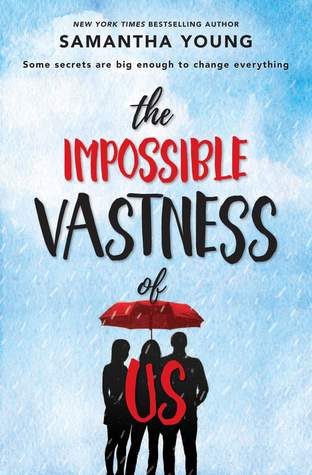 The Impossible Vastness of Us by Samantha Young.
Audience/Genre: Young Adult, Contemporary Romance.
Publication: June 27th 2017 by Harlequin Teen.
I know how to watch my back. I'm the only one that ever has.

India Maxwell hasn't just moved across the country—she's plummeted to the bottom rung of the social ladder. It's taken years to cover the mess of her home life with a veneer of popularity. Now she's living in one of Boston's wealthiest neighborhoods with her mom's fiancé and his daughter, Eloise. Thanks to her soon-to-be stepsister's clique of friends, including Eloise's gorgeous, arrogant boyfriend Finn, India feels like the one thing she hoped never to be seen as again: trash.

But India's not alone in struggling to control the secrets of her past. Eloise and Finn, the school's golden couple, aren't all they seem to be. In fact, everyone's life is infinitely more complex than it first appears. And as India grows closer to Finn and befriends Eloise, threatening the facades that hold them together, what's left are truths that are brutal, beautiful, and big enough to change them forever…
Reviewed by Kelly.
I love Sam's books! It never fails to get my heart pumping and leave me feeling as if I was the main character in the story! Weird and it happens with Every. Single. Book. I have to space reading them as it leaves me drained. It's always too real and raw. She is really that good!!
I like India. She has lived with terrible abuse as a child. And that left her with trust issues and food issues. Now she lives with her mom, aka Hayley as India calls her. Her mom left her with her dad who was abusive to her. Her mother had no idea but she never checked on her either.
India is a popular girl in school. She likes it that way. She knows what's going on. India fills her time with extra curricular activities and a deep desire to be the D. A. one day! India is tough. She can dish it right back with the rest of them that give it to her. She is loyal and passionate. She is determined. She will fight! And she learns to love not just a boy but a family and that is the best kind of love; a forever family!
Her mom tells her she met someone and she is getting married! India is very hesitant to believe in this guy she found. They move into the mansion with her soon to be stepsister, Eloise or Elle as her friends call her. Elle is cold to her at first. Elle has a boyfriend Finn.
As time moves on, things don't make sense to India about Elle and Finn's relationship. But both of them have deep dark secrets that India comes to know. I can't tell you what they are. It's what makes the book so good. But being in on those secrets and with what happens with the three of them, it becomes more than India can bear. But she will never betray her family! That is the only solid thing that never wavers for India!
The abuse she left earlier in her life finds its way into India's mind while she lives in this high society world. And my heart went to all that she has gone through!
Just as all hell breaks loose and the secrets are out! It starts to come to an end and I don't want it to be. I need more, I want to know what happens with all of them; her friends, her family, Finn, Elle! Please Please write a follow up! I can't handle my own minds version of what happens next!
If you like deep secrets, family, money, trash, abuse, friends, mean girls, jealousy, pretending, wanting more than what you can have, then this might be for you!
When Hayley arrived I got into the car without a word and we drove home to the apartment in silence. Once inside, Hayley finally spoke.
"I thought we could do takeout tonight."
We couldn't afford to do take-out nights all the time. Take-out nights were reserved for birthdays and the last night of school summer vacation. Sometimes even Thanksgiving.
Something was up. "Aren't you supposed to be on a flight somewhere right about now?"
She shrugged, avoiding my gaze as she wandered into the kitchen.
I followed her, watching as she pulled take-out menus out of our kitchen drawer.
"What do you want? Chinese, Indian, Thai, Lebanese?"
"I want to get this 'talk' over with."
Hayley regarded me, taking in my tension and the hard look in my eyes. Finally she sighed. "This is good news, India. Truly it is."
"Just say it."
"Theo proposed. I said yes. And we don't want to wait. We're getting married this December."
My mouth dropped open. "I haven't even met him."
She pinched the bridge of her nose at my shout. "And that would be a concern if you were younger. But you're starting junior year. You're sixteen. Before we know it, you'll be going off to college." She stepped toward me and grabbed my hand. I let her squeeze it. "And, sweetheart, you can go to any college you want now."
"How?"
"Theo is…well, he's wealthy. And he's already made it perfectly clear that he wants the very best for me, and that means the very best for you."
"Are you trying to buy my acceptance of this whole ridiculous thing? You are aware that this isn't normal, right?"
Hayley dropped my hand. "Don't be melodramatic. I just want you to know that yes, or course it will be difficult to leave behind school and your friends here and move to Massachusetts, but the upside is that we'll never have another financial worry in our lives. Ever."
Jesus, how wealthy was this guy?
As if she read the question on my face, Hayley smiled dreamily. "He's an incredibly well-respected attorney from a wealthy family. Boston's elite."
"And he's marrying you?"
"Nice," she snapped. "Very nice."
"I didn't mean it like that." I shrugged. "I just…I thought those people stuck to their own."
"Usually. But Theo doesn't care about that stuff. He just wants to marry the woman he loves." She waved away my negativity with a shake of her hair over her shoulders. "He married a well-to-do woman, and they had a daughter, Eloise, before she died of cancer a few years ago. He hasn't been serious about another woman since, until me."
"Oh my God." I shook my head in disgust. "You think you're living in a fairy tale."
"Don't talk to me like that."
"You're hauling me across the country to move in with some guy I've never met!" I heard the hysteria creep into my voice, but couldn't seem to stop it. "Let's remember the last guy you chose that I had to live with. Or have you already forgotten?"
Understanding dawned on Hayley's face. It was shocking that I even had to say it out loud. A good mother would have known exactly why I was taking this so hard. "Oh, sweetheart." She moved toward me but stopped when I flinched back. "Theo is not like him. Not anything like him. I'm not a stupid kid anymore. I wouldn't make that mistake again."
I stared at the floor, trying to will my heart rate to slow. I could barely hear anything over the whooshing of blood in my ears.
I started at Hayley's touch and looked up. She'd decided to ignore my body language and cross the room to take hold of my arms. She ducked her face to stare into my eyes.
"No one," she whispered fiercely, "no one will hurt you. I promise."
Liar.
LIAR.
LIAR!
The scream rang out inside of me but somehow I swallowed it.
This was happening.

a Rafflecopter giveaway
Samantha Young is the New York Times, USA Today and Wall Street Journal bestselling author of adult contemporary romances, including the On Dublin Street series and Hero, as well as the New Adult duology Into the Deep and Out of the Shallows. Every Little Thing, the second book in her new Hart's Boardwalk series, will be published by Berkley in March 2017. Before turning to contemporary fiction, she wrote several young adult paranormal and fantasy series, including the amazon bestselling Tale of Lunarmorte trilogy. Samantha's debut YA contemporary novel The Impossible Vastness of Us will be published by Harlequin TEEN in ebook& hardback June 2017
Samantha has been nominated for the Goodreads Choice Award 2012 for Best Author and Best Romance for On Dublin Street, Best Romance 2014 for Before Jamaica Lane, and Best Romance 2015 for Hero. On Dublin Street, a #1 bestseller in Germany, was the Bronze Award Winner in the LeserPreis German Readers Choice Awards for Best Romance 2013, Before Jamaica Lane the Gold Medal Winner for the LeserPreis German Readers Choice Awards for Best Romance 2014 and Echoes of Scotland Street the Bronze Medal Winner for the LeserPreis German Readers Choice Awards for Best Romance 2015.
Samantha is currently published in 30 countries and is a #1 international bestselling author.
Goodreads | Amazon | The Book Depository | Barnes & Noble | iBooks
Goodreads | Website | Twitter | Facebook
Samantha Young's THE IMPOSSIBLE VASTNESS OF US – Review & Excerpt Tour
June 19th
BookWorm221 – Review & Excerpt
Clare's Mad About Books – Review & Excerpt
Joyful Shimmy – Review & Excerpt
Little Red's Reviews – Review & Excerpt
Naturally Nerdy Books – Review & Excerpt
The Sisterhood of the Traveling Book Boyfriends – Review & Excerpt
June 20th
Beware Of The Reader – Review & Excerpt
Books For The Living – Review
Kindle and Me – Review & Excerpt
Melissa's Book Obsession – Review
Read more sleep less – Review
To Be Reviewed Books – Review & Excerpt
June 21st
A Fortress of Books – Excerpt
Becky on Books – Excerpt
Enjoying life a day at a time – Review
Mustreadbooksordie – Review & Excerpt
MrsLeif's Two Fangs AboutItBook Reviews – Review & Excerpt
SJ's Book Blog – Excerpt
June 22nd
Actin' Up with Books – Review
Books,Dreams,Life – Excerpt
Fiction Fare – Review & Excerpt
Movies, Shows, & Books – Excerpt
Take Me Away To A Great Read – Review & Excerpt
What Is That Book About – Excerpt
June 23rd
A Literary Perusal – Review & Excerpt
Adventures in Writing – Excerpt
BJ's Book Blog – Review & Excerpt
Ficwishes – Review
Kimberly's Hot Reads – Review & Excerpt
Read, Write, Design – Review & Excerpt
June 24th
Ali's Reviews and More – Review & Excerpt
Crazii Bitches Book Blog – Review & Excerpt
Lacey's Love Of Literature – Review & Excerpt
Nose Stuck in a Book – Review & Excerpt
Reading Between the Wines Book Club – Excerpt
Tales of the Ravenous Reader – Review & Excerpt
June 25th
All Romance Reviews – Review & Excerpt
Book Lovers Hangout – Review & Excerpt
PBC – Excerpt
Ramblings From This Chick – Excerpt
TSK TSK What to Read – Review & Excerpt
With Love for Books – Review
June 26th
Angie and Jessica's Dreamy Reads – Review & Excerpt
Book Reader Chronicles – Review & Excerpt
Calling All Bookaholics – Review & Excerpt
Liezel – Review & Excerpt
Reads & Reviews – Review
The Readdicts – Review & Excerpt
June 27th
4 the Love of Reading – Review & Excerpt
ADDICTED TO BOOKS – Review & Excerpt
Lisa Loves Literature – Review
Miss Riki – Review & Excerpt
Peace Love Books – Review
The Inked In Book Blog – Review & Excerpt
June 28th
Bookalicious Babes Blog – Review & Excerpt
Greyland Reviews – Excerpt
Literary lust – Review
My Girlfriends Couch – Review & Excerpt
Read Love Blog – Review & Excerpt
The Life of a BooknerdAddict – Review & Excerpt
June 29th
Author Groupies – Review
Blushing babes are up all – Review & Excerpt
Book Enticer – Review & Excerpt
The Book Avenue – Review & Excerpt
The Review Loft – Review & Excerpt
Three chicks and their books – Review & Excerpt
June 30th
I Read Indie – Excerpt
Shh Moms Reading – Review & Excerpt
The Bookish Introvert – Review
Total Book Geek – Review & Excerpt
Vi3tbabe – Review & Excerpt
Witchy Richey's Booktastic Reviews – Review & Excerpt
July 1st
Book Babes Unite – Review & Excerpt
Cocktails and Books – Review & Excerpt
Dog-Eared Daydreams – Review
Southern Belle Book Blog – Excerpt
The Fairest of All Book Reviews – Review & Excerpt