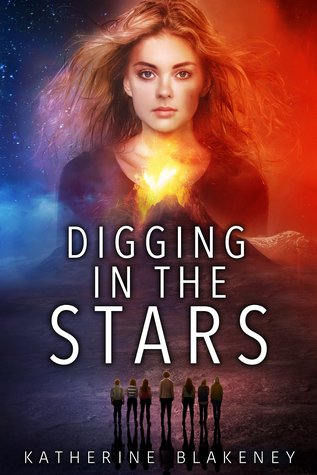 Digging in the Stars by Katherine Blakeney.
Audience/Genre: Young Adult, Science Fiction, Fantasy.
Publication: March 28th 2017 by Blaze Publishing, LLC.
A lost ancient civilization and the tomb of a legendary king lie buried beneath centuries of ash on the volcanic planet Thror, but that's not the only reason sixteen-year-old Carter has tricked her Archaeology of Outer Space class into coming here. Her best friend Conrad has just disappeared on a trip to Thror, leaving behind little more than a broken vintage camera. The strange and disturbing photographs she manages to extract make her suspect Conrad's disappearance is somehow connected to the hidden tomb of the last king of Thror.

Unfortunately, the ludicrously over-friendly 'Furry Giants' who have taken over the planet's barren surface would rather offer her cheap souvenirs than answers, and the local officials insist they have no record of Conrad's existence. Inspired by fear for Conrad's life and the chance to make the greatest archaeological discovery of the century, Carter and her friends follow Conrad's footsteps deep into the mountains of Thror's forbidden Black Zone and launch an illicit excavation.

Coded messages, stunning ancient ruins, and clues left by Conrad himself begin to surface as the young archaeologists fall victim to an alarming series of accidents staged by the increasingly hostile Furry Giants. Piecing together a history of dictatorship, terrorism and disguise, Carter glimpses the horrors beyond Thror's flamboyant façade and startling revelations about the friend she thought she knew. The masks of Thror hide devastating secrets, and the golden tomb buried deep in the frozen core may claim the lives of everyone she loves.
What Readers Are Saying:
"I had a lot of fun reading this unique book!" - Carla, Goodreads Reviewer
"a refreshing twist on a lot of modern sci-fi that can be too dark or aloof" - Samantha, Goodreads Reviewer
Giveaway Information: Contest ends May 19, 2017
One (1) winner will received a Blaze swag pack and $5 Amazon card (INT)
a Rafflecopter giveaway
Katherine Blakeney is an author and filmmaker with a BFA in Stop Motion Animation from the School of Visual Arts in New York and a PhD in Film Studies from the University of Edinburgh (Scotland, UK). Raised by an Egyptologist mother, she grew up among museums and excavation sites, where she developed an unhealthy fascination with ancient art and mythology. She divides her time between bringing 12"-tall people to life in her studio in Edinburgh, excavating ancient tombs in the Egyptian desert, and researching Gothic literary monsters in silent film. She has published numerous articles on film and archaeology and her independent short films have screened at various international film festivals including the Edinburgh Fringe.

Goodreads | Amazon | The Book Depository | Barnes & Noble | iBooks
Goodreads | Website | Twitter | Facebook