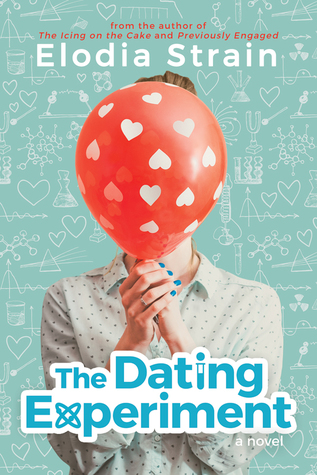 The Dating Experiment by Elodia Strain.
Audience/Genre: Contemporary Romance.
Publication: February 1st 2017 by Sweetwater Books.
After losing her job, her house, and her guy, the last thing Gabby wants to do is be in a dating experiment—especially with her ex. Her only chance of making it through is with help from her best friend, Ian. But as the study and all its hilariously awkward dates goes on, Gabby finds herself wondering what exactly this experiment is all about.
Reviewed by Kelly.
This book is so light, airy and fun mixed in with some sad and a romance and I read it straight through till the end! Yes, I may have been up way past my bedtime but I just couldn't put it down! It would be great to read after a really heavy,or a dark book to get you feeling upbeat!
Gabby is a quirky kind of girl. She can be silly when stressed. But she is 100% genuine and kind and very selfless. She thought Dillon was "it" for her. Only to be dumped by him again. Her roommate gets her to sign up for this dating experiment study that would give her a lot of money that she desperately needs. I mean she puts water in her dollar store shampoo to make it last and even considered putting lemon on as a deodorant! So that choice was really a no brainer for her!
In this experiment, she gets placed with the guys she put down on her paper as well as others. You are given a place and time and sometimes options of what to do. But there are always twists and you don't know what they will be until the text shows up on your phone. Some of them are really cute. You are also told that someone may be watching or filming you. Some of the guys are hilarious! I love the different types of guys she encounters! It is really kind of funny!!
But there was always Ian. He was her childhood friend and her heart. So, when she goes to her Aunt's B&B one weekend, she sees him. But it's for his pre-wedding get together meal. Because now Ian is a baseball star and his fiance is somewhat of a celebrity herself. Inadvertently, she causes the bride to put a halt on the wedding. Gabby feels bad but in the meantime, she talks to Ian. They hang out and she tells him some of the things she does and they do the twists together. While doing so, feelings are maybe changing. Certainly for Gabby, and we as an audience aren't 100% sure of what Ian feels since it is all in Gabby's POV. But of course, me as the reader sees all the wonderful things they do together and just believe that he cares for her too!
Gabby meets one of her roommates patients. She is a pediatric patient and has a blog of doing good things for others. And Gabby gets her Aunt's quilting group to help out by making quilts and auctioning them for the hospital. This project is just sweet!
So if you like doctors, baseball, bloggers, dating, making projects for others, knitting, evil sisters, laughing, rock climbing, motorcycles, guys who live with their mothers when they are full grown, kids in a hospital then this might be for you! I look forward to reading more of her books!!
Playlist by Elodia Strain...
Good Wednesday! I am BEYOND stoked to be able to stop by this awesome blog! And I'm equally thrilled to share the playlist I listened to while writing The Dating Experiment! Music actually plays a really big role in my writing. I use it to help me get into the right emotional headspace ("Hold onto Hope Love" was a very big help in writing about the beautiful agony that is a crush), to connect with the setting (part of this book took place in rural Washington, so a little Kacey Musgraves helped me get there) and to connect with the characters (I've decided "Boardwalks" by Little May is one of my main character Gabby's favorite songs). So…Here is my Dating Experiment Playlist!
"Secrets" by Mary Lambert
"Follow Your Arrow" by Kacey Musgraves
"I Lived" by One Republic
"Dangerous" by Betsy Philips
"I Bet My Life" by Imagine Dragons
"Boardwalks" by Little May
"Stitches" by Shawn Mendes
"Lost Boy" by Ruth B
"Growing Up" by Run River North
"Hold onto Hope" Love by Amy Stroup
a Rafflecopter giveaway
Elodia Strain was born in Alaska and grew up in the middle of California. She spent her childhood exploring Yosemite National Park, skiing—badly—at Lake Tahoe, and enjoying the beaches along California's famed central coast. She graduated cum laude from Brigham Young University with a degree in marketing communications. She is the author of three previous books from Cedar Fort. Her debut novel, "The Icing on the Cake," was well received by readers of all ages, and earned Elodia the Best New Fiction Author award from CFI. Her second book, "Previously Engaged," was a Whitney Award finalist. Elodia also wrote "My Girlfriend's Boyfriend," the novelization of the widely successful eponymous major motion picture, starring Alyssa Milano. In addition to her creative writing pursuits, Elodia has spoken at writers' conferences, had the privilege of signing books at national events such as her alma mater's Women's Conference and Education Week, and is also one of the founders of Ink Ladies Plus (formerly the Ink Ladies blog), a group of CFI and independent authors who work together to strengthen and promote each other's work. When not writing or marketing, Elodia spends her time bargain shopping, enjoying staycations with her husband, and spoiling her nieces and nephews.
Goodreads | Amazon | The Book Depository | Barnes & Noble | iBooks
Goodreads | Website | Twitter | Facebook