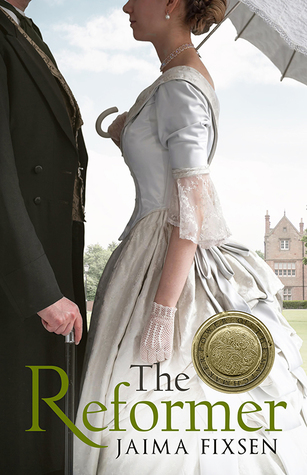 The Reformer (Power of the Matchmaker) by Jaima Fixsen.
Audience/Genre: Romance, Historical Fiction.
Publication: December 1st 2016.
From the Power of the Matchmaker series:

Mary Buchanan has bigger worries than the radical journalist moving in next door who's spoiling her father's digestion: unrequited love for a footman, a fractious aunt, patiently awaiting her destiny…

Already she's nearly eighteen. No sign of destiny yet, but Mary's certain he'll be handsome.

Then she meets the reformer, this Mr. Samuel Brown. Destiny is closer at hand than Mary has supposed—if she can just get Mr. Brown to realize it.
Reviewed by Kelly.
Mary lives a life that would definitely make anyone dream for release! Her father and aunt are less than loving in a world of reform and politics. Mary finds the new neighbor Mr Samuel Brown, a journalist, attractive and appealing. Her father is not on the same political stand as Mr Brown and Mary wants to know what makes Mr Brown tick. So with her drawing talent, she finds a way into his world by drawing cartoons to match his articles in the "other newspaper". Her Papa would definitely not approve and the neighbors do not get along.
When things get bad; as in Mary is caught with a letter from Samuel and there is protests and politics going awry, her papa sends her to Bath.
Mr. Neil Murray is best friends with Mr Brown and he goes to check on Mary in Bath. While he pretends he is there for healing, he appeases Mary's aunt and appears to be Mary's suitor in Bath. Mr Murray and Mary have been at odds from the beginning. But in Bath, things look and feel a little different. Both are away from the heat of politics and Samuel, and Neil becomes more himself and finding his feelings for Mary changing. Mary even notices her feelings but is hell bent on Mr Brown because she would just accept someone who just finds her in good regards not really even love.
I am not a political person. Mary really isn't either but chose to immerse herself in it for the sake of getting Mr Brown as she believes he would care for her. After the book ends. The author has many comments on the times and where her writings come from and the liberties she took. There is a lot of rioting not unlike what is happening here in the US lately! So, I really couldn't get into that part of the story.
As far as the Matchmaker goes, she was totally different in this book. Her name was different and no mention of her hairpiece with the pearls on it. I just assumed it to be the same women in all the other books in the series.
As far as love goes, I liked the slow change from not liking each other (Neil and Mary to falling in love. Love takes time and I like how Mary had to figure things out all on her own. Neil was a wonderful person and I wish I could have heard his Scottish accent in my head when I read the book!
Jaima Fixsen lives in Alberta, Canada with her handsome husband and clever children. Mostly, she just tries to keep up.
Goodreads | Amazon | The Book Depository | Barnes & Noble | iBooks
Goodreads | Website | Twitter | Facebook