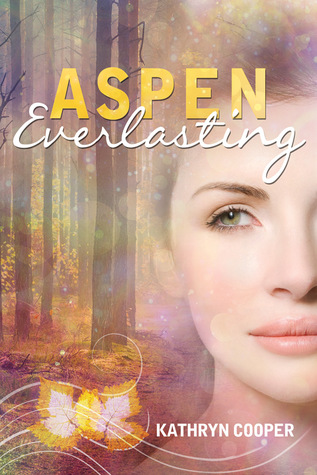 Aspen Everlasting by Kathryn Cooper.
Audience/Genre: Young Adult, Fantasy, Clean Read, Romance.
Publication: September 8th 2015 by Cedar Fort, Inc..
Water splashed on all sides then took control of the tires. The car swerved right toward the river.
"No. NO. NO!" I turned the wheel toward the road. It didn't work. Fast running water pulled the car into the flooded river.

Aspen Foster thinks she's just a normal sixteen-year-old, but when her car's caught in a flash flood, Aspen and her sister discover the superhuman strength they never knew they had.

Soon Aspen learns she's not normal at all. She's an Evermortal fairy, with powers beyond her wildest dreams. But the more Aspen finds out about her family's past, the more dangerous her future becomes.

This riveting fantasy is full of action, adventure, and romance. Suspenseful and exhilarating!
Reviewed by Kelly.
The world building in this story is so easy to see in my mind's eye. There is so much action, suspense and romance that you find yourself sitting on the edge of your seat to see what will happen next.
I'm not into more than one person as the love interest. I'm happen to report, it isn't really.
This is a great story of good vs. evil. There is always lies mixed with the truth and sometimes you don't know whom to trust!
There is a twist that I didn't see coming and i need the next book to see what comes next and who will win the next battle and maybe even someone else having their own romance???
If you like stories of action, fantasy, finding romance, characters who have super powers but also have flaws like those of us who don't have super powers, then this might be for you!
I just need to see how this turns out!!!
a Rafflecopter giveaway
Kathryn Cooper lives in the heart of Texas with her husband and four young boys. She has read and blogged about other authors' books for years. She is excited to finally have her own book out for readers. Aspen Everlasting is her first novel.
Goodreads | Amazon | The Book Depository | Barnes & Noble | iBooks
Goodreads | Website | Twitter | Facebook