Tour Schedule
If you would like a signed copy go HERE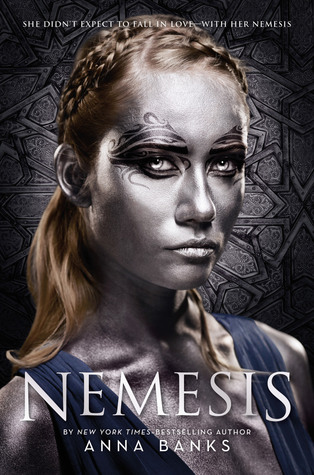 Nemesis (Nemesis #1) by Anna Banks.
Audience/Genre: Young Adult, Fantasy.
Publication: October 4th 2016 by Feiwel & Friends.
The princess didn't expect to fall in love--with her nemesis.

Princess Sepora of Serubel is the last Forger in all the five kingdoms. The spectorium she creates provides energy for all, but now her father has found a way to weaponize it, and his intentions to incite war force her to flee from his grasp. She escapes across enemy lines into the kingdom of Theoria, but her plans to hide are thwarted when she is captured and placed in the young king's servitude.

Tarik has just taken over rulership of Theoria, and must now face a new plague sweeping through his kingdom and killing his citizens. The last thing he needs is a troublesome servant vying for his attention. But mistress Sepora will not be ignored. When the two finally meet face-to-face, they form an unlikely bond that complicates life in ways neither of them could have imagined.

Sepora's gift could save Tarik's kingdom from the Quiet Plague. But should she trust her growing feelings for her nemesis, or should she hide her gifts at all costs?
Reviewed by Kelly.
First things first! AAAARRGGHHH! The ending killed me. I kept trying to turn the page on my kindle, but it never moved. I can't believe it ended like that. That is NOT nice to do! How long do I have to wait for the next book??
Second! I had a hard time getting into the book. I wanted to understand the spectorium better. I didn't get what was going on either. I even thought about not finishing it. But I forged on! I am so glad I did and in time I understood! And I loved it!
There is a romance going on but it takes a back seat for awhile. It slowly builds over time. We learn about Tarik and what kind of king he is becoming. We see that he is just and fair and cares for his people. Tarik is also a Lingot. A Lingot can see the lies and truth in words either spoken or written. He has a royal advisor who was his father's advisor. The advisor wants to shape Tarik into the king his father was. The advisor works too hard.
So when this concubine (Sepora was captured and sold to be a concubine for the king of Theoria) keeps writing him to ask for an appointment, Tarik sees some possibilities. After Sepora shows how resourceful she is, Tarik is intrigued and a little smitten. So he allows her to become Tarik's aide. She has a lot to offer.
Sepora is the Princess of Serubel. She has made it look like she died. But with the help of her mother, she escaped. She is now trying to help maintain peace. Her father kept her locked up and was abusive to her. She is the last known Forger. A Forger can make spectorium. She makes it from within her body and makes it come out of her palms. Okay, the book describes it better. The spectorium is a source of energy. She has to expel some everyday or she feels weak. Oddly, it provides energy for those who use it. She keeps this a secret. Sepora finds out there are other Forgers still alive. She also learns that there is a silent plague taking people's lives and that the spectorium can help cure it. She doesn't tell anyone that she can help them. She is afraid she will be imprisoned again and forced to forge it for others.
The longer Tarik and she spend time together, he grows to respect her opinion and his feelings for her grow. Sepora is falling for Tarik as well. She sees him a kind and just King. She begins to find ways to help them in ways of peace and warns them of possible war all the while not revealing that she is a Princess.
The story line is original. I enjoyed the world although it was hard to understand at first and the cover of the book depicts the paint they wear. I loved that the romance took a while to build and is hidden from others. I liked the courage and strength both Tarik and Sepora portray. But most of all, I was really wanting to finish the thought that the ending sentence of the book had started!!!
The book is written with first and third person POV's. It's first person on Sepora's chapters and third person in Tarik's chapters.
If you like ancient times, fantasy, being able to make energy biologically, strong characters, finding love that may make for a little trouble, this might be for you!
a Rafflecopter giveaway
NYT Bestselling YA author of The Syrena Legacy series: OF POSEIDON (2012), OF TRITON (2013), OF NEPTUNE (2014).

Repped by rockstar Lucy Carson of the Friedrich Agency.

I live with my husband and daughter in the Florida Panhandle. I have a southern accent compared to New Yorkers, and I enjoy food cooked with real fat. I can't walk in high heels, but I'm very good at holding still in them. If you put chocolate in front of me, you must not have wanted it in the first place.

Favorite Books:

Shatter Me, Cinder, Linger, Shiver, Forever, Pushing the Limits, Unravel Me,Shadow and Bone, Enclave, Divergent, Candor, Graceling, Fire, The Hunger Games Trilogy, The Host, Most of James Patterson, and Janet Evanovich makes me laugh through my nose in an unfeminine sort of way.

Goodreads | Amazon | The Book Depository | Barnes & Noble | iBooks
Goodreads | Website | Twitter | Facebook