Tour Schedule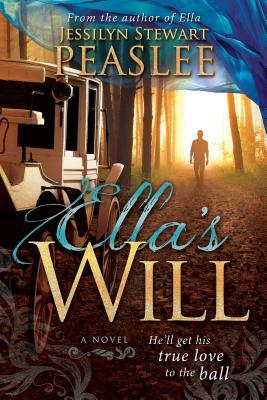 Ella's Will by Jessilyn Stewart Peaslee.
Audience/Genre: Fairytale Retellings, Clean Read, Romance.
Publication: September 1st 2016 by Sweetwater Books.
Will Hawkins is just a simple stable boy. How can he hope to woo Ella, his once-wealthy childhood friend who is stubbornly independent, especially when his competition is the prince? Without any magic or fairy godmothers, Will must show Ella that he is her true prince charming in this perspective twist of the Cinderella story.
Reviewed by Kelly.
This is hands down the best Cinderella retelling I have ever read! The twist to it is genius! The main characters were so selfless that I cried my eyes out over them!
I thought this would be a love triangle, but it's not. You know how stories go where boy meets girl they fall in love but something happens that they have a falling out and then get back together? That is not how this book works. Ella and Will are two people who are selfless and sacrificing for each other. Will has known Ella since her father took him in and treated him like a son instead of just a stable boy.
Ella has a wicked stepmother and has 2 rude stepsisters. Ella carries no anger but she is hurt over her treatment in her own home. She is very strong and independent. As she watches her step family run through the money and make her their servant, she stays there to take care of her home where her memories are still alive when her father was alive.
Will sees that she is independent. He wants to take her away but he has nothing to offer her except a home that is small and not well built and where he sleeps on a small cushioned bed on the floor and some horses.
So, when the prince returns and wants to take a commoner for a wife and choose her from a ball at the palace, Will knows the prince will fall for her and plans for her to go. He wants the prince to marry her so she can have a better life. But as the time gets closer, his moments of time with her become more difficult. He loves her and he is jealous. But he will do whatever will bring her happiness over the conditions she lives in.
But still, I was a stable worker. And horses were horses, work was work, sweat was sweat, and dirt was dirt.
"I guess she lost a shoe and he's planning to find her by trying the shoe on all the maidens in the kingdom." "What kind of idiotic plan is that?"
If you love retellings, a Prince who is charming, horses, glass slippers, selflessness, sacrifices, broken hearts, and finding lasting love than this might be for you!
Provided by the publisher
Void where prohibited by law
Int.
a Rafflecopter giveaway
Jessilyn Stewart Peaslee graduated with a BA in English from Brigham Young University in 2004. She loved taking creative writing classes, and was particularly fond of the works of Shakespeare, Jane Austen, and the Bronte sisters. She also studied French and the humanities. Jessilyn grew up in the beautiful deserts of Southern California and now resides in the shadow of the Rocky Mountains in Saratoga Springs, Utah, with her husband and five boys.
Goodreads | Amazon | The Book Depository | Barnes & Noble | iBooks
Goodreads | Website | Twitter | Facebook