Purchase:
(Bound by Duty is FREE on all e-book platforms)
Amazon:
https://www.amazon.com/Bound-Duty-Book-1-ebook/dp/B00M2B5EBA
B&N:
http://www.barnesandnoble.com/w/bound-by-duty-stormy-smith/1120141063?ean=9780996347792
iTunes:
https://itunes.apple.com/us/book/bound-by-duty/id1014751790?mt=11
Kobo:
https://store.kobobooks.com/en-ca/ebook/bound-by-duty-5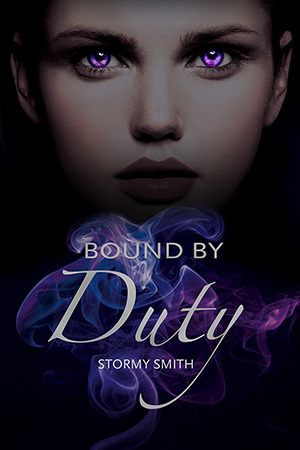 Bound by Duty (Bound #1)
by Stormy Smith.
Audience/Genre: Fantasy, New Adult.
Publication: July 24th 2014 by Perfect Storm Publishing, LLC.
Amelia grew up in a world of half-truths. She knows she's an Elder but has no idea what that means. Her father reminds her daily that she must maintain control but he refuses to explain why. Even worse, she's betrothed to the prince of the Immortals and she doesn't even know his name.

Finally breaking free to live a few normal years at a community college, the last thing Amelia expects is to find her best friend in a cheeky Southern girl and to fall for a self-assured human who sees her for who she is and not what she'll be.

As she learns more about herself, Amelia realizes the line between love and duty is a thin one. As her power continues to increase exponentially and her questions are slowly answered, Amelia must make the ultimate choice. The question is, will her head or her heart win the battle?
To set the stage, Amelia Bradbury is our heroine and the center of this next scene. Amelia knows that she is an Elder and that she is betrothed to marry the prince of the Immortals. What she doesn't know is the source of the power that continues to grow and evolve inside her and what that power will mean for her future. All Amelia wants is a little bit of time to be normal, but she's about to meet the guy who will forever change the way she looks at herself and what she wants from life.

An excerpt from Bound by Duty:

As soon as I stepped out on the giant deck, the sea air hit my face. It tangled in my hair, whipping it around my shoulders as if playing hide and seek in the dark strands. I exhaled, not realizing I had been holding my breath.

I stood there a moment, just listening to the waves beat against the sand as the tide came in. The full moon came out from behind the clouds, brightening my path and leading me to the stairs that would take me down to the beach. I didn't hesitate. Almost leaping to the bottom, I kicked my gladiator sandals off as soon as I hit the sand and ran toward the water. Just as the tide touched my toes, the hair on the back of my neck stood up.

Someone was there.

Instantly, a jolt of power raced through my veins. I tried frantically to calm it back down, to maintain control. But, against all effort, I'm sure my eyes went from their normal hazel to bright violet, as they always do when my power takes over. I stood there, staring out at the sea, trying to decide how to react. I couldn't draw attention to myself, but I could protect myself if I had to — I had learned that much. I felt my power build; like small pinpricks of electricity racing through my veins, filling my blood inch by inch. I forced myself to soften my stiff posture, but kept my right hand open and out in front of me in case I needed to use it.

Since moving to Brighton, I'd been working to actually use my magic, but it still felt like a second person trapped inside me that I couldn't force into compliance. Sometimes it worked with me, sometimes not. We've been fighting this battle for as long as I can remember and in times like these, when I didn't know what I was dealing with, I trusted it more than myself. I stood there, my body still as my power rippled beneath the surface and cautiously probed around me, just waiting to be unleashed.

I slowly started to turn around when he said, "Oh, so you're hiding from them too, huh?"
His voice was smooth and almost melodic, with just a little fire behind it. I somehow knew he was smirking even though I couldn't see him. The moonlight hadn't breached the shadow from the deck where I could see his outline sitting on a picnic table. He was sitting on the top with his feet on the bench and elbows on his knees. I heard the old, weather-beaten table creak and groan as he set his feet on the ground. A shiver ran through me; he looked dangerous.

"Do I know you?" Something told me I'd seen him before. The fear that had ignited my magic instantly turned to curiosity, the danger melting to intrigue. I could actually see the thready, purple wisps spreading out, poking around, trying to get a read on him. It's a good thing humans don't actually see our power unless we let them. Abruptly, I turned back toward the ocean, kicking myself as I mentally drew it back in.

What am I doing?! I don't even KNOW this guy. What if he's...?

"You don't have anything to worry about," he interrupted, as if reading my thoughts. I could hear his voice coming closer, a little tentative, feeling me out.

I'm sure he thinks I'm nutcakes. Well done, Amelia. You are here to blend in, not prompt people to think you're a freak a month into the semester.

I sighed, took a breath, and turned to face him, not realizing how close to me he now was. The full moon cast light and shadow across his body as he stood just feet from me, silent, sizing me up as I did the same to him. I drew in a quick breath as all my thoughts came together in just two words. He's gorgeous.

I couldn't stop my eyes from roaming. There was something tortured about him, I could feel it as easily as I felt my own curiosity building. He stood just a few feet from me, clearly trying not to be intimidating. But, between the hints of a tattoo peeking out from under his black T-shirt and the leather cuffs on his wrists, there was an intensity he couldn't hide. He had big eyes with long lashes a girl would kill for. As my gaze followed the strong, angular features of his face, I realized he had a dimple, just on the one side that must only come out when that corner of his mouth lifted into the smirk I had heard in his voice earlier. The one he was wearing now as he watched me watching him. For some reason, that dimple changed everything; transformed him in my mind as just being a boy on a beach.
GIVEAWAY
Blitz-wide giveaway
$25 Amazon gift card (INTL)
A signed set of the Bound trilogy (US/CAN)
- ends August 18th:
a Rafflecopter giveaway
Stormy Smith calls Iowa's capital home now, but was raised in a tiny town in the Southeast corner of the state. She grew to love books honestly, having a mom that read voraciously and instilled that same love in her. She knew quickly that stories of fantasy were her favorite, and even as an adult gravitates toward paranormal stories in any form.

Writing a book had never been an aspiration, but suddenly the story was there and couldn't be stopped. When she isn't working on, or thinking about, her books, Stormy's favorite places include bar patios, live music shows, her yoga mat or anywhere she can relax with her husband or girlfriends.

If you want to stay tuned in to all of the new release news, sign up for Stormy's spam-free newsletter. It only comes out when something exciting is happening...promise! http://eepurl.com/WLlq1

Buy The Book :
Goodreads | Amazon | The Book Depository
Find The Author :
Goodreads | Website | Twitter