The Hard Count by Ginger Scott.
Audience/Genre: Mature Young Adult, Romance, Sports.
Publication: July 15th 2016.
**A new stand-alone mature YA football romance from Ginger Scott releases July 15, 2016**

Nico Medina's world is eleven miles away from mine. During the day, it's a place where doors are open—where homes are lived in, and neighbors love. But when the sun sets, it becomes a place where young boys are afraid, where eyes watch from idling cars that hide in the shadows and wicked smoke flows from pipes.

West End is the kind of place that people survive. It buries them—one at a time, one way or another. And when Nico was a little boy, his mom always told him to run.

I'm Reagan Prescott—coach's daughter, sister to the prodigal son, daughter in the perfect family.
Life on top.
Lies.
My world is the ugly one. Private school politics and one of the best high school football programs in the country can break even the toughest souls. Our darkness plays out in whispers and rumors, and money and status trump all. I would know—I've watched it kill my family slowly, strangling us for years.

In our twisted world, a boy from West End is the only shining light.
Quarterback.
Hero.
Heart.
Good.
I hated him before I needed him.
I fell for him fast.
I loved him when it was almost too late.

When two ugly worlds collide, even the strongest fall. But my world…it hasn't met the boy from West End.
The Hard Count, in Five Words by Ginger Scott –
Prejudice:
I mention this in my acknowledgements, that this book…it's about more than football. This word was the driving force for me behind this story, and above all, The Hard Count is about confronting those things we assume about others based on where they live, the color of their skin, their religion, background, and families. I wanted to write a book that wasn't shy about portraying the everyday prejudice, hate and racism that exists. And then I wanted to prove it all wrong because love…it wins.
Family:
This word applies to The Hard Count in many aspects, the most obvious in the closeness of each main character to his/her family. Family comes in many forms, and it tries us, and pushes our limits. The love from family though is one of the most powerful gifts, and in this book, even when things are grim, when hope feels lost—family is always there, no matter what side of the bridge you live on. And that sense carries out onto the field. There's a saying the Cornwall Tiger Tradition have: Honor. Brotherhood. Tradition. This team is built on a sense of family, and when they forget that, their strength is lost.
Adversity:
Adversity is at the heart of many of my stories. I love the human spirit and our ability to overcome. I like to think we have real life superheroes on earth. While I've written about people overcoming mental and physical barriers, Nico is different—for him, that barrier is something less tangible. It's wrapped up in assumptions, in racism and class, and the limitations that come with being born on the poor street, in the neighborhood where drugs are sold and bullets pierce the walls of your home. Nico may just be my favorite hero yet.
Trust:
This word is a subtle player in The Hard Count. Trust is broken and tested by several people, and in many ways each character, not just our main hero and heroine, need to find their faith again. Brothers test, teammates fail, fathers lose—but The Hard Count is about those people still left standing in your corner when it all goes wrong.
Will.
I was going to say ego for my final word, but ego is really the villain in this story, and frankly, I didn't want to give him that much power ;-) His arch nemesis is will—sheer will. That's what makes Nico good at anything he does, his own determined will to succeed, to overcome and to push himself harder. Will is what makes Cornwall so good, and will is what readers will see out there on that field.
a Rafflecopter giveaway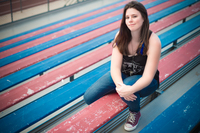 Ginger Scott is an Amazon-bestselling author of nine young and new adult
romances, including Waiting on the Sidelines, Going Long, Blindness, How
We Deal With Gravity, This Is Falling, You and Everything After, Wild
Reckless, The Girl I Was Before, and Wicked Restless.

A sucker for a good romance, Ginger's other passion is sports, and she often blends the two in her stories. (She's also a sucker for a hot quarterback, catcher, pitcher, point guard…the list goes on.) Ginger has been writing and editing for newspapers, magazines and blogs for more than 15 years. She has told the stories of Olympians, politicians, actors, scientists, cowboys, criminals and towns. For more on her and her work,
visit her website at http://www.littlemisswrite.com.

When she's not writing, the odds are high that she's somewhere near a baseball diamond, either watching her son field pop flies like Bryce Harper or cheering on her favorite baseball team, the Arizona Diamondbacks. Ginger lives in Arizona and is married to her college sweetheart whom she met at ASU (fork 'em, Devils).
Goodreads | Amazon | The Book Depository | Barnes & Noble | iBooks
Goodreads | Website | Twitter | Facebook