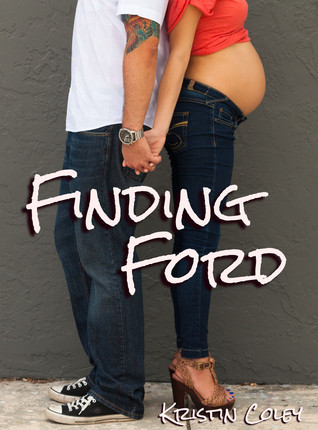 Finding Ford: An Anderson Brother Novel
by Kristin Coley.
Audience/Genre: YA Contemporary Fiction.
Publication: March 5th 2016.
Whoever said life was easy or fair? No one, that's who.

Life was perfect or as perfect as it can be when you're sixteen and your boyfriend is about to leave for college out of state. But really life was on track, we had a plan.

Colt had a full ride to Alabama for football, he was going to go pro one day. Everyone knew it. He'd been working his whole life for it, scouts drooled over him at Pee Wee football, for Pete's sake.

And me? I was getting out of my parent's house the day I graduated, headed to any college that would take me. But my plan was to go to Alabama with Colt.

But the best laid plans, right?

The stick turned blue, then there was the one with double lines, oh yeah the one with the plus sign and finally the one that screamed PREGNANT. Don't judge, I wanted to make sure. But that last one was the nail in my proverbial coffin.

Let's just say I wasn't expecting that.

Don't hate me. I made some choices, choices that I'd like to say I would have made differently if I'd known how it would all turn out, but we can't really go back now can we?

Enter Ford. He was the perfect son. The golden child. Smart, good looking, straight A student headed for law school. At least till I came along.

There are some that would say I destroyed both of their lives, but the truth is they saved mine. That's got to count for something, right?

All I can hope is that we find our happy ending. Fingers crossed, people.

~Hannah

Fans of Janette Rallison, Becca Ann, Brittainy Cherry, and Tess Oliver should enjoy this unexpected love story.

Standalone no love triangle. Second in series is Chasing Colt.

I head home to change and get ready. Hopefully one of my parents would choose to speak to me. When I pull up into the driveway I see a pile of boxes in front of the garage.
The sight of the boxes makes my stomach twist. I park and see Mother coming out of the house. The look on her face is cold and distant. It's like looking at a stranger.
"I've packed clothes that I feel are appropriate for your situation. They're in these boxes. The rest will be donated to the woman's shelter." She tells me calmly.
"What's going on? Why are you packing my clothes up?" I shouted, upset.
"You no longer live here. You are a disappointment to your father and I. We did not raise you to act this way and we will not tolerate your promiscuity under our roof." Mother replied coldly. She never raised her voice, it's as if she's speaking to a stranger. I cry, in complete disbelief at what I'm hearing.
"You can't throw me out. Where am I going to go?" I begged her, desperate for any sympathy or understanding.
"The car is in your name, thanks to your grandparent's lavish and inappropriate gift. Perhaps you can live in it." She tells me mockingly. "Or maybe the boy who impregnated you? Will he still want you now?"
"Father. He wouldn't agree to this. Where is he?" I demanded, her indifference cutting through me.
"He's at the church working on his sermon for Sunday, about the willfulness of children and how to not spare the rod. He couldn't bear to look at you so I'm left to witness your disgraceful display." I'm stunned, she isn't budging. She looks at me with loathing, as if I'd committed a sin so great that my presence alone was contaminated.
"We've changed the locks as well. If you don't take the boxes now they'll be donated with the rest." After she finished, she turned and walked back into the house. I hear her turn the lock after she shuts the door.
My heart raced and tears stream down my face. I stumbled to the boxes and pick the first one up. I managed to fit them all in the trunk of the car. There's a total of five boxes. My life or what's left of it fits in five boxes.

a Rafflecopter giveaway
I adore chocolate chip cookies, romance novels, and alone time. I live in south Louisiana with a collection of rescued dogs and cats. All of who are the loves of my life and well aware of the fact. Spoiled would be a good word to describe them. Writing is currently a hobby since it doesn't pay the bills but my fond hope is one day I can consider it a full time job. I'll keep you posted on how that goes. Currently I spend my days wrangling tech guys in my job as an IT manager. I squeeze writing in between reading plus a million other things like cleaning. Guess what usually wins? Btw, I need to clean my house.

Goodreads | Amazon | The Book Depository | Barnes & Noble | iBooks
Goodreads | Website | Twitter | Facebook