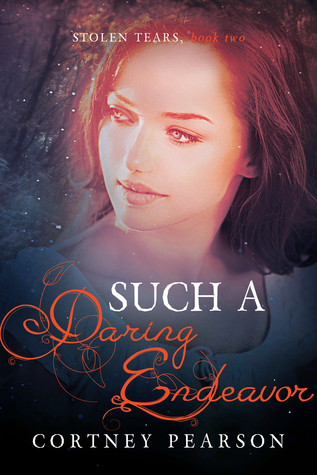 Such A Daring Endeavor (Stolen Tears #2)
by Cortney Pearson.
Audience/Genre: Fantasy, Young Adult.
Publication: June 23rd 2016.
Hope only fades if you allow it to…

Now that Talon Haraway has been taken captive by the Arcaians, Ambry knows it's only a matter of time before he is executed. But to make matters worse, she must go against her once-best-friend, Gwynn Hawkes, to free him. Whether Ambry likes it or not, drinking those tears changed Gwynn. Not only is she subjecting her kinsmen's magic, but with Tyrus preoccupied with his upcoming war, Gwynn is acting more and more in Tyrus's stead, giving commands and leading skirmishes.

Ambry refuses to believe Gwynn is gone for good, however. Along with juggling with her forbidden feelings for Talon, her desire to free her people's magic, and the ever-growing need to protect the tears from being drunk, the solution to stopping Gwynn means hoping harder than she ever has before. Hope can't undo what magic has already done, but paired with action–and her newfound magic–Ambry's hope in Gwynn might be just what her friend needs to leave the dark path she's on.
"Stop following me," she orders, her dark eyes glimmering.
"While I'd be the first to admit you're even prettier in the shadows," says Ren, "I'm not following you."
"Oh no? Then what do you call this?" She gestures around her.
"A stairway," says Ren. "And the way to the dungeons, where I'm currently headed."
The girl glares at him. After several long moments of obvious examination, she concludes, "Whatever your business down here is, keep your nose out of mine."

"My nose didn't have any such notion," Ren assures as she scampers down the final few steps.

GIVEAWAY
Blitz-wide giveaway (INTL)
$30 Amazon gift card
- ends July 7th:
a Rafflecopter giveaway
Sequel to:




Join Ambry Csille in her quest to rescue a stolen vial of tears containing the most powerful magic ever shed. Ambry makes deals with sirens, plunges deep into love with a mysterious warrior before knowing the secrets of his past (including the very reasons she can't be with him), and fights off soldiers who wield claws that can suck the very magic from her bones.
Get Such a Secret Place for only 99¢ – this week only!
Amazon / Barnes & Noble / iBooks / Kobo / Scribd
Cortney Pearson is a mother, a musician, and a lover of all things pink and sparkly. She is the author of Phobic, about doors that shouldn't be opened, and the Stolen Tears series, about an enchanted vial of tears and the girl chosen to wield them. Cortney lives with her husband and three sons in a small Idaho farm town. She believes anything can be made better with a good attitude and a book tucked away for those just-in-case times.

Goodreads | Amazon | The Book Depository | Barnes & Noble | iBooks
Goodreads | Website | Twitter | Facebook