Follow the Whole Tour HERE. Also I am giving away an ecopy of Beyond the Rising Tide below!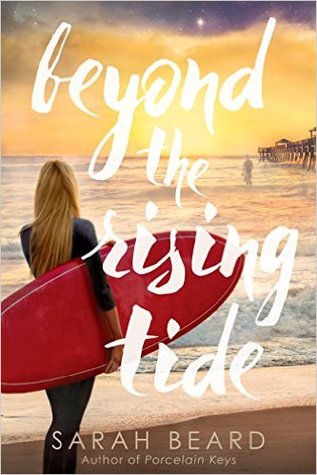 Beyond the Rising Tide by Sarah Beard.
Audience/Genre: YA Speculative Romance.
Publication: June 14th 2016 by Sweetwater Books.
Kai was seventeen when he died saving Avery's life, though he didn't really have much to live for. After spending half his life being shipped around to different families, the only place he felt at home was on a street corner with his guitar. Now, it's been six months since his death. Six months adapting to a new kind of existence where instead of making music, he uses his new healing powers to save lives. But in his off hours, he watches helplessly as Avery's life is unraveled by his death.

Avery doesn't know that it was Kai who saved her life in the ocean, because her rescuer's body was never found. Wracked with guilt, the ocean she once loved is now her tormentor. As her surfboards collect dust in the garage, the weight of her grief destroys her relationships and stretches her to a breaking point.

Always willing to break rules for those he loves, Kai steals a ring that temporarily gives his body substance. With limited time, he does all he can to restore her life to the way it was before his tragic death, but Kai's half-baked plans rarely turn out the way he thinks they will.

Reviewed by Kelly
WOW! Just Wow!! I didn't want to read this. I mean when a person is dead they're dead! How can a romance survive that? But I really liked Sarah's first book, so I wanted to see what she would do with it! Let me tell you, she put some major twists and turns so that whenever I thought, "I see where this is going"; she would take you on a detour!
Then the emotional rollercoaster I felt was overwhelming at times. I think there were instances when sacrifices were made and were done so selflessly that it would overcome me and I would sob. Yes, I ugly cried! There was a lot of sadness too and it was emotionally draining! Don't get me wrong, I loved it! There were happy moments too, to be sure. Then her description of what happens after we die is very sweet and you see people still struggle with choices and feelings of worth. But I just felt a lot of emotions! I mean I read books all the time that give me emotions but something about Ms. Beard's writing that opens my heart. Sarah Beard has some mad writing skills!!
I liked Avery. She was mature and both dealing and not dealing with life. Her mother had separated from her father. Her mom has some mental issues and she isn't always making good choices and Avery deals with the consequences. Avery works at her father's chocolate shop. Let's also say she is a workaholic. She is helping her dad but is also hiding behind work so as to not live her life. Six months ago, Avery was saved by a boy who jumped in the water to save her from drowning. In the process, he died. Now, Avery is just a shell of her former self. She doesn't go out and do the daredevil things she used to. Now she just thinks of the boy who saved her and drowned doing it!
Kai is the boy who died. His mortal life was sad. Kai was a good kid who got dealt a bad hand in life. He has a job in the afterlife healing people on Earth he is assigned to. So he peeks in on Avery a lot. He has been watching her for six months. When an opportunity presents itself to have a mortal body for a time, he takes it without thinking twice of the consequences.
When Kai sees Avery, he can't tell her who he is. Those are the rules. He wants to see her happy and would do whatever it takes to get her to live life again.
The road to happiness is paved with good intentions. But it's a bumpy ride.
Kai and Avery go through a lot together. And there are consequences to be paid. So don't think you know how it ends because there is so much more if you will just read it! Oh and when you do; grab some Kleenex!
Yep, that's all I'm going to tell you about the book. If you want a read that can grab all your emotions and make you think at the same time than go no further. This is it! I love what she did with Kai and Avery. I love how she fixed my thought of I know where this is going and how we are forever not just until we die!
I'm off to buy a few copies for friends and family! I think I found another author that I will auto buy whatever she writes!
(Avery's point-of-view):
My mind retraces the past few months, all the conversations Tyler and I have had, the words we've said and haven't said, all stemming from one incident, one day. And then I'm thrown back to that afternoon, back into the ocean and the cold, roiling waves. I feel them around me, tossing me this way and that, pounding over my head like a stampede of wild horses. I feel the salt stinging my eyes and see the abyss below me in the moment I dove under to find the boy. I saw him there, motionless and suspended in the deep, just out of reach.
Just out of reach.
My face feels hot, and I can't breathe. But I keep my panic cloaked beneath my skin. A violent earthquake rattles my insides, but I tense my muscles, holding it in, restraining it, refusing to let it show. I dig my nails into my arm, anchoring them there, anchoring me into stillness, and I focus all my attention on the present physical pain in my arm.
Kai's hand reaches for mine. His touch stills my insides, draws out the tremors as though they're water and he's a sponge.

a Rafflecopter giveaway
a Rafflecopter giveaway
Sarah Beard is the author of YA novels PORCELAIN KEYS and BEYOND THE RISING TIDE. She earned a degree in communications from the University of Utah and is currently pursuing an MFA in creative writing from VCFA. When she's not writing, she referees wrestling matches between her three boys and listens to audiobooks while folding self-replicating piles of laundry. She is a breast cancer survivor, a baker of sweets, a seeker of good love stories, a composer of melancholy music, and a traveler who wishes her travel budget was much bigger. She lives with her husband and children in the shadow of the beautiful Wasatch Mountains. You can follow Sarah on twitter at @authorsarahb, or atfacebook.com/authorsarahbeard.

Goodreads | Amazon | The Book Depository | Barnes & Noble | iBooks
Goodreads | Website | Twitter | Facebook