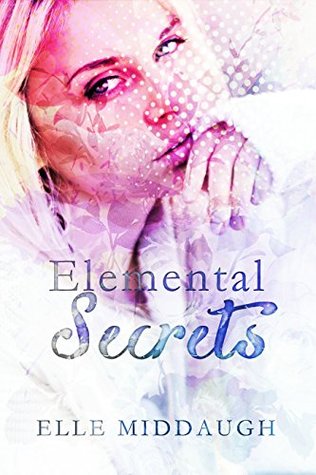 Elemental Secrets (The Essential Elements Book 1) by Elle Middaugh.
Audience/Genre: Fantasy, Young Adult.
Publication: February 27th 2016 by Elle Middaugh.
Valerie Moore was a beautiful, headstrong girl with below-average social skills and above-average anxiety (including a flair for over-analyzing).

With her mother long deceased, and her father recently deployed, she ends up being sent to live with her eccentric aunt in a tiny town nestled in the mountains of Pennsylvania. But, being a Navy brat had made her into a bit of a loner, and making friends certainly wasn't her strongest suit. As if the life of a typical teen wasn't hard enough.

But Valerie soon discovers she's not a typical teenager. Not by a long shot.

SECRETS are revealed…

…About her family, about her newfound friends and relationships, and about her whole world… Things that have been kept from her for her entire life…

But the biggest secret of all is revealed when Valerie discovers that she has Elemental powers, and a chain of inexplicable and irrevocable events unleashes throughout the little town…
"Any other Elemental family members?"
I narrowed my eyes and took a deep breath. "No."
Delaney's gaze bored a hole into my head through my eyes. She didn't believe me. Panic swelled in my veins. As my heart beat faster, my brain squeezed tighter. Would this pain never end?
"Other Elemental family members," she demanded. "Now."
I wracked my brain for a smooth lie that just wouldn't come. It was too late for smoothness, but not for a lie. If I could just think of something.
My head lashed to the side as her hand stung my cheek. Agony erupted through my system and my stomach hurled once more. Frothy spit and stomach acid spewed from my mouth and dripped onto the pretty stone-tiled floor.
"Elemental family members," Henri prodded softly.
I spit the nasty taste out of my mouth. "I don't have any."
Delaney pulled a handgun from the back pocket of her skinny jeans. She aimed it at my left shoulder, a few inches shy of my heart, and cocked an eyebrow. One last chance to change my tune before suffering a bullet.
I took a deep breath. My entire body was tingly with shock and disbelief. I'd never had a gun pointed at me in my life. It seemed surreal…
Until reality came screaming into focus with an earsplitting boom.
My eyes widened, and for a brief moment, time decelerated. The throbbing pain muted, because my heart was barely beating. The smoke hovered almost unwaveringly at the end of the barrel. The hole in my shoulder became a slow-motion kaleidoscope of vivid red.
She shot me… She actually shot me…
The world sped back into real time, and pain assaulted me like the wall of sound before an explosion. If I hadn't been tied to that wooden post, I would have surely been knocked backward by the sheer volume of anguish.
I'd never before experienced pain so severe it was mentally disorienting. Now, in a desperate act of self-preservation, my mind was trying to leave my body. Blacking out seemed the only way to short-circuit the maddening shrieking of the pain receptors.
My vision was clouding with twinkling spots of dark colors, each dot stabbing my brain before winking out of existence and appearing somewhere else. The overwhelming smell of iron and gunpowder rode the air, heavy like a fog.
I somehow managed to choke down the gag that was seizing my throat. I somehow managed to remain conscious.
"Elemental family members," Henri asked again, more sternly this time.
They would kill me if I didn't talk. Delaney aimed the gun at my other shoulder. They would kill me slowly…

Blitz-wide giveaway (INTL)
2x $10 Amazon Gift Cards
1 Signed copy of Elemental Secrets
3x Kindle downloads of Elemental Secrets
- ends May 12th:
a Rafflecopter giveaway
Elle Middaugh is a newly published author, born in the sticks outside of Clearfield, Pennsylvania. After moving around the east coast a number of times, she now lives in her hometown with her husband and three children.

Reading has been a favorite past time since Elementary School and choose-your-own-adventure books. Writing has been her dream since Middle School when she first began penning her own material. Being published is the most awesome achievement in her writing career so far, but she hopes for more exciting landmarks and stepping stones in the future!

She's a proud Navy wife; a frazzle-brained mother; a homebody who dislikes cleaning; a fan of tennis, and fitness in general; a lover of hot tea, mountain dew, and all things fiction; and she's a bigger My Little Pony fan than her children.

Goodreads | Amazon | The Book Depository | Barnes & Noble | iBooks
Goodreads | Website | Twitter | Facebook