Follow the Whole Tour HERE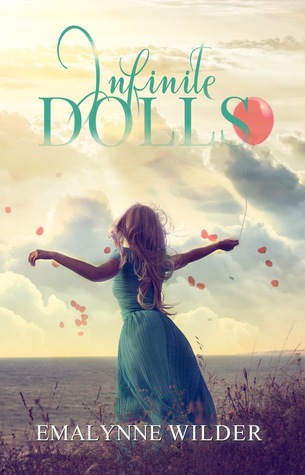 Book Name by Emalynne Wilder.
Audience/Genre: New Adult, Romance.
Publication: May 3rd 2016.
Born to be the best.

Head of his class.

No strings attached.

The third year of medical school is supposed to be the hardest, but Callum Trovatto has no idea what he's about to face when Everly Anne Brighton stands between him and a passing grade, shaking up his world with her secrets, and digging into his dark past.

Hopeless.

Trapped by her father's rules.

Longing for freedom.

Expected to die before her twenty-first birthday at the hands of a rare medical condition, Everly Brighton begins to defy the carefully crafted routine her father enforces to keep her alive, despite the fact that it could kill her.

INFINITE DOLLS is an emotionally charged love story about finding faith, coping with loss and living in the preciousness of Now.


Reviewed by Kelly.
There are times when a book is more than a story of two people but a story about life and loss and deep love and just being! This is one of those. Ha, it's also about the word "just" and how it's used and how Callum Andrew didn't like the word! He had too many bad moments associated with the loss of his mother to cancer to like the word. Once it was addressed, I couldn't start noticing every just word in the book and its meaning. Now, I bet you won't be able not to notice it for a while!!
"Just one bite of food. Just take one bit, Julep."
"I was thirteen, and it was Christmas Eve….. They told me my mom just stopped breathing."
But when Everly came into his life, he learned that it also has a good meaning. Here is a portion of a note left inside of the book Peter Pan that Everly left for Callum Andrew...
James Barrie's words were bolded at the top. Just always be waiting for me. And underneath, she had written: Not every "just" leads to doom. What if the word "just" only loses all its goodness when you stop looking at it as such. Justice, fair, evenhanded, unbiased, good, moral. This is the Family of Just. But like any family that starts out wholesome, there is room for a shift. All it takes is one person to stop believing in the foundation. Then that family is only on the outskirts of what remains, until no one addresses it as a whole, just the broken bits that fell away. Just the crumbles of what was once so sturdy. Just. You can make anything whole again. Just. You just have to nurse it back to health.
The words in the book show meaning to life and love and happiness in the time we have in this world. The author weaves words about thoughts like a poem often more than just a story about a boy and a girl. A girl who will die sooner than later and a boy who is willing to love her anyway and will enjoy every moment he can with her. Me, I would be way too scared to know my heart would soon be broken and I would run away screaming. But the author shows me why my thoughts are illogical.
I wasn't talking about death. I'm talking about life. That's the damn problem. Everyone is so focused on losing some unforseen day in the future, they don't even cherish what they have right now. Well, right now, I'm in love with this girl. That's not denial. It's the absolute truth. Worry warts are in denial, believing every carefully-made choice won't end badly. Guess what Tot? We all die someday. So what if I get ten days or ten years with her? Are we all so concerned with quantity, we won't even consider some of the best moments of our lives are the shortest lived? I might end up spending more time in my life reminding patients to watch their cholesterol than I ever will spend tenderly with Everly Anne...But does that make her lesser? Are those moments not worth having?
The story is tender and while there is a fatal medical diagnosis, this story is about living with it and not what everyone is doing about it. You have to read her acknowledgments at the end. Where the story has ended, her thoughts keep you thinking and it so sweet.
I know it is only a piece of the story I have given you here it is really something you have to read for yourself. There were times I wasn't sure how I felt about the book. Some moments I thought I didn't like it at all. My emotions were all over the place. Then I would cry about some moment or spoken word here and there and of course you like it when you cry! I am only going to 4.5 because sometimes I was a little lost.
a Rafflecopter giveaway
Emalynne Wilder is the voice of the Broken-Hearted. The Forgotten. The Unheard. Painfully shy in person. Unapologetic on paper. She's the girl listening to your dirt from the corner of the room as she plots how to turn tragedy into triumph.
Goodreads | Amazon | The Book Depository | Barnes & Noble | iBooks
Goodreads | Website | Twitter | Facebook