Follow the Whole Tour HERE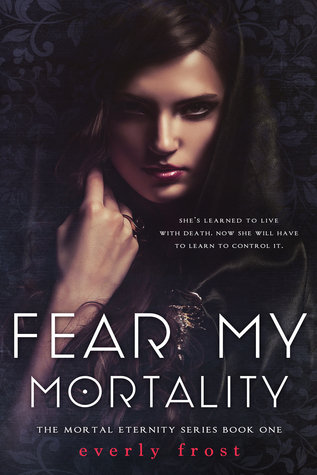 Fear My Mortality (Mortal Eternity #1)
by Everly Frost.
Audience/Genre: Young Adult, Science Fiction.
Publication: April 5th 2016 by Month9Books.
In a world where people are invulnerable to illness and death, with lives spanning hundreds of years, a sixteen-year-old becomes witness to the impossible – her brother's failure to regenerate after death after which she suspects that she too may be mortal.
Reviewed by Kelly.
Amazing. Just Simply Amazing!!! The story has everything I want in a book. The characters are likable and believable. The romance is light. The plot is really good. The story line is different, fast paced, action packed, refreshingly different, and has me routing for the hero and heroine to succeed. The book has you on the edge of your seat reading till you get to the end and realize that you need to know what happens next because the book stops after an action packed moment. It lulled me to believing there would be peace but now I know better. I. Am. Impatient.
The Characters: Ava lives in a world where there is no disease and people live for hundreds of years (I like the way they show their age; it's by the length of their hair). If they get "killed" they just regenerate and everything is peachy keen! No one dies until it is their "last death". But that comes with a price and leave it to Ava to know what that is. She cares about people. She watches a child get hit by a car. The mom and the driver don't even look at the child they just call for help and are put off by the whole event. While Ava looks under the car at the child to see how he is. A drone flying by notices that. Now that Ava is about to experience her first death an event called "Implosion" she is anxious for that. She is scared. No one else is. They look forward to it. She worries that she may be a slow healer too. They are frowned upon. They are ridiculed. SO on the night of the Implosion, all hell breaks loose and she finds herself in chaos and her brother (dressed as a Basher, those who think that those with lower genetic makeup should be eliminated) tries to get her to safety. But he never makes it as she watches him as he is murdered in front of her by the school heartthrob Michael. No one is murdered because you can't die. But Josh did. Why did he die? After that, there is nonstop action and I read the book straight through to the end.
They find that Ava is like Josh; a mortal. They have no genes to regenerate or heal themselves. And that makes for a great lab rat and a target for the Bashers! So, Michael joins Ava because he is the one who is a murderer even though he didn't know Josh was mortal and neither did Ava. She is tested on and then finds herself with a drug given to her called Nectar and it makes her regenerate too as long as she has it in her system. It has side effects too. Michael is the opposite. He seems to be immortal. He regenerates very very quickly. So begins the quest to find answers about Ava's genetics and the key to being mortal and immortal.
The quest takes you on an exciting journey that never seems to slow down. But I liked it like that! The ending isn't a cliffhanger per se but you don't know what will happen next. I want answers. I want more. I want to see Michael and Ava have a happy and restful ever after. This is the first in a trilogy.
If you like action, genetics, drugs that make you heal and maybe hallucinate a little, stitching you up without pain relievers, going without sleep, water and food for long periods of time, two people finding themselves becoming friends and then more, a father who may or may not be a little evil, people who think they are all that and are cruel and evil, a great story, being able to heal on your own, living for hundreds of years, than this might be for you.
Guest Post: Playlist
My playlist for Fear My Mortality includes a lot of strong female voices. Ava is a dancer and she's worked hard to have a shot at being selected for the best dance academy in Evereach.
That all changes when her world is ripped apart.
These are songs that not only reflect the sudden danger Ava finds herself in, but that she'd also dance to:
Take It All by Ruelle
Bird Set Free by Sia
Breath of Life by Florence + The Machine
Still Here by Digital Daggers
Here are the youtube links for each video (I'm not sure if the Sia one is okay – that guy with the hairy armpits – eep!):
Take It All by Ruelle:
https://www.youtube.com/watch?v=oQlYXdhN9iU
Bird Set Free by Sia:
https://www.youtube.com/watch?v=KrT_0J6m6y8
Breath of Life by Florence + The Machine:
https://www.youtube.com/watch?v=WUI-Mjz56S0
Still Here by Digital Daggers:
https://www.youtube.com/watch?v=LD9RqOevOpw
Giveaway Information: Contest ends April 22, 2016
Five (5) winners will receive a digital copy of Fear My Mortality by Everly Frost (INT)
a Rafflecopter giveaway
Everly Frost wrote her first story when she was nine. She grew up in a country town, lived for a little while in Japan, and worked for several years in Canberra, Australia's capital city. Now, Everly lives in Brisbane, Australia, with her husband and two children. She doesn't speak Japanese so often anymore, has left the cold Canberra winters behind, but has never stopped writing.

Goodreads | Amazon | The Book Depository | Barnes & Noble | iBooks
Goodreads | Website | Twitter | Facebook