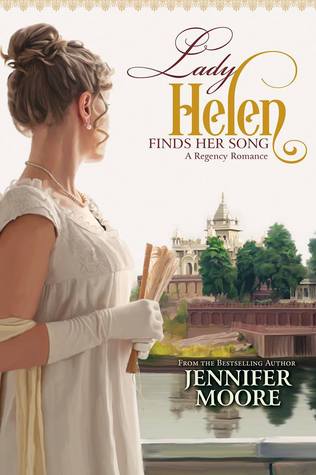 Lady Helen Finds Her Song
by Jennifer Moore.
Audience/Genre: Adult, Regency Romance, Historical Fiction, Clean Read.
Publication: April 2016 by Covenant Communications.
Spring 1813
The exotic splendors of India are legendary, and the colorful sights of her new home in Calcutta immediately captivate eighteen-year-old Lady Helen Poulter. Whereas many of her fellow British expatriates despise the culture they see as barbaric, Helen sees excitement in the unusual locale. It is in this vibrant, bustling city that she finds a kindred soul in Captain Michael Rhodes, an Englishman whose lifelong love of India runs deep. Their friendship quickly grows, yet despite their undeniable connection, she could never think of Captain Rhodes as more than a dear friend.

Her love, in truth, has been captured by dashing British Lieutenant Arthur Bancroft. This handsome soldier represents the embodiment of all she's dreamed of in a husband. Preoccupied by her growing affections, Helen never dreams that beneath the glamor of the city, hostilities are reaching a boiling point. When battle ultimately threatens both of the men in her life, she must make a choice: pursue the man who symbolizes her British past, or let herself love a man who promises an unknown future in the land she loves. But amid the casualties of war, will her declaration of love come too late?
Reviewed by Kelly.
I swear to you when I finished reading this book, I caught myself in a big sigh! It was wonderful! It was also an amazing adventure in India. And watching Lady Helen fall in love was priceless. Okay maybe I have been watching one too many commercials but it was wonderful and I did catch myself in a sigh! And if I didn't have a huge pile of tbr books, I would reread it right now!!
Lady Helen is the daughter of Lady Patricia. When her father died Lady Patricia married General Stackhouse. He was much more a father to her than her own father had ever been. He loved her and protected her. Lady Helen went with them to India where Lady Helen saw everything with the glass half full. She loved the colors, the customs, the people and she desired to learn and see more.
Captain Rhodes has been in India for some time. He lost part of a leg in battle. He is around ten years Lady Helen's senior. He is a good man. Captain Rhodes has a monkey that found him when he was in the hospital and has stayed with him and helped him heal.I think of him like a working dog. The monkey thinks he is human and is quite cute and funny. Captain Rhodes has always treated Lady Helen with respect and admires her views of India and life. They form an easy friendship.
Lieutenant Bancroft is young full of life and everything Helen ever wanted in a husband. He likes to hunt and is always talking about hunting and saying it in such a manner that offends Lady Helen. He is kind to her and does the general token of sending her flowers to show his affection for her.
These are times with unsteady politics between the British and India. Talk of war and showing respect brings Helen, General Stackhouse, Lieutenant Bancroft and many more in the troops for a show of respect in the Prince's palace. But the lack of respect shown back to them is obvious and Lady Helen is frightened. The tigers are chained but are on the front porch of the temple. It is Captain Rhodes who comes to her aide and protects her time and time again.
Captain Rhodes sees that she cares for Lieutenant Bancroft and knows she would never see him as any more than a friend. Especially with his damaged leg. Helen always finds herself in his company and able to talk easily with him and she feels safe with him.
But the writing is what keeps me glued to my chair. It flows easily and the descriptions make me want to get on a plane and go to India myself. Although I do not want the bugs, bats, snakes, and scorpions described! Wait, never mind- I think I will just read about India! The characters are portrayed so that I can see them and understand them in my own mind. I admire the characters and find myself rooting for them all. Well, almost all of them! Lady Helen had a song on her piano forte for everyone but herself. She has been looking for her own song that describes who she is and that is part of her own journey.
Here is one of my favorite moments between mother and daughter….
"With Jim, I am safe." Lady Patricia said. "Not simply from physical harm, but I trust him with my heart and know without a doubt he would never hurt it. I am safe to say anything or be anything with him, and he will not think less of me. That is what love is, my dear. And I did not know it until I met him."
a Rafflecopter giveaway
Jennifer Moore is a passionate reader and writer of all things romance due to the need to balance the rest of her world, which includes a perpetually traveling husband and four active sons, who create heaps of laundry that are anything but romantic. Jennifer has a BA in linguistics from the University of Utah and is a Guitar Hero champion. She lives in northern Utah with her family.
Goodreads | Amazon | The Book Depository | Barnes & Noble | iBooks
Goodreads | Website | Twitter | Facebook
*April 11th: http://heidi-reads.blogspot.com/, http://ldswritermom.blogspot.com/, http://mybookaday.blogspot.com/, https://joyinthemoments.wordpress.com/
*April 12th: http://empowermoms.net/, http://www.iamareader.com/, http://www.bonnieharris.blogspot.com/, http://minreadsandreviews.blogspot.com/, http://www.ldswomensbookreview.com/wordpress/
*April 13th: http://www.singinglibrarianbooks.com/index.html, http://gettingyourreadonaimeebrown.blogspot.com/, http://lisaisabookworm.blogspot.com/, http://literarytimeout.blogspot.com/, http://www.wishfulendings.com/, http://www.rockinbookreviews.com/
*April 14th: http://katiescleanbookcollection.blogspot.com/, http://ldsandlovinit.blogspot.com/, http://melsshelves.blogspot.com/, http://seekingwithallyurheart.blogspot.com/
*April 15th: http://booksaresanity.blogspot.com/, http://www.sweetlymadejustforyou.com/, http://www.blogginboutbooks.com/, https://atransparentmom.com/, http://www.kindleandme.com/, http://whynotbecauseisaidso.blogspot.com/, http://fireandicereads.com/,