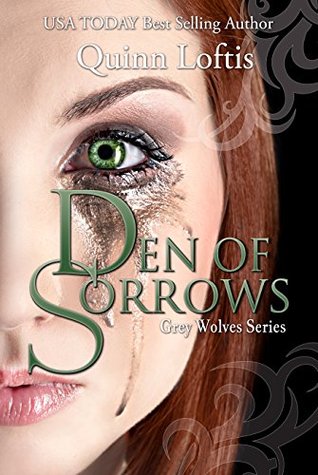 Den of Sorrows (The Grey Wolves #9)
by Quinn Loftis.
Audience/Genre: New Adult, Paranormal Romance.
Publication: March 25th 2016 by Quinn Loftis Books LLC.
The Romanian and Serbian Canis lupus rest in an uneasy peace. One of their own, Sally Miklos, the young and powerful gypsy healer, aids Perizada in her quest to defeat Volcan, a long forgotten nightmare returned to our world. These two packs watch as their brothers across the world, wolves from Spain, Ireland, and America, join their own forces in the battle against the evil dark fae. At the same time, the packs hope against hope that their presence might reveal a mate bond between a pack member and one of the five recently discovered gypsy healers.
While Jacque and Jen miss Sally, their longtime best friend, they have bided their time dealing with their own domestic issues. Jacque and Fane are anticipating the birth of their first child and Jen and Decebel face the challenges of caring for an infant. Both girls are eagerly awaiting Sally's return, and have Perizada's word that she will be back in time for the birth of Jacque's baby.
Vasile and Alina, the Alpha pair of the Romanian pack, are enjoying this time of peace. But Vasile did not become the most powerful Alpha in centuries by being a fool. He has lived long enough to know that there is always another battle on the horizon. As long as evil exists in this world, his race must step forward and stand in the gap, shielding those who cannot protect themselves. But the battle he is anticipating is bigger than he could have ever imagined.
As Perizada has recently discovered, creatures of the night that have for so long remained hidden from the human realm, have slithered from their underground lairs and begun preying on the young and innocent. The high fae has declared war, and she expects Vasile and his wolves to be the ones to carry out the attack. The Alpha is more than happy to oblige. But with his first grandchild on the way, and the gift of five vulnerable healers coming under the wolves' protection, he understands that he must be very careful not to place any of them in harm's way.
Such is the job of the Alpha, protector, and provider. He and those he leads must stand as sentinels and warriors to safeguard those they love, and the humans who know nothing of the supernatural world. It will be their job to destroy the creatures that threaten to expose them all. And if they fail, the world as they know it, both human and supernatural, will never be the same.

Reviewed by Kelly.
I felt so many emotions in this book. I both love and hate it when I cry. I can't read anything while I have tears in my line of vision! What I really like though is how Quinn's books make me laugh! The sarcasm, witty banter and innuendos just keep me glued to the books! Her characters feel deeply and I love the bonds in the book.
What I didn't like was the ending. Yes, it leaves you with a "No, you didn't!" screaming out of you! Because there is more than one thing hanging at the end of this book and I want answers now!! I can't accept it hanging like that!
I did have a hard time getting into the book. I don't know why , it must have been my own mood. But then I couldn't get enough and I ate it up!
This book had so many things to talk about. The couples from the other books continue to intrigue me and there is a new couple introduced here. But with it comes something I wondered about with the wolves and their dark side. The title is appropriate because it has multiple meanings for multiple characters.
If you haven't read any of the books in this series, you need to get on it, I promise you it will make you laugh and cry!
a Rafflecopter giveaway
Quinn is an award winning author who lives in beautiful Western Arkansas with her husband, two sons, Nora the Doberman, and Phoebe the Cat (who thinks she is a ninja in disguise). She is the author of thirteen novels, including the USA Today bestseller, Fate and Fury. Quinn is beyond thankful that she has been blessed to be able to write full time and hopes the readers know how much all of their support means to her. Some of her hobbies include reading, exercising, crochet, and spending time with family and friends. She gives all credit of her success to God because he gave her the creative spirit and vivid imagination it takes to write.
Goodreads | Amazon | The Book Depository | Barnes & Noble | iBooks
Goodreads | Website | Twitter | Facebook