Follow the Whole Tour HERE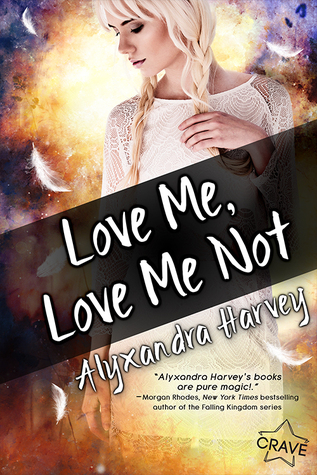 Love Me, Love Me Not
by Alyxandra Harvey.
Audience/Genre: Young Adult, Paranormal Romance, Retellings.
Publication: February 22nd 2016 by Entangled: Crave.
Dating isn't easy when you're in the middle of a blood feud.

Anastasia Vila's family can turn into swans, but just once she'd like them to turn into responsible adults.

After hundreds of years, they still cling to the blood feud with the Renard family. No one remembers how it started in the first place—but foxes and swans just don't get along.

Vilas can only transform into their swan shape after they have fallen in love for the first time, but between balancing schoolwork, family obligations, and the escalating blood feud, Ana's got no time for love. The only thing keeping her sane is her best friend, Pierce Kent.

But when Pierce kisses Ana, everything changes.

Is what Pierce feels for her real, or a byproduct of her magic? Can she risk everything for her best friend? And when the family feud spirals out of control, Ana must stop the fight before it takes away everything she loves.

Including, maybe...Pierce.

This Entangled Teen Crave book contains language, violence, and lots of kissing. Warning: it might induce strong feelings of undeniable attraction for your best friend.
Reviewed by Kelly.
Love Me, Love Me Not is a complex retelling of the ballet – Swan Lake. This version has the girls becoming swans when they find love. So all the girls collect feathers waiting the day they find their love and sew feathers onto their cloaks when that day comes.
Meanwhile there is a feud with those who shape shift into foxes. This feud has been forever and no one really knows why. They both own some magic.
Pierce is Ana's best friend. Pierce has loved Ana forever but has kept it a secret. When he does kiss and tell her this, because he sees her after some other guy wanting him to fall for her, Ana thinks it's because of her magic and not that he really loves her. Because the swan magic can sing and make people love them or can heal them or make powerful wind. Pierce truly loves her and lets her go.
Then when swans go missing and foxes are being trapped, they each blame the other group for what is happening. But Ana doesn't think so. She thinks someone else is responsible. But no one will believe her; they are all too wrapped up in the feud to believe anything else.
There are twists to the story. Some violence is noted. I love fairy retellings but I was just a little disappointed in the way this one went. I found myself very confused at the beginning. There were too many people mentioned for me to keep up with. I wanted to quit reading. I wasn't happy that Ana didn't see Pierce for who is was. He was always there for her. I stayed with it because I wanted Pierce to be happy and see what really was going on. I didn't expect what the answers were. It is more than you would think. It is very clever! Ana and Pierce should win a noble peace prize for figuring it out and ultimately ending a forever feud! That got me in the end, I was happy with the book!
a Rafflecopter giveaway
Alyxandra Harvey lives in a stone Victorian house in Ontario, Canada with a few resident ghosts who are allowed to stay as long they keep company manners. She loves medieval dresses, used to be able to recite all of The Lady of Shalott by Tennyson, and has been accused, more than once, of being born in the wrong century. She believes this to be mostly true except for the fact that she really likes running water, women's rights, and ice cream.

Aside from the ghosts, she also lives with three dogs and her husband. She likes chai lattes, tattoos, and books.

Author of The Drake Chronicles: Hearts At Stake/ My Love Lies Bleeding, Blood Feud,Out for Blood, Bleeding Hearts, Blood Moon and Blood Prophecy.
Also: Haunting Violet, Stolen Away and The Lovegrove Legacy: A Breath of Frost and Whisper the Dead.
Sometimes fueled by literary rage.
Goodreads | Amazon | The Book Depository | Barnes & Noble | iBooks
Goodreads | Website | Twitter | Facebook