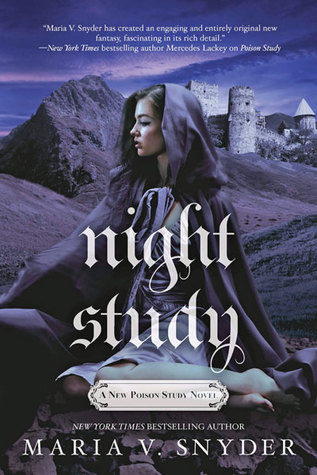 Night Study (Soulfinders #2)
by Maria V. Snyder.
Audience/Genre: New Adult, Fantasy.
Publication: January 26th 2016 by MIRA Ink.
Ever since being kidnapped from the Illiais Jungle as a child, Yelena Zaltana's has been fraught with peril. But the recent loss of her Soulfinding abilities has endangered her more than ever before. As she desperately searches for a way to reclaim her magic, her enemies are closing in, and neither Ixia nor Sitia are safe for her anymore. Especially since the growing discord between the two countries and the possibility of a war threatens everything Yelena holds dear.

Valek is determined to protect Yelena, but he's quickly running out of options. The Commander suspects that his loyalties are divided, and he's been keeping secrets from Valek...secrets that put him, Yelena and all their friends in terrible danger. As they uncover the various layers of the Commander's mysterious plans, they realize it's far more sinister that they could have ever imagined.
Reviewed by Kelly
I love Maria Snyder! Her stories are all consuming; you can't get enough of them! You find yourself literally transformed into a world where you are always moving, feeling, seeing and thinking. This book is no different. This one though feels more like a family. They are more joined and the stakes are raised as they will do whatever it takes for their family!
There is nonstop action. You really have to read the Study/Glass series to best be able to understand all that is going on, because once you start it just goes and goes! What I do like is that she puts little reminders in the story if you have forgotten something in the previous books. I also had forgotten the witty dry sarcastic banter they all have especially Janco!
I can't wait for the next book. I want to read Kiki talking to Yelena again. I want to see how they are going to fix this huge HUGE problem that they have! I want to see what happens to Valek next! I want to see what happens next period!! Maria's stories are like a drug to me!!
Meteorologist turned novelist, Maria's been writing fantasy and science fiction since she was bored at work and needed something creative to do. A dozen novels and numerous short stories later, Maria's learned a thing or three about writing. She's been on the New York Times bestseller list, won a half-dozen awards, and has earned her MA degree in Writing from Seton Hill University where she's been happily sharing her knowledge with the current crop of MFA students. She also enjoys creating new worlds where horses and swords rule, 'cause let's face it, they're cool, although she's been known to trap her poor characters in a giant metal cube and let them figure out how to get out. Readers are welcome to check out her website for book excerpts, free short stories, maps, blog, and her schedule at http://www.MariaVSnyder.com.
Goodreads | Amazon | The Book Depository | Barnes & Noble | iBooks
Goodreads | Website | Twitter | Facebook