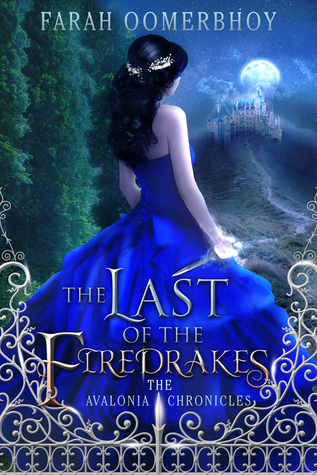 The Last of the Firedrakes (Avalonia Chronicles #1)
by Farah Oomerbhoy.
Audience/Genre: Young Adult, Fantasy, Romance.
Publication: August 15th 2015 by Wise Ink Creative Publishing.
16-year-old Aurora Darlington is an orphan. Mistreated by her adopted family and bullied at school, she dreams of running away and being free. But when she is kidnapped and dragged through a portal into a magical world, suddenly her old life doesn't seem so bad.

Avalonia is a dangerous land ruled by powerful mages and a cruel, selfish queen who will do anything to control all seven kingdoms—including killing anyone who stands in her way. Thrust headlong into this new, magical world, Aurora's arrival sets plans in motion that threaten to destroy all she holds dear.

With the help of a young fae, a magical pegasus, and a handsome mage, Aurora journeys across Avalonia to learn the truth about her past and unleash the power within herself. Kingdoms collide as a complicated web of political intrigue and ancient magic lead Aurora to unravel a shocking secret that will change her life forever.
Praises...
Review Excerpts
"...the narrative components echo the classics; the Academy of Magic at Evolon could be Hogwarts, while the Shadow Guards are reminiscent of Tolkien's Ring Wraiths or Rowling's Dementors...a beautifully drawn fantasy world."
- Kirkus Reviews
"Perfect for fans of Harry Potter"
- Alyson Serena Stone
"The Last of the Firedrakes is a wonderful book! It's STUNNING, in fact. I'm a firm lover of fantasy novels and this one did not disappoint me since it has everything I could have wished for - a diverse array of characters, magic, never-ending action and amazing world-building. It will satisfy anyone's need for a fantastical adventure!"
- Melissa @ The Reader and the Chef
"Five stars, HIGHLY recommended for plot and pacing, if you like Harry Potter, you'll like The Last of the Firedrakes, trust me!"
- LilMar
Giveaway Details:
One Amazon Gift Voucher worth 1000INR
One Amazon Gift Voucher worth 500INR
3 Signed Copies of The Last of the Firedrakes
a Rafflecopter giveaway
For Farah Oomerbhoy, writing is a passion and reading her solace. She is a firm believer in the fantastic and magical, and often dreams of living in Narnia, Neverland, or the Enchanted Forest.

Farah lives with her husband and three children in their family home in Mumbai, India. She has a Master's degree in English Literature from the University of Mumbai. Her first novel, The Last of the Firedrakes, Book 1 of the Avalonia Chronicles will be published worldwide in August 2015.
Goodreads | Amazon | The Book Depository | Barnes & Noble | iBooks
Goodreads | Website | Twitter | Facebook