Follow the Whole Tour HERE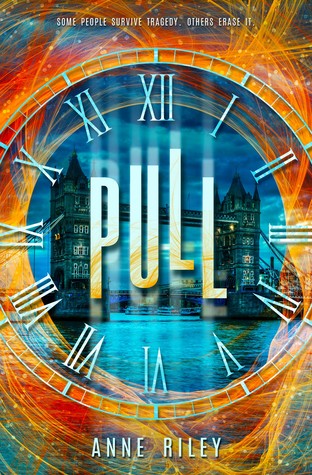 Pull by Anne Riley.
Audience/Genre: Young Adult, Science Fiction.
Publication: February 2nd 2016 by Spencer Hill Press.
Rosie Clayton witnesses a mugging on her first night in London—and then the scene rewinds itself.

She finds herself standing in the same place again, with the mugging happening just like before, except this time a stranger steps in and stops it. There's no way the same incident can have two outcomes. Rosie thinks she's losing her mind, until just a few days later, the stranger saves her.

The stranger, Albert, and his band of misfit crime-fighters, have the special ability to Pull, which allows them to rewind just enough time to undo a recent event. Someone is hunting Albert and his crew– and now that Rosie's been seen with them, she's a target too. Rosie is left with no choice but to trust Albert to keep her safe.

As Rosie learns more about this unbelievable ability and the people – if you can call them that – who want them dead, she discovers that the group's desire for her blood might be more than mere coincidence. Each step into this magical side of London introduces Rosie to a family history that she never knew existed, and dangerous forces that could unravel her world in an instant.

Her family may be the reason they're all being hunted—and she may be the only one who can figure out how to save them. Sure, between the lot of them, they have a few shots to get it right. The thing about Pulling, though, is you have to be alive to do it.
Playlist for Pull...
1)
"Let Go" by Frou Frou
2)
"Closer to Love" by Mat Kearney
3)
"All the Right Moves" by OneRepublic
4)
"Please Forgive Me" by David Gray
5)
"1979" by The Smashing Pumpkins
6)
"Glad You Came" by The Wanted
7)
"Sweet Nothing" by Calvin Harris ft. Florence Welch
Book Trailer
a Rafflecopter giveaway
Anne Riley is an author of young adult fiction cleverly disguised as a high school Spanish teacher. She lives in Birmingham, Alabama, with her family.
Anne began writing at the ripe old age of nine, when she penned a literary classic about… well, she doesn't really remember what it was about, but she's pretty sure the main characters were ferrets.
These days, she writes stories about teenagers instead of ferrets.
Goodreads | Amazon | The Book Depository | Barnes & Noble | iBooks
Goodreads | Website | Twitter | Facebook