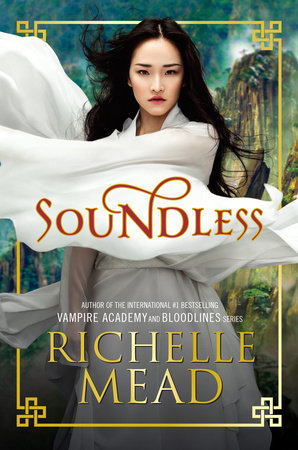 Soundless
by Richelle Mead.
Audience/Genre: Mythology.
Publication: November 10th 2015 by Razorbill.
Source: Purchased
From Richelle Mead, the #1 internationally bestselling author of Vampire Academy and Bloodlines, comes a breathtaking new fantasy steeped in Chinese folklore.

For as long as Fei can remember, there has been no sound in her village, where rocky terrain and frequent avalanches prevent residents from self-sustaining. Fei and her people are at the mercy of a zipline that carries food up the treacherous cliffs from Beiguo, a mysterious faraway kingdom.

When villagers begin to lose their sight, deliveries from the zipline shrink and many go hungry. Fei's home, the people she loves, and her entire existence is plunged into crisis, under threat of darkness and starvation.

But soon Fei is awoken in the night by a searing noise, and sound becomes her weapon.

Richelle Mead takes readers on a triumphant journey from the peak of Fei's jagged mountain village to the valley of Beiugo, where a startling truth and an unlikely romance will change her life forever...
Reviewed by Kelly.
After seeing others bad reviews, I was hesitant to read it. But I love her writing so I read it. I don't know what the fuss was all about but I loved it.
It was an amazing adventure. The world created was easily seen in my mind. The story was mesmerizing. I wanted to know what would happen and I had no idea how things would end. I thought it would be hopeless. I loved the romance between Le Wei and Fei. I had so many questions and they were all answered by the end of the book. The ending was perfect and I enjoyed every minute of it!
Scorpio Richelle Mead is a New York Times and USA Today bestselling author of urban fantasy books for both adults and teens. Originally from Michigan, Richelle now lives in Seattle, Washington where she works on her three series full-time: Georgina Kincaid, Dark Swan, and Vampire Academy.

A life-long reader, Richelle has always loved mythology and folklore. When she can actually tear herself away from books (either reading or writing them), she enjoys bad reality TV, traveling, trying interesting cocktails, and shopping for dresses. She's a self-professed coffee addict and has a passion for all things wacky and humorous.
Goodreads | Amazon | The Book Depository | Barnes & Noble | iBooks
Goodreads | Website | Twitter | Facebook