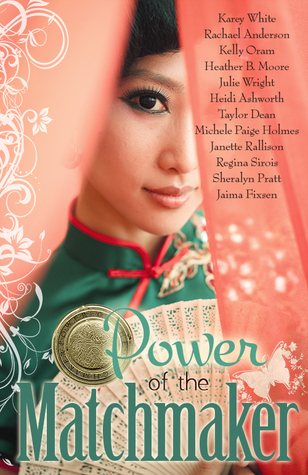 Power of the Matchmaker (Power of the Matchmaker)
by Author Name.
Audience/Genre: Novella, Historical Fiction, Clean Romance, Paranormal.
Publication: November 3rd 2015 by Mirror Press.
A prequel novella to the POWER OF THE MATCHMAKER Series
Mystical . . . Beautiful . . . Romantic . . .
12 novels by 12 bestselling authors
Released once a month in 2016
Read the matchmaker's story to find out where it all starts . . .

Mae Li has been in love with Chen Zhu for years, and he with her. But when the matchmaker arrives at the Zhu family home, she recommends another village girl for Chen.

Heartbroken, Mae Li watches as Chen does his duty by marrying another. Mae flees her village with the clothes on her back and her only possession—a pearl embedded comb, given to her as a goodbye gift from Chen Zhu.

Upon Mae's arrival in Shanghai, she quickly learns that she'll starve within days unless she sells her prized comb or joins a courtesan house. She goes to the Huangpu River and promises the River God that she'll always be selfless if he will save her from becoming a prostitute . . . Her wish is granted when Ms. Tan, the matchmaker of Shanghai, finds Mae. But Mae must completely change her future and her name if she is to become the next matchmaker.
Reviewed by Kelly.
Wow, to give up your true love to find love for others is a selfless act. I don't know if I could have been as sacrificing as Mai Li/Pearl was.
This story is easy to read, a very short read, and sends a message on selfless acts of kindness.
The story is about a young woman who cannot abide by the matchmaker's decision to marry someone other than Chen. Chen and Mai love each other. Chen will do as tradition holds and marry another. Mai leaves with little money, clothing and a pearl hair comb from Chen. She finds the harsh realities of life and is at the brink of death when the matchmaker of Shanghai finds her and brings her back to life. Mai has one year to decide if she wants to take the position of matchmaker. Then she has to declare that she gives up on her own true love.
Time slows down for the matchmaker. So, even though the next stories may be in different time periods it will be the same matchmaker.
Amazing and mystical! I can't wait to read the rest of the series!!
**Join us for the POWER OF THE MATCHMAKER SERIES**
12 novels by 12 bestselling authors
Released once a month in 2016:
Broken Things to Mend by Karey White (Jan 2016)
Not Always Happenstance by Rachael Anderson (Feb 2016)
If We Were a Movie by Kelly Oram (March 2016)
Love is Come by Heather B. Moore (April 2016)
Four Chambers by Julie Wright (May 2016)
O'er the River Liffey by Heidi Ashworth (June 2016)
Chasing Fireflies by Taylor Dean (July 2016)
Between Earth and Heaven by Michele Paige Holmes (Aug 2016)
How I Met Your Brother by Janette Rallison (Sept 2016)
To Move the World by Regina Sirois (Oct 2016)
King of the Friend Zone by Sheralyn Pratt (Nov 2016)
The Reformer by Jaima Fixsen (Dec 2016)
Goodreads | Amazon | The Book Depository | Barnes & Noble | iBooks
Goodreads | Website | Twitter | Facebook