Follow the Whole Tour HERE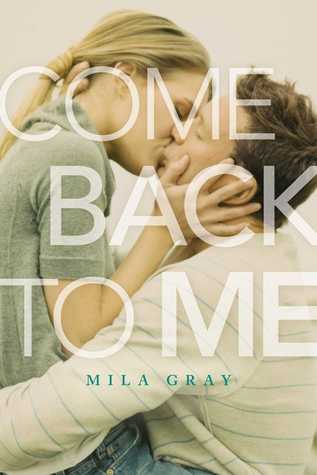 Come Back to Me (Come Back to Me #1)
by Mila Gray.
Audience/Genre: New Adult, Romance.
Publication: December 8th 2015 by Simon Pulse.
In this heart-wrenching tale of love and loss, a young Marine and his best friend's sister plunge into a forbidden love affair while he's home on leave.

When a Marine Chaplain knocks on her door, Jessa's heart breaks—someone she loves is dead. Killed in action, but is it Riley or Kit? Her brother or her boyfriend…

Three months earlier, Marine Kit Ryan finds himself back home on leave and dangerously drawn to his best friend Riley's sister, Jessa—the one girl he can't have. Exhausted from fighting his feelings, Kit finally gives in, and Jessa isn't strong enough to resist diving headfirst into a passionate relationship.

But what was just supposed to be a summer romance develops into something far greater than either of them expected. Jessa's finally found the man of her dreams and Kit's finally discovered there's someone he'd sacrifice everything for.

When it's time for Kit to redeploy, neither one is ready to say goodbye. Jessa vows to wait for him and Kit promises to come home to her. No matter what.

But as Jessa stands waiting for the Marine Chaplain to break her heart, she can't help but feel that Kit has broken his promise…

Riley or Kit? Kit or Riley? Her brother or her boyfriend? Who's coming home to her?
Reviewed by Kelly.
Come back to me. That was the very last thing I said to him.
Always. The very last thing he said to me.

I am suck a sucker for dysfunctional families, military heroes, tortured souls, overcoming loss, love, and fighting for what you want! I knew when I read the synopsis that I would love it but I didn't know that I would love it a lot!! It was emotionally draining. I had plenty of ugly crying going on! In the book there was healing and anger and love and secrets that eventually come out. The one secret I really wanted to know was what happened that made Jessa's dad dislike Kit and Kit's dad so much.
The beginning of the book was powerful and promised to keep me on my toes. I knew I would shed lots of tears just from the beginning. There were times I had to put the book down to get my tears and emotions under control so I could finish the book. It's hard to read when you are crying! The characters are very real and the situations very believable. The emotions spelled out clearly. The writing was amazing. I now have another favorite author!
Jessa and Kit have like each other but neither made a move on it due to Kit being Riley's best friend and also Jessa's brother. Jessa's brother Riley would kill Kit if he knew about them. Riley doesn't believe Kit can be a one woman man. Jessa's father doesn't help either. He is also a Marine and mean as it comes. He gets angry sometimes and though he doesn't hit he does throw and is so mean that everyone avoids him or just does what he asks so as not to get him going. He is so mean to Kit and has no problem voicing it. So when Kit and Jessa do decide to get together they keep it a secret. Kit and Riley are getting deployed in 4 weeks and would be gone for the next year.
Even though they keep it a secret some suspect about them. Others are clueless. In the 4 weeks they have together, they make the most of it! Taking every minute they have together as if it would be their last. Kit is so good to her and teaches her to drive a car at 18. Her own father didn't allow it. He helps build her dreams of acting. He lets her be who she is. He helps her to become who she wants to be. That is one good man to do that and he is definitely on my list of book boyfriends.
Kit's dad is a chaplain who once drank several years of his life away after his wife died. Now he is sober and is there for Kit for anything he needs. There is another good man.
Anyway, as you see from the blurb that someone dies. I had my own hopes as to who I hoped it would be. Didn't work out my way though. It isn't a spoiler because my thought were never an option in the book just one I thought or hoped it would be. Then the next year after that someone dies time suddenly seems to spin uncontrollably for everyone. Everyone deals with loss differently and it made me feel for all of them.
We get both Kit's and Jessa's POV's. The story goes back in time after the beginning.
My only problem was that they had lots of intimate moments and later Jessa said that they had not yet had sex. I'm sorry but what part of oral sex isn't sex?? Let's just call it what it is!
This is one of the best books I read this year!!
Contents: Explicit sex scenes and some language
Guest Post: Playlist for Come Back To Me...
California – Joni Mitchell (the book is set in California).
Everytime – Britney Spears (this is the soundtrack song for when Jessa and Kit are slowly falling for each other and dreaming about spending time together).
On top of the world – Imagine Dragons (I imagine Kit playing this in his truck on the way to see Jessa).
Eavesdrop - The Civil Wars (This song is playing when Kit and Jessa go out into the desert to watch the stars the night before he leaves on deployment).
Under The Same Stars – Fink (This is what is playing when they're away from each other on opposite sides of the world).
I'll never forget you – Birdy. (I can't go into detail about which of the characters dies but this is Jessa's song.)
Beautiful Pain – Eminem/ Sia (And so is this one! This is at the funeral and after).
Joy – Ellie Goulding – 'Seeing stars, watch me fall apart.' (There's a section of real heartbreak in the book and this song for me sums it up nicely).
Resolution – Matt Corby (After the period of grief comes this time of resolve to move on and find happiness).
You Could Be Happy – Snow Patrol (For Jessa there comes a point where she has to choose between two paths and this is the song I played when I was writing that chapter).
Please Baby Please – Serena Ryder (It includes the lyric please baby please, come back to me...' which is an ongoing theme in the book!)
Giveaway: I live in the US but bought the second book in the series from Book Depository because I can't wait for it to come to the US!!!!
Tour-wide giveaway (INTL)
3 winners for an exclusive copy of the UK edition of the second Mila Gray book, THIS IS ONE MOMENT
a Rafflecopter giveaway
Mila Gray is the pen name for Sarah Alderson, author of Hunting Lila, Losing Lila, The Sound, Fated and Out of Control.

Originally from London she has lived in Bali for the last four years with her husband and daughter.

As well as writing young adult fiction under the name Sarah Alderson and adult fiction under the name Mila Gray, she also writes screenplays.
Goodreads | Amazon | The Book Depository | Barnes & Noble | iBooks
Goodreads | Website | Twitter | Facebook