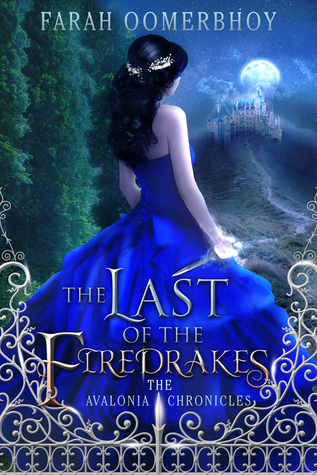 The Last of the Firedrakes (Avalonia Chronicles #1)
by Farah Oomerbhoy.
Audience/Genre: Young Adult, Fantasy, Romance.
Publication: August 15th 2015 by Wise Ink Creative Publishing.
16-year-old Aurora Darlington is an orphan. Mistreated by her adopted family and bullied at school, she dreams of running away and being free. But when she is kidnapped and dragged through a portal into a magical world, suddenly her old life doesn't seem so bad.

Avalonia is a dangerous land ruled by powerful mages and a cruel, selfish queen who will do anything to control all seven kingdoms—including killing anyone who stands in her way. Thrust headlong into this new, magical world, Aurora's arrival sets plans in motion that threaten to destroy all she holds dear.

With the help of a young fae, a magical pegasus, and a handsome mage, Aurora journeys across Avalonia to learn the truth about her past and unleash the power within herself. Kingdoms collide as a complicated web of political intrigue and ancient magic lead Aurora to unravel a shocking secret that will change her life forever.
Reviewed by Kelly.
Aurora has had an awful life since her adoptive parents died. Then she lived with her aunt and uncle who treated her poorly. At 16, she starts having nightmares of when her biological mother was running with her while someone was trying to stab a knife into her heart. Her uncle and aunt take her out of school one day and she finds herself then thrust into a world of kings and queens, magic, magical creatures and dungeons. She is scared and doesn't know what to do.
While locked away, she meets Kalen, Finn and then Rafe. Aurora takes to Kalen immediately. He talks a lot and is friendly. Finn later betrays Aurora. Rafe comes and rescues all of them. Aurora's heart goes pitter patter and she swoons whenever Rafe is near. Rafe is the Black Wolf and is a mystery to everyone and is like a Robin Hood.
The reason she is betrayed by Finn is because Aurora is a princess. She was sent away to protect her when her Aunt Morgana tries to kill her whole family but doesn't succeed with Aurora. But Morgana is now the Queen where Aurora should be the ruler. Morgana has been searching for her and was found and brought here to the dungeons where she escaped.
Rafe takes her to her grand uncle Duke Gabriel. Aurora is happy to meet someone who loves her and is family. But it is a short happiness, because Morgana is still looking for Aurora. Aurora finds that she has magic and must learn to use it to defend herself and become the rightful heir to the throne. Not only does she have to learn how to use it but that she is a fae-mage (Those that have both mage magic and fae magic). There hasn't been one of those in a very long time and their powers are so strong that they are sometimes uncontrolled. Aurora has had an amulet worn around her neck that has kept her powers hidden from others and has helped subdue them until she learns more.
Her uncle tries to teach her magic but is not as successful and decides to send her to school with her cousin to learn more. She is to keep her fae-mage powers to herself and her identity to a few.
But nothing is easy for Aurora and she is still a teenager and makes many stupid mistakes. I understand some of what she did because she was bullied and tired of it. She had enough of that with her aunt and uncle. When Aurora finally encounters Morgana, the scene is epic and very interesting!
I loved the action in the book. I loved the adventure. I loved the descriptions and details given in the book as it made it more real and I could see it all in my head. I also wanted the food. It had me salivating. (I kid you not) I loved the magic and most of the people. The way the author slowly introduces Aurora's world to her made it easier for me as a reader to learn things slowly too. The love that Aurora's family for her is so sweet and she so needed that after being treated horribly by her aunt and uncle's family and the loss of her adoptive parents. There are many twists and turns that kept me wondering what would happen next and an ending that will drive me crazy until the next book comes out. Grr.
For Farah Oomerbhoy, writing is a passion and reading her solace. She is a firm believer in the fantastic and magical, and often dreams of living in Narnia, Neverland, or the Enchanted Forest.

Farah lives with her husband and three children in their family home in Mumbai, India. She has a Master's degree in English Literature from the University of Mumbai. Her first novel, The Last of the Firedrakes, Book 1 of the Avalonia Chronicles will be published worldwide in August 2015.
Goodreads | Amazon | The Book Depository | Barnes & Noble | iBooks
Goodreads | Website | Twitter | Facebook