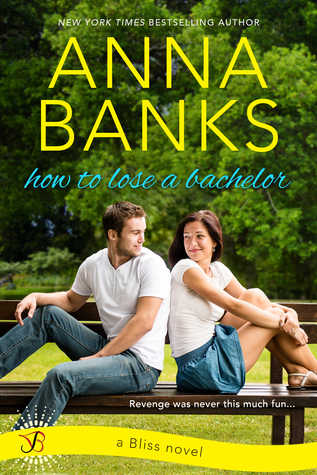 How to Lose a Bachelor
by Anna Banks.
Audience/Genre: Adult, Contemporary Romance.
Publication: November 9th 2015 by Entangled Publishing, LLC (Bliss).
When Rochelle Ransom auditioned for the dating show Luring Love, she had big plans for winning the prize money to help her favorite charity–and if she won the hot bachelor's heart, even better. But at the last minute she finds out the hot bachelor is her ex-boyfriend, Grant Drake. Desperate to keep her distance from him, she'll do anything–and everything–to get voted off.

Years ago, Rochelle broke Grant's heart, and he's out for revenge. There's no way he'll vote her off.

After all, vengeance is a dish best served red-hot...and on live television.

When her hilarious antics to get kicked off the show escalate, Grant's reminded why he fell in love with her the first time. Now he isn't sure which might be more fun... Seeing how far Rochelle is willing to go to get away or how far he will to keep her forever
"Aaaand rolling!" Chris said, retaking the director's seat a few feet away.
Grant could practically feel the cameras focusing back on him. "I've decided to be America's reporter for the day," he said, having already memorized his lines. "So I have a few questions to ask that I think everyone will want to know—including me." Their eyes locked. So did Rochelle's jaw. Grant paused for effect. Then, "Why on earth would you choose to audition for a sleezy show like Luring Love?"
"CUT!" yelled Chris.
"I mean, have you really drained the dating pool already?" Grant continued, getting angrier with each word out of his mouth. These were, after all, valid questions. Never in a million years would Rochelle have chased after a man—so why the hell was she here? "What would your mother say? Coming on a show like this to paw at a man who's already got nine other women doing the same thing?"
"I said cut!" Chris growled.
"Oh, are we going to talk about mothers, then?" Rochelle flung back her hair. "Instead of dating pools, let's talk about gene pools—and the fact that you and your four siblings originated from separate ones!"
"Cut, cut, cut!" Chris had his hand on Grant's shoulder, but Grant wouldn't turn his eyes away from Rochelle. Her expression read Challenge Accepted.
Did she really just insult his mother's…need for variety in life? He couldn't let that low blow go unpunished. "Let's do talk about gene pools and how we both know that cleavage of that particular magnitude doesn't run in your family."
Taken aback, Rochelle clutched at her shirt. Grant felt a win on the horizon, if hurling mother insults could, in fact, be considered winning at anything. "It's a halter top, moron. It's designed for cleavage. Besides, you didn't seem to be complaining when I walked in!" she added.
His mouth fell slightly ajar. She noticed me noticing. Did the crew? Will America? "It doesn't suit you," he blurted. A complete lie. It enhanced an already irresistible figure—so much so that he just might have been willing to change his general opinion on how much cleavage a woman should expose in public. In fact, he suspected he'd change his view on world peace if Rochelle sat on his lap and asked him to.
"Really? Everything underneath suited the hell out of you before!"
"For God's sake," Chris said, standing in front of Grant to block his view of Rochelle. "Are we speaking the same language?"

Reviewed by Kelly
This is a great book to laugh away at. It will definitely brighten your mood!
This is a book of second chances. Both Rochelle and Grant have never stopped loving each other. They just needed a reminder. Grant let Rochelle go by pushing her away when she was going to law school. He was going to propose to her. Rochelle was going to ask him to come with her. Grant thought she was done with him by applying to a school far away without talking to him first. But they didn't talk about it first and when Rochelle was going back to talk to him she saw something that made it clear in her mind that he was done with her.
Now they are both on a reality bachelor show. Rochelle is on it to win it only for the money to give to the women's Domestic Violence Charity she supports. She is willing to humiliate herself for the cause. Grant is the bachelor because his friend from the show told him Rochelle was on it and Grant wanted a little revenge. Now Rochelle doesn't want to be on it anymore. But when the producer saw the reactions from both of them, he saw ratings increase and gave Rochelle double the winnings himself if she stayed on the show and it didn't matter when she was voted off. Well, she tried to make sure she was voted off. She wore a stinky sweatshirt that would irritate Grant. But it also made her look ridiculous. She did everything to make him vote her off. But the producer has other things up his sleeve too! Rochelle continued to try stupid stunts to get her voted off. She got drunk and went into a maze. That was funny but my favorite was when they all went skydiving and Rochelle vomited all over everyone. I doubled over laughing so hard because the description was very detailed.
Well, when they both realized that they still did care for each other, there were more obstacles in their path and being on a reality TV show where they aren't supposed to know each other and are constantly on camera there isn't any time to talk alone. So, they both make assumptions and both get played and the other women are fed up with Rochelle except for Maya and Ellie. Those two are sweet.
Anyway, the book has many sweet moments too. There are also twists and turns and reminders why I hate reality TV. I found myself laughing so hard at several situations that my husband thought I was a Looney tune for it!
The characters were very believable and women can be very nasty! Men can be nasty too!! The story kept me engaged. One thing that bothered me is that both Rochelle and Grant had hang-ups over their breakup and it drove me crazy when I was in their head with their thoughts. Some of it seemed petty. But I suppose they couldn't talk it over until they were finally able to near the ending. THE NEXT SENTENCE IS A SPOILER SO BEWARE: The other thing that bothered me was in the epilogue. I am a labor and delivery nurse and the whole thing was way off and where it may not bother you, It more than bothered me!
Thanks to Lisa from Tasty Tours for getting me a copy to review at the last minute! The opinions are my own!I also bought my own copy!!
NYT Bestselling YA author of The Syrena Legacy series: OF POSEIDON (2012) OF TRITON (2013) OF NEPTUNE (2014). Repped by rockstar Lucy Carson of the Friedrich Agency. I live with my husband and daughter in the Florida Panhandle. I have a southern accent compared to New Yorkers, and I enjoy food cooked with real fat. I can't walk in high heels, but I'm very good at holding still in them. If you put chocolate in front of me, you must not have wanted it in the first place.

Goodreads | Amazon | iBooks | Barnes & Noble
Goodreads | Website | Twitter | Facebook