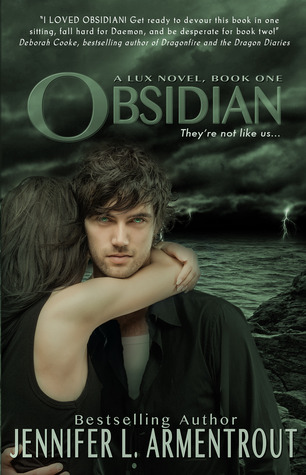 Obsidian (Lux #1) by Jennifer L. Armentrout.
Audience/Genre: Mature Young Adult, Science Fiction.
Publication: May 8th 2012 by Entangled Teen.
Starting over sucks.

When we moved to West Virginia right before my senior year, I'd pretty much resigned myself to thick accents, dodgy internet access, and a whole lot of boring… until I spotted my hot neighbor, with his looming height and eerie green eyes. Things were looking up.

And then he opened his mouth.

Daemon is infuriating. Arrogant. Stab-worthy. We do not get along. At all. But when a stranger attacks me and Daemon literally freezes time with a wave of his hand, well, something… unexpected happens.

The hot alien living next door marks me.

You heard me. Alien. Turns out Daemon and his sister have a galaxy of enemies wanting to steal their abilities, and Daemon's touch has me lit up like the Vegas Strip. The only way I'm getting out of this alive is by sticking close to Daemon until my alien mojo fades.

If I don't kill him first, that is.
Obsidian Quotes...
"To me, Obsidian was absolutely PHENOMENAL! A book I wish I could just slip into and get lost for the rest of my life – a book hasn't made me feel like that since Harry Potter first came out. OBSIDIAN IS A MUST READ AND A MUST REREAD!" -
Kelsey Ketch, author of Daughter of Isis
"It's hard to believe it's taken me this long to pick up Obsidian! But boy oh boy, am I glad I did!!! Perfect for YA fantasy, sci-fi, paranormal romance fans! <3 If you haven't started this series, you're way over do." -
Liza Wiemer, author of Hello?
"Aliens, hot aliens? DAEMON BLACK???? YES PLEASE! Loved this book, read it in 2012 but decided to come back and write a review for it. This is actually the book that made me start book blogging!" -
Sasha Alsberg, abookutopia
"Sweet. Baby. Jesus. Picked this book up at 1 AM and read it straight through until 6 AM. A funny, entertaining, and very addicting read. (I'm totally exhausted after staying up late to finish this, but I ain't even mad.)" -
Kat O'Keefe, katytastic
"I had so much fun reading this[.]"
Christine Riccio, polandbananasbooks
"The romance was HOT AS HELL, I fell hook, line and sinker for Daemon Black and literally swooned at everything that came out of his mouth all the while wishing I could punch his face! This is exactly the romance I love, the fighting, the tension, the will they won't they? So much bloody angst! I devoured this book in two sittings, as I just needed to see what would happen next." -
Cody, Literary-ly Obsessed
"Katy is the kind of snarky female character I like. Who knew aliens could be so hot? What I loved the most-Daemon. What drove me crazy-Daemon. I wanted to reach through the pages and smack him and then kiss him. =)" -
Colleen Houck, author of The Tigers Curse Saga and Reawakened
"Where do I sign up for my own Deamon style invasion? " -
Lisa Jayne
"Take some really hot, sizzling character chemistry, two stubborn love interests who know how to push each other's buttons, and add in some awesome out of this world characters and you've got the makings for one fabulously written story." -
Katie, Mundie Moms
Obsidian Teasers...
1) "Beautiful face. Beautiful body. Horrible attitude. It was the holy trinity of hot boys."
2) "Why are you such an ass?" The words came out before I could think twice.
"Everyone has to excel at something, right?"
"Well, you're doing a great job."
3) "I've always found that the most beautiful people, truly beautiful inside and out, are the ones who are quietly unaware of their effect." His eyes searched mine intently, and for a moment we stood there toe to toe. "The ones who throw their beauty around, waste what they have? Their beauty is only passing. It's just a shell hiding nothing but shadows and emptiness."
4) "You're such an ass. Has…anyone ever told you that?"
He flashed a genuinely amused smile. "Oh, Kitten, every single day of my blessed life."
5) "I checked out your blog.'
Oh. Dear. Baby. Jesus. How did he find it? Wait. More importantly was the fact he HAD found it. Was my blog now googleable? That was awesomesauce with an extra heaping of sauce."
And don't forget to go to the Facebook Party on Nov 4th at 9PM EST
# 1 NEW YORK TIMES and USA TODAY Bestselling author Jennifer lives in Martinsburg, West Virginia. All the rumors you've heard about her state aren't true. When she's not hard at work writing. she spends her time reading, working out, watching really bad zombie movies, pretending to write, and hanging out with her husband and her Jack Russell Loki.

Her dreams of becoming an author started in algebra class, where she spent most of her time writing short stories….which explains her dismal grades in math. Jennifer writes young adult paranormal, science fiction, fantasy, and contemporary romance. She is published with Spencer Hill Press, Entangled Teen and Brazen, Disney/Hyperion and Harlequin Teen. Her book Obsidian has been optioned for a major motion picture and her Covenant Series has been optioned for TV.

She also writes adult and New Adult romance under the name J. Lynn. She is published by Entangled Brazen and HarperCollins.
Goodreads | Amazon | The Book Depository | Barnes & Noble
Goodreads | Website | Twitter | Facebook