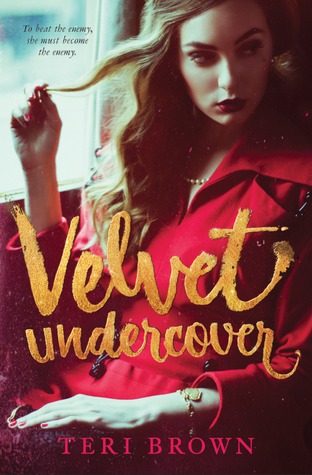 Velvet Undercover by Teri Brown.
Audience/Genre: Young Adult, Historical Fiction, Mystery.
Publication: October 20th 2015 by Balzer + Bray.
Perfect for fans of Jennifer Donnelly and Libba Bray comes this page-turning historical spy thriller from Teri Brown, author of the Born of Illusion series.
Samantha Donaldson's family has always done its duty for the British Crown. In the midst of World War I, seventeen-year-old Sam follows in their footsteps, serving her country from the homefront as a messenger for the intelligence organization MI5. After her father disappears on a diplomatic mission, she continues their studies of languages, mathematics, and complex puzzles, hoping to make him proud.
When Sam is asked to join the famed women's spy group La Dame Blanche, she's torn—while this could be an unbelievable adventure, how can she abandon her mother, who has already lost a husband? But when her handlers reveal shocking news, Sam realizes she can't refuse the exciting and dangerous opportunity.
Her acceptance leads her straight into the heart of enemy territory on a mission to extract the most valuable British spy embedded in Germany, known only as Velvet. Deep undercover in the court of Kaiser Wilhelm II, Sam must navigate the labyrinthine palace and its many glamorous—and secretive—residents to complete her assignment. To make matters worse she must fight a forbidden attraction to the enemy—a dangerously handsome German guard. In a place where personal politics are treacherously entangled in wartime policy, can Sam find Velvet before it's too late . . . for them both?
A thrilling story of one girl's journey into a deadly world of spy craft and betrayal—with unforgettable consequences.

Praise for Velvet Undercover...
"A slow-burning tale of espionage and deceit that explores the complexities and moral uncertainties of war." (Kirkus Reviews)
"A taut and swiftly paced historical spy mystery, filled with suspense and surprising plot twists...A great fit for fans of Elizabeth Wein's Code Name Verity." (School Library Journal)
"Clever, impetuous Samantha Donaldson is a delight to follow through the murky world of the German court in this twisty tale of espionage and forbidden romance." Katherine Longshore, author of Gilt, Tarnish
"Brown's latest is a pulse-racing, whip-smart thriller that kept me guessing until the end."
—Cat Winters, Morris Award Finalist for In the Shadow of Blackbirds
- One signed hardback copy of Born of Illusion
- One signed hardback copy of Born of Deception
- One drawstring spygirls bag from the International Spy Museum
- One tablet of spy paper that dissolves when wet
- One password required lock and key journal
- Two black light spy pens
- One pair of brass spyglasses with brass rope chain (Perfect for spying!)
Must be 13 + To Enter | Ships in US Only
a Rafflecopter giveaway
Well behaved women rarely make history. Teri Brown lived that quote way before she ever even heard it. The two things she is most proud of, (besides her children), is that she jumped out of an airplane once and beat the original Legend of Zelda video game. She's a novel writer, head banger, pet keeper, math hater, cocktail drinker, booty shaker, book reader, city slicker, food fixer, rule breaker, wine sipper and word scribbler. She loves her husband, children, puppies and chocolate.

Goodreads | Amazon | The Book Depository | Barnes & Noble
Goodreads | Website | Twitter | Facebook