Blog Tour Schedule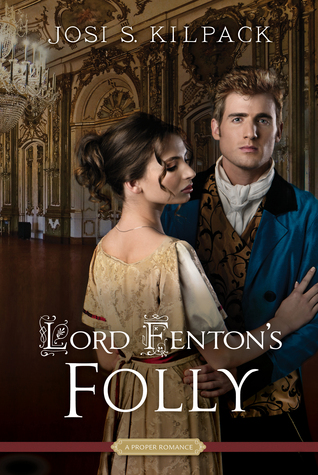 Lord Fenton's Folly (A Proper Romance #2)
by Josi S. Kilpack.
Audience/Genre: Adult, Regency, Proper Romance, Clean Reads.
Publication: October 6th 2015 by Shadow Mountain.
Lord Fenton is a gambler, a dandy, and a flirt-and he must marry or else he will be disinherited, stripped of his wealth and his position. He chooses Alice Stanbridge for two simple reasons: he once knew her as a young girl, and she is the least objectionable option available to him. However, Alice has harbored feelings for Fenton since their first meeting ten years ago, and she believes his proposal is real. When she discovers it is not, she is embarrassed and hurt. However, a match with the most-eligible bachelor in London would secure not only her future but that of her family as well. Determined to protect herself from making a fool of herself a second time, Alice matches Lord Fenton wit for wit and insult for insult as they move toward a marriage of convenience that is anything but a happy union. Only when faced with family secrets that have shaped Fenton's life does he let down his guard enough to find room in his heart for Alice.
Reviewed by Kelly
The Skinny: You have to read this book. Ugh, I felt so many emotions and I ugly cried at the end of the book and there are twists and turns so don't think you will figure it out because you won't see it coming! It is also a tender romance that builds over time. I didn't think they would ever find love together!
The Fat: We start off with a scene with Alice and Lord Fenton as children. I thought Lord Fenton was such a great kid with a little mischief in him and great kindness. Then we go to their present time as adults. Unfortunately, when Lord Fenton grows up we find that Lord Fenton is an embarrassment. He dresses with bright colored clothes. He drinks. He disrespects his father (on a side note, I would have been disrespectful too. Cruel man!). Lord Fenton doesn't even really do anything responsible. I didn't like what I saw in him as an adult. He ends up playing a prank, of which he likes to do to goad his father that goes so far that his father decides to disinherit him, which would be devastating to his current lifestyle. Lord Fenton runs to his mother for help. She tells him that she loves him and that he has been acting out. She says she will talk to his father. The result is that if he takes some responsibility and gets married and soon, he will stay in inheritance mode!
Lord Fenton doesn't want a wife. In fact, he can flirt but doesn't want anything to do with a woman. His father had been unfaithful to his wife and Lord Fenton had once caught his father in his indiscretion. He is scared of the act of intimacy. He doesn't want to be like his father. So when it comes time to choosing a wife. He let his mother decide. She chooses Alice.
Alice is kind and sweet. She has a loving family. He once made a deal with Alice in childhood. In exchange for not telling on him (for a prank), he would help her with anything. Alice wanted a garden of her own. She loved to garden. Lord Fenton arranged it and she has been in love with Lord Fenton ever since.
When Alice finds out that he only chose her because it is a marriage of convenience and no love on his part, she is embarrassed and sad. There will be no intimacy either, but maybe someday. Her embarrassment and pride causes her to lash out at him. They continue to send insults and hurting words to each other. Alice understands that maybe she shouldn't be that way if she is to ever get him to want her.
I loved the characters. Well, I didn't like Lord Fenton at the beginning. He was acting out as an adult and it bothered me. But as time went on, we learn more about his actions and I wanted him to love Alice and let her in. But then he grew on me and I fell in love with him. Lord Fenton's father on the other hand? I hated him. He was cruel to his family. He never changed at all in the whole book. There was no love in his heart for anyone. Lord Fenton's mom is a gem! She is a class act woman to put up with her husband and her son. She is charitable as well. We learn just how charitable she is as the time passes.
Alice is so good for Lord Fenton! She is devastated at the position she finds herself in, having a husband who does not love her back. She even tries to flirt and seduce him. But Lord Fenton's father has put fear that if he loves a woman intimately, he will be unfaithful and end up like his father and he won't have anything to do with that. There is one scene that my heart went out to Lord Fenton and to see the damage his own father did to him. That one part has bothered me so much! I had to stop reading for a minute to get my rage at his father in control. A parent can damage a child so easily and this father did a whammy on his son causing anxiety and pain that has lasted most of Lord Fenton's life. And Alice is the one who can fix him, if he ever lets her in.
At the very end, the tenderness that passes there has me in tears. It was love that was so utterly sweet and amazing! I have read that part several times. This is my latest favorite book!
If you love a proper romance, marriage of convenience, gardening, dandy, historical fiction, clean reads, loving mothers, family secrets, forgiving others, overcoming things in your life, finding love, then this would be for you.
Fenton groaned and put his saucer back on the tray, making an instantaneous decision that eased his mind quite a lot. To look at every woman he met as a potential wife was irritating, and after only two weeks he was quite tired of it. Perhaps the solution was to orchestrate a match that would not lay all aspects of matrimony at his feet all at once. Perhaps treating it as a business arrangement would help it to be exactly that, thereby freeing him from all the discomfiting realities he was not yet prepared to face. "I leave for Fentonview on Tuesday and shan't be back for a week. Courting is such a boring prospect, and you yourself said that to become infatuated with anyone might become a complication." He paused, considered one last time what he was going to say next, and decided he felt as good about it as could be expected. "You like Alice Stanbridge and feel she would make a good wife for me?"

Lady Chariton looked confused and perhaps a bit concerned. "I do, but-"

"Then that is good enough for me," Fenton said, rising to his feet and smiling broadly at his mother, who stared back at him in surprise. "I do find her appealing and what's more she is not a silly little thing without a practical thought in her head."

His mother's eyes widened and her eyebrows rose upon her forehead. Fenton struck a pose of consternation, with his thumb and forefinger on his chin as he looked toward the window a moment, then nodded crisply and turned back to his mother who still looked shocked by his pronouncement.

"Yes, I think that Alice Stanbridge is exactly what I should like in a wife, and so I shall see to it before I leave for Hampshire-I see no reason to wait until Michaelmas and might as well get it over with." He leaned in and kissed his mother's hand. "Thank you for your help, Mama. I shall let you know how she responds to my proposal."

$25 Blog Tour Giveaway
$25 Amazon eGift Card or Paypal Cash
Ends 10/29/15
Open only to those who can legally enter, receive and use an Amazon.com eGift Card or Paypal Cash. Winning Entry will be verified prior to prize being awarded. No purchase necessary. You must be 18 or older to enter or have your parent enter for you. The winner will be chosen by rafflecopter and announced here as well as emailed and will have 48 hours to respond or a new winner will be chosen. This giveaway is in no way associated with Facebook, Twitter, Rafflecopter or any other entity unless otherwise specified. The number of eligible entries received determines the odds of winning. Giveaway was organized by Kathy from
I Am A Reader
and sponsored by the author. VOID WHERE PROHIBITED BY LAW.
a Rafflecopter giveaway
Josi S. Kilpack hated to read until her mother handed her a copy of The Witch of Blackbird Pond when she was 13. From that day forward, she read everything she could get her hands on and credits her writing "education" to the many novels she has "studied" since then. She began writing her first novel in 1998 and never stopped. Sheep's Clothing won the Whitney award for Mystery/Suspense in 207 and Wedding Cake, book twelve in the Sadie Hoffmiller Culinary Mystery series won in 2014. Josi was also the Best of State winner in Fiction for 2012. Josi currently lives in Willard, Utah, with her husband, children and super-cute – but not very friendly – cat.
Goodreads | Amazon | The Book Depository | Deseret Book
Goodreads | Website | Twitter | Facebook