Follow the Whole Tour HERE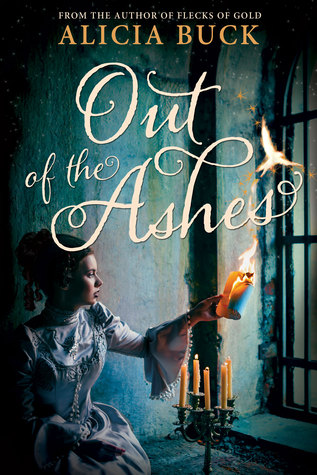 Out of the Ashes
by Alicia Buck.
Audience/Genre: Fantasy, Retellings.
Publication: September 8th 2015 by Cedar Fort Publishing & Media.
When Ashelandra's father dies, she ends up a servant in her own house, instead of the Baroness she was supposed to become. But Ash's secret sorcery could be the key to winning back her home and following her heart to a future she never imagined. This fantasy-infused Cinderella story puts a magical twist on a classic tale. Riveting and original, it's a spellbinding read.
Reviewed by Kelly.
This book is just adorable! It is a retelling of Cinderella but with a magical twist. There was some foreshadowing that I saw and quickly got what was going to happen only to have a twist that had me not so sure if it was what I thought or not. I had to wait until all was revealed. Very clever Alicia Buck!
Lady Ashelandra grew up with only her father. Her mother, a sorceress, died during childbirth. Her father loved Ash deeply and even though he taught her well, she loved adventure and some mischief. When her father died, she was left with her uncle as guardian until she was twenty one years old when it would become hers. Her father warned her that he was not a very kind person but it was definitely an understatement. Her uncle's children feared him and he despised Ash because she was the daughter of a sorceress and because she owned land that he wanted for his own. He was so cruel to her that he made her a servant. For three years she suffered this as he made her tasks very hard to accomplish.
Lady Ash was also a sorceress. She only had her mother's books as her guide. She practiced hard.
Her cousin Jane was very very quiet. When the King held a ball, Lady Ash made arrangements so that she would go for a few minutes and made herself magically look like Lady Jane so she could spend a few minutes at the ball. Unfortunately, she ran into the Prince and he talked and flirted with her, then danced with her. He believed her to be Lady Jane. So, the prince comes to Ash's home and Ash tries to stay out of the way but runs into the prince several times. He learns she, Ash, is a sorceress but she doesn't tell him that she is a Lady not a servant as it appears.
When the recently engaged Jane goes missing with the Prince's sorcerer's friend, the Prince has Ash go with him and his soldiers to find them. Thus begins an adventure filled with flirting, distrust, longing, rescue, friendships and much magic.
I had a hard time putting it down. I wanted, no needed, to know how things would turn out. I thought I knew how it would go, but the little twist threw me. I despised Lord Richard and my heart ached for the way Ash was treated by him. I was intrigued by the different types of magical things the author had put there besides the norm. I liked the grumpy Captain of the Guards. I liked the other couples who found each other on this adventure. But the one I wanted was the Prince and Ash. But you will have to read it to find out how things go yourself.
SO, if you like adventure, magic, retellings, love stories, and clean reads then this is for you!
Alicia Buck was born in Salt Lake City, Utah on a cold November day and has hated the cold ever since. Luckily, she lives in the desert now with her husband, Jason, and three children. Alicia loves to read, and goes through book craze phases where she reads a book a day until guilt kicks in and she tries to do something productive like get back to work writing and fix the disaster her home has become. She graduated from Brigham Young University with a bachelor's in English, and had to constantly defend her major when she had absolutely no desire to teach. Out of the Ashes is Alicia's second novel.
Goodreads | Amazon | The Book Depository | Barnes & Noble
Goodreads | Website | Twitter | Facebook