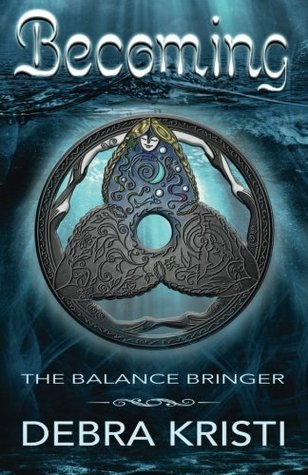 Becoming: The Balance Bringer (The Balance Bringer Chronicles #1)
by Debra Kristi.
Audience/Genre: Young Adult, Science Fiction.
Publication: March 9th 2015 by Ghost Girl Publishing.
Ana's world is falling apart. What she thought were dreams start entering her waking life. Eerie shadows hunt her. Her dream guy becomes reality. And strange new abilities begin developing. Ana is becoming something other.


She is determined to find answers, but where to turn? Her mom and best friend are keeping secrets. Her older sister is dead and exists only in her dreams. And her younger sister thinks they are goddesses.


Above all else, dark forces will stop at nothing to crush Ana – to keep her from restoring balance. To keep her from…becoming.


Is love and blood and sisterhood enough to stop the dark secrets and power from destroying her?
Stalker girl really isn't my forte, and maintaining a safe distance, well‒–what started out as a ten-car cushion became a seven-car distance, and now there's only four. What's wrong with me? He appears to be slightly obsessed with the shiny bauble in his hand. He's glanced at it several times already. It's a sizable, polished, milky-white stone of some kind. I'm guessing clear topaz. From the way the sun catches it, it appears to be almost perfectly oval.
Going rigid, he halts in his tracks. I stumble over my feet from the pull between us and my awkward attempt to stop behind him. Without any provocation that I can see, he chucks the stone against the asphalt, shattering it into tiny pieces. I'm frozen. Dumbstruck.
He spins to face me. "Did you get what you wanted?"
I blink. "What?"
"You were following me. Did you get what you wanted?"
"No." The word pops out before I can stop myself. "What was that?" I stare at the broken pieces scattered on the ground. They look like chunks of glass.
He takes a step closer, his eyes alight with mischief. "Why did you follow me, Ana?"
He takes another step closer, and the air around us begins to hum. My ears feel like they're going to pop. The pull intensifies.
"You were in my dream the other night." I immediately throw my hand over my mouth.
A smile tugs at his lips, and he leans against a parked car. "Was I? Was it a good dream?"
I suddenly feel like I'm standing on hot coals, and I fight the desire to blot at my hairline. "That's not what I meant to say. What I meant was, why were you in my dream?"
He moves closer, causing the usual buzzing to intensify. There's no doubt he's the source. "How would I know?"
Man, I am stupid for attempting to figure this one out. Closing my eyes, I press my fingers to my brow and try to think of a graceful way out of this situation. The applied pressure helps fight against the increasing dizziness. I sway slightly, and a hand steadies me.
When I open my eyes, Jaden stands before me, holding my elbow. "I've got you."
My skin burns at his touch. A tingle of desire bubbles deep in my belly, traveling lower. My body betrays my ability to think. For a moment, I forget about the irritating magnetic force. I see sincerity in his face, in his eyes. I don't speak, only gaze in a state of interest and confusion.
He brushes aside the cascade of hair I use to hide my birthmark, grazing the side of my brow. "Tell me about this."
Flinching, I drop my books. The connection is broken, the moment lost. Pulling away, I hide my ugly side once again. "What gives you the right?"
He stands his ground. "I was only curious."

a Rafflecopter giveaway
Live in reality. Play on the other side.

Debra Kristi is a paranormal and fantasy writer. She lives in Southern California with her husband, two children and and three schizophrenic cats. She's a full-time kid chaser, video game maker's wife, and muse prompted writer. Unlike the characters she often writes, she is not immortal and her only super power is letting the dishes and laundry pile up. When not writing, Debra is hanging out creating priceless memories with her family, geeking out to science fiction and fantasy television, and tossing around movie quotes.

"She writes because the dead girl told her to."

Goodreads | Amazon | The Book Depository | Barnes & Noble
Goodreads | Website | Twitter | Facebook