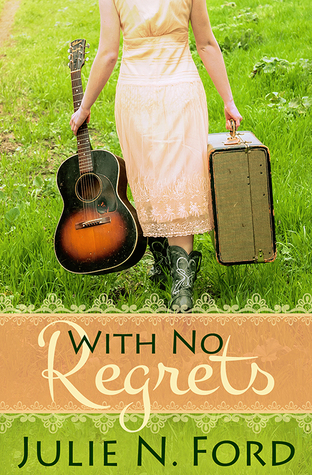 With No Regrets
by Julie N. Ford.
Audience/Genre: Women or Children or YA or whatever/Fantasy or Urban Fantasy or Paranormal or whatever.
Publication: COPY PUBLICATION INFORMATION FROM GOODREADS.
BOOK SYNOPSIS
Reviewed by Kelly.
I really liked the premise of this book. I really enjoyed watching Finley grow. I was rooting for Quinton the entire way. The beginning of the book grabbed me and had me laughing. I loved the movie "Something to Talk About"; it's one of my favorites! With No Regrets is a lot like that. The book even refers to it. I love the cover, and the trailer(random, I know).
This clip happens in the book. I can see it unfold just like this one. This clip isn't an official clip and is handmade so not the best one but it's the one you need to watch….
I'm not a huge fan of third person books. Sometimes it works, sometimes it doesn't. I don't think it worked this time, for me that is. I got lost somewhere in the middle. I got back on board later though!
The book is about Finley's journey finding what she wants out of life and family and hope and love and getting over regrets and moving on. Finley was just living the motions out of life and not really feeling them. Sometimes, I think all of us at one point or another just do the motions in our lives. It's realizing them and doing something about it that makes Finley's life a happy one!
Finley is a 40 year old divorced mother of two grown children. She has kept herself in shape. She cares about her peach orchard. Quinton is her neighbor. He was a huge country singer that went on an alcohol binge for years and it was Finley who helped him recover. The two of them are also best friends. Cathyanne is Finley's first best friend. Cathyanne cares so much about Finley that she interferes with her love life and gets three guys to admit they like her. Cathyanne doesn't know what to do with that in her quest to find Finley some much deserved happiness. Finley makes a decision on one of them. She lets her hair down and enjoys her time with him. But is he really right for her? Finley doesn't even know.
Finley isn't really there for her friend Cathyanne. Finley is so caught up in the three guys she is confused about, that she doesn't have time for her. Cathyanne does kind of make up excuses for Finley not coming to see her. Some chapters are in Cathyanne's POV.
Then everything blows up in Finley's face. All three guys in the same place at the same time and all asking her what is going on with the others! The temperature was boiling in that room!I loved being the proverbial fly on that wall!
Anyway, the ending put me on the edge of my seat, even though I still didn't get a few things. I cried a little. Lessons are learned, families are affected and friendships are forged.
There is no sex in this book. Only some kissing and some throwing some clothes off before realizing that that's not what you wanted to do. Oops! Some mild swearing.
So, if you like families, southern manners, charities, peaches, wall climbing, fast cars, overcoming alcohol addiction, slave quarters in old southern homes, the movie "Something to Talk About", finding love, learning to let go of regrets and move forward then you might like this book.
A graduate from San Diego State University with a BA in Political Science, Julie N. Ford also earned a Masters in Social Work from the University of Alabama, which has only made her better able to recognize the unhealthy, codependent relationship she has with writing. Professionally, she has worked in teaching and as a marriage and family counselor. She is the author of six women's fiction novels, including Count Down to Love, a 2011 Whitney Award finalist. When she's not writing, she entertains delusions of being a master gardener, that is, when she's not killing the unsuspecting plants in her yard with her good intentions. She lives outside of Nashville, Tennessee, with her husband, two daughters, and the cutest Scottish fold cat you've ever seen. She loves to chat with readers.
Goodreads | Amazon | The Book Depository | Barnes & Noble
Goodreads | Website | Twitter | Facebook