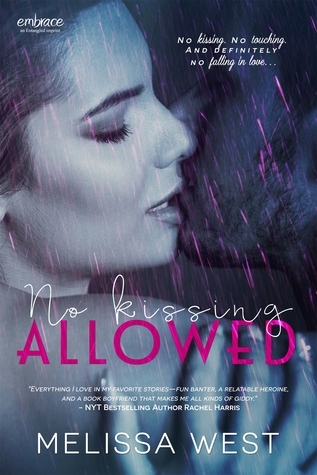 No Kissing Allowed
by Melissa West.
Audience/Genre: Adult, Contemporary Romance.
Publication: July 28th 2015 by Entangled Embrace.
No kissing. No touching. And definitely no falling in love...

Armed with her besties, an embarrassing number of shots, and her list of 10 Wild Things To Do Before Adulthood, recent grad Cameron Lawson is partying it up before she starts her dream job at New York's biggest ad agency. Her last task? Hook up with a random guy. And while it's so not her style, the super-sexy guy sitting next to her is definitely game. No names. No details.

At least, that was the plan.

On her first day of work, Cameron discovers her hook-up is none other than Aidan Truitt—her new boss's boss. Talk about failing the "no fraternizing with coworkers" policy on an epic level. Especially when Aidan makes it clear their one night was only the beginning. Falling for him could cost her everything, but sometimes the only way to get what you want is by breaking a few rules...
Reviewed by Kelly.
I had a chance to get the ebook for review, but I was behind on my reading so I didn't ask for it. Then I read Valerie's review on Stuck in Books where she said this..
What I thought was interesting about this story was the turn in the story. Most romance have a falling out and then a period of pain before something changes and things are resolved. This story felt different. That falling out/painful period was not the regular fair. It's hard to explain without spoiling so I won't. Just that I liked it...a lot. - See more at: http://www.stuckinbooks.com/2015/07/no-kissing-allowed-by-melissa-west.html#sthash.1BHoAqw2.dpuf
Then I had to know how it would be different. So I hit the button and bought it right then and there. And it was different. Not as dramatic as I thought it would be but still different.
Cameron and her two friends are done with college and ready to start their lives in the working world. They go and celebrate and are at a bar. Cameron is practical and has standards. She comes from a loving family. Her father died some years ago and her mom has remarried and she loves her stepdad too. She has only been in serious relationships and and she can count those with less than one hand. So, when her friends tell her to be crazy and hook up with someone, she balks. But the handsome guy next to her starts talking to her and the next thing she knows she is waking up in her bed with this guy beside her. She doesn't even know his name! She kicks him out without getting any information on him including his name. Stop right there, I have always hated stories that start in a bar and hook up with someone right away. It's tasteless to me. There is no romance involved. But I went forward anyway because I wanted to see how this story was different. And because Cameron was a little mortified with herself for doing it. She was also feeling something clicking with this guy too.
So, she goes to her first day on the job and he just happens to be her boss's boss. There is a no hanky panky clause in there working environment. But both have this attraction to each other and somehow while talking they become themselves. Aidan (the name of the guy from the bar, AKA UT guy before she knew his name) is all business at work. But get him alone with her and sparks are flying. They decide to keep seeing each other in private, and there are rules. No family, friends and no falling in love. He says he isn't marrying material. He doesn't want to be like his father, who dumped his family and kept all his money to himself, and never had any love to give to him or his mother. Aidan doesn't want to be like that. But something about Cameron's loving family, even as crazy as they are, he finds himself wanting more and the rules start to become blurred and he beomes scared.
I liked Cameron. She is real and sweet. She has a life plan for a husband and kids and she is falling in love with him and wants him to see how this could work. She also has a stubborn and compulsive side as well.
The rest is up to you to read and find out how they go from there. I liked the ending, I didn't see that coming although there was some foreshadowing of it in retrospect. Cameron's family is in the south and they are all gossipers but they love each other all the same.
Aidan's father is a jerk. I can see how he would ruin a child's perspective on life.
The ending leaves you feeling satisfied and with a smile on your face.
So, if you like advertising, gatorade, sports, college, messed up families and loving families, inheritance, bars, hooking up at a bar, company policies, stairwell kissing, than this might be for you.
Melissa West writes heartfelt Southern romance and YA sci-fi romance,all with lots of kissing. Because who doesn't like kissing?. She lives outside of Atlanta, GA with her husband and two daughters and spends most of her time writing, reading, or fueling her coffee addiction.

She holds a B.A. in Communication Studies and a M.S. in Graphic Communication, both from Clemson University.
Goodreads | Amazon | The Book Depository | Barnes & Noble
Goodreads | Website | Twitter | Facebook