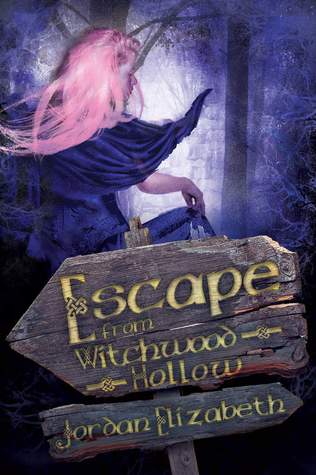 Escape from Witchwood Hollow
by Jordan Elizabeth Mierek.
Audience/Genre: Young Adult, Paranormal, Witches.
Publication: October 29th 2014 by Curiosity Quills Press.
Everyone in Arnn - a small farming town with more legends than residents - knows the story of Witchwood Hollow: if you venture into the whispering forest, the witch will trap your soul among the shadowed trees.

After losing her parents in a horrific terrorist attack on the Twin Towers, fifteen-year-old Honoria and her older brother escape New York City to Arnn. In the lure of that perpetual darkness, Honoria finds hope, when she should be afraid.

Perhaps the witch can reunite her with her lost parents. Awakening the witch, however, brings more than salvation from mourning, for Honoria discovers a past of missing children and broken promises.

To save the citizens of Arnn from becoming the witch's next victims, she must find the truth behind the woman's madness.

How deep into Witchwood Hollow does Honoria dare venture?
Reviewed by Kelly.
A very interesting and well written story about mainly 3 women from totally different time periods. The book goes back and forth in time and POV's, including what happens when inside Witchwood Hollow where time seemingly stops.
Everyone knows the stories of Witchwood Hollow. Stay out of it! There is a witch there that will "eat you" or keep you. She won't let you go once you are there. The witch, the Lady Clifford, is from the 1600's. She has murdered and is now on her own. She is a certified crazy witch! She finds a man and keeps him there. When they have a daughter he leaves her to raise their child with other people and she will not go with them. So she finds and keeps people when they run into her woods. I find it funny that all three of these main characters have a quirky thing going on. The witch smacks her lips together.
In the 1800's, we have Albertine who is from England and living with her sister and her Uncle until her father can send for them to the Americas. When she gets to the town of Arnn (because he can only send one at a time), she is so excited to see her father that she doesn't heed the advice of the town and goes on foot through the woods of Witchwood Hollow to her father's home. Of course, she gets stuck and over time she realizes that she is truly abandoned there. She finds a boy, who annoys her but keeps her company. Her quirk is to tap on something in a rhythm of tap, tap-tap, tap.
In 2001, Honoria's parents were killed in the twin towers and now moved to the town of Arnn with her aunt and uncle and brother. She is still grieving. She meets a boy named Leon who loves history and finding things. When they talk together, she learns more of the Woods and even ventures in there and comes out a little shaken. She learns many things and she wants to solve the problems and even thinks she can bring back her parents from the dead. And last but not least Honoria's quirk is to say "Damsel in distress," her mother's favorite cuss.
Regular cursing made some people look down on a person, but imaginative cursing made a person feel better and those around smile.
The book has a great plot and is rich in History. It kept my attention the entire read. There is lots of family intertwined in the messages in this book and it makes you feel good in the end. I can't say anymore except it is a relatively quick read and anyone would enjoy it. It is a clean read.
~~Jordan Elizabeth, formally Jordan Elizabeth Mierek, writes down her nightmares in order to live her dreams. With an eclectic job history behind her, she is now diving into the world of author. It happens to be her most favorite one yet. When she's not creating art or searching for lost history in the woods, she's updating her blog. Jordan is the president of the Utica Writers Club. She roams Central New York, but she loves to travel.
Goodreads | Amazon | The Book Depository | Barnes & Noble
Goodreads | Website | Twitter | Facebook