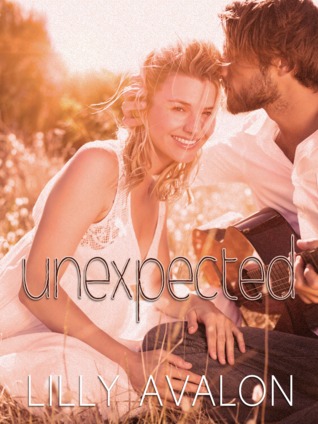 Unexpected by Lilly Avalon.
Audience/Genre: New Adult, Contemporary Romance.
Publication: July 21st 2015.
Ever had one of those days? Alina Lyons is having one. Everything keeps falling apart and going wrong. Just when she thinks it couldn't get worse, it does. After a case of mistaken identity and a broken heart, she finds herself questioning the things she thought she knew. She wonders who she can turn to or trust anymore.

An unlikely bond with her former best friend's ex, Ryan Wilcox, sends her life in a new direction. He offers her a place to stay while she gets her life back on track. His friendship is exactly what she's been missing—what she's been needing. Alina's never felt this alive. As time goes by, the dynamic of their relationship becomes more than either of them expected. A few innocent kisses could lead them in a new direction, but are they prepared for what's on the other side?

Only one way to find out.

*Unexpected is a standalone new adult novel*
An idea hits me suddenly and I immediately get to work on it. It involves a quick run to the store, but I manage to make it back just before she does. When she walks inside, she gives me a funny look. "What's going on?" she asks.

I set down the last of the supplies on the living room floor. "Ever build a blanket fort before?"

She grins. "I've built a couch cushion fort, but not a blanket fort."

Alina and I get the chairs from the kitchen table, setting them up in a square. We each take one side of my largest blanket and pull it over the chairs. After about fifteen minutes, the blanket fort is nearly complete.

"Now all we need to do is fix this end so we can see the TV still," I tell her.

She taps a finger to her chin as she takes a quick glance around the room. She brightens, holding her finger up. "How about this," she says, grabbing one of the extra throw blankets. "Let's tuck this blanket in under the top blanket, then find a way to hold it in place on top of your entertainment center."

"That could work."

It takes a few minutes of tampering and reworking the rest of the fort, but we manage to get the last blanket in. As we're kneeling under it, one corner begins to sag. We both reach for it at the same time, and seconds later, the opposite corner begins to sag too. Before either of us can turn to fix that one, the whole thing tumbles down on us. We are tangled in the blanket, Alina giggling while I chuckle. She holds onto me as we both collapse on the floor. There's nothing else we can do since the whole thing is falling over around us.

Our faces are touching now, cheek to cheek. I move my lips along her jaw. Glancing down at her lips then up into her eyes, I ask, "Do you want me to kiss you?"

She shakes her head. I frown, but before I can ask her why, she whispers, "I need you to kiss me."

With those words, she melts me. I cup her face and kiss her, delicately, gently. A tentative sweep of my tongue over her parted lips and she responds by teasing me with her tongue. We kiss like that, careful, languid, for I don't know how long. All I remember is the sweetness of her lips, the taste of her tongue, and I wonder how I've gone this long in my life without this.

Without her.

a Rafflecopter giveaway
Lilly Avalon is the author of the RESIST series as well as other erotic romances. She's somewhere in the midst of her twenties and lives mostly in the stories in her head. When she's not enveloped in the worlds she creates, she's out in the real world making stories happen. That or reading other romances. It's a toss-up.
Goodreads | Amazon | iBooks | Barnes & Noble
Goodreads | Website | Twitter | Facebook