Follow the Whole Tour HERE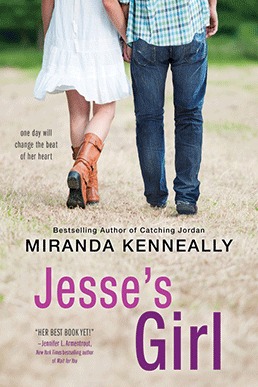 Jesse's Girl (Hundred Oaks)
by Miranda Kenneally.
Audience/Genre: Young Adult, Contemporary.
Publication: July 7th 2015 by Sourcebooks Fire.
Practice Makes Perfect.

Everyone at Hundred Oaks High knows that career mentoring day is a joke. So when Maya Henry said she wanted to be a rock star, she never imagined she'd get to shadow *the* Jesse Scott, Nashville's teen idol.

But spending the day with Jesse is far from a dream come true. He's as gorgeous as his music, but seeing all that he's accomplished is just a reminder of everything Maya's lost: her trust, her boyfriend, their band, and any chance to play the music she craves. Not to mention that Jesse's pushy and opinionated. He made it on his own, and he thinks Maya's playing back up to other people's dreams. Does she have what it takes to follow her heart—and go solo?
Reviewed by Kelly.
This is the first book I have ever read by Miranda Kenneally although I have wanted to read the other books in the Hundred Oaks series. I really enjoyed it and I now need to go back and read the others, especially Sam and Jordan's story. Those two are hilarious!
This story is about Sam's sister, Maya. Maya is a good person. She loves her family and they are a good family. Their money is tight but they don't care for material things. They are all about family.
Maya plays the guitar and is in a band called The Fringe. She put them together. She sings but gets nervous going solo. So she sticks to singing as backup. Her band has been doing a lot of heavy metal but she wants to branch out and sing other things. Her favorite is 80's music. She has her own unique style of dressing; kind of punk. But don't stereotype her because she is sweet and very kind and real. Nate, the skumbucket from the band that he is, used Maya for his own selfish desires and then said that Maya wasn't right for the band and they had found someone else to replace her! She handpicked each of the members of the band and put them together. She is devastated because it is all she ever wanted was to be part of a band. She doesn't know what to do now. Side note- the band doesn't do as well without her (HA- so there!)!
Meanwhile back in school, it is time to shadow someone for a day to explore what you want to do when you grow up. Maya thinks she will end up in a music store but to her surprise she is paired up with Jesse Scott, a country music superstar who is 19. At first she despises him because he is rude. But during the day she is with him, she learns that he has no friends, most people just want to use him to get an audition or just to endorse themselves in the media. So he has kicked everyone to the curb. Maya also learns that his family won't have anything to do with them because they believe everything he is doing is sinful and he hasn't seen them in years. Maya sees that he is hurt over this and that is why he is going to retire in a year. He wants to be accepted by his parents. Maya finds herself grateful for her own family. The two end up not following the script for the day and Maya has a wonderful adventure with Jesse. She even gets to go to the studio and he gives her his spot with his vocal coach. They teach her a lot. Then they go have some fun too. But that fun turns into the press taking tons of photos and videos of them. So needless to say Maya will be serving some detention for not sticking to the script. But she wouldn't have it any other way. She learns a lot and Jesse begins to trust her.
Maya and Jesse have differences in spending money. Maya doesn't want for things. Jesse doesn't care what things cost. She sees he can make a difference for others who can't afford lessons. But she doesn't say anything because neither can she (afford lessons that is).
What I liked was the inner monologue. Maya thinks about her own life and how she feels about things and what Jesse might be feeling and how can she help him. She is really sweet. Jesse learns quite a bit from her too.
I loved how Sam is way overprotective of her and how his girlfriend Jordan handles him and the funny antics between the two. I have got to read that one next, yeah I know I said it already, I just said it again! Sam is bigger than Jesse and gives him the look often, you know the one where if you touch my sister I will kill you or I know what you did!
So if you like country music, rock, 80's music, finding who your real family is (friends that support you), guitars, cars and motorcycles, humor, learning to trust others, being who you are, singing on a boat, cats, sports, or just learning to love someone than this book might be for you! But even if you don't like the above it could be for you because I don't like to go to concerts (they are too overcrowded for me). I don't know anything about cars; I can barely change my own tire. I can't sing either. I also need to explore more because there were a lot of hidden places in the book that even Maya didn't know existed and I want to find some of those places. But I still loved it and laughed a lot.
a Rafflecopter giveaway
Growing up in Tennessee, Miranda Kenneally dreamed of becoming an Atlanta Brave, a country singer (cliché!), or a UN interpreter. Instead she writes, and works for the State Department in Washington, D.C., where George W. Bush once used her shoulder as an armrest. Miranda loves Twitter, Star Trek and her husband.

Goodreads | Amazon | The Book Depository | Barnes & Noble
Goodreads | Website | Twitter | Facebook