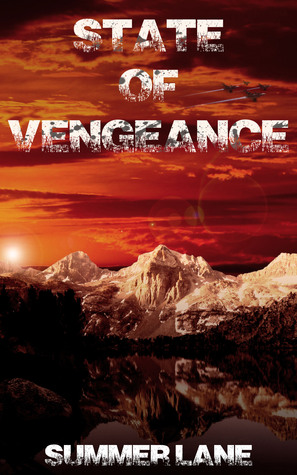 State of Vengeance (Collapse #6)
by Summer Lane.
Audience/Genre: Dystopia, New Adult.
Publication: June 26th 2015.
Vengeance is coming.
Monterey Bay, California, has barely survived a brutal attack from the evil invasion forces of Omega, and Cassidy Hart is exhausted. She has lost a friend and gained a new enemy. The militias seem to be weakening, and Omega seems to be getting stronger.

In an effort to recruit more troops, Cassidy travels to the desolation of the high mountains to find the mysterious troops of Sky City, and to eliminate a threat that has long been growing just out of the militia's reach.
Cassidy is not alone. Old enemies greet her, and the most dangerous person of all just might be the one she trusts the most.
The fate of the free world is at stake. The end is coming.
The militias - or Omega - will have its revenge.

Book #6 of The International Bestselling Collapse Series
"I'm trained to protect," Chris answers, never wavering. "I'm trained to eliminate those people who would hurt my family, and my country. Anything beyond that is wrong." He shakes his head. "I just don't want you to get used to killing, Cassidy. You're better than that."
I rest my hands on my hips.
"I hate killing," I say. "But I hate Omega more."
A cool gust of wind blows Chris's hair into his face.
"We do what we have to so that we can survive," Chris tells me. "We don't do it for any other reason than to protect and serve."
I turn away from him, angry, unshed tears spilling onto my cheeks.
"This isn't just about survival anymore," I say. "This is about revenge."

a Rafflecopter giveaway
Summer Lane is the author of the international bestselling Collapse Series and Zero Trilogy. She owns WB Publishing and Writing Belle, an online magazine dedicated to the Art of Storytelling. Summer is also an accomplished creative writing teacher and professional journalist. She lives in the Central Valley of California where she creates her stories and shares them with the world.
Goodreads | Amazon | The Book Depository | Barnes & Noble
Goodreads | Website | Twitter | Facebook