Follow the whole tour HERE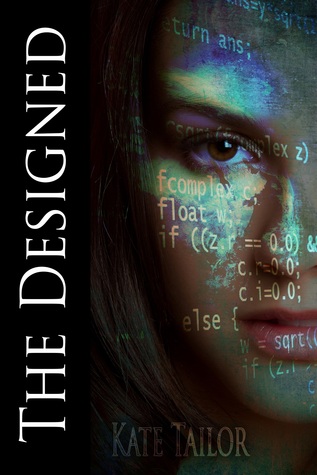 The Designed (The Designed Series #1)
by Kate Tailor.
Audience/Genre: New Adult, Science Fiction.
Publication: January 26th 2015.
What if the next new drug was you? Raleigh's body produces a drug that could define the future of medicine if the dangerous world surrounding it doesn't kill her first.

Eighteen-year old Raleigh Groves can sense disease in others and is suffering from her own unexplained illness as well. After years and dozens of doctor visits, she has given up hope of ever finding a cure, let alone a diagnosis. Then she meets a man who explains that her talent and curse are linked. Her body produces a drug, Lucidin, which allows her to sense others. She's rare, and the drug she makes is coveted.

Rho has spent the last few years on the run. The Lucidin that is racing through his system makes him a target. Surrounded by addicts and dealers on one side and scientists and doctors on the other, he has to rely on his wits and his team to stay one step ahead. So far he has stayed afloat, but some of his brothers haven't been as lucky.
As Rho and Raleigh collide they must face the perilous world of Lucidin together. Nothing is black-and-white and Raleigh must decide where her alliances lie. Sometimes the hardest heart to sense is your own.
Reviewed by Kelly.
This book is well written and full of suspense and intrigue. It is not an easy or light read. It is detailed and with a lot of medical terminology that is well explained to the reader. I am a nurse and so I got into the medical and scientific part of the story and it was quite believable.
Raleigh is a great main character. She has been passing out for years. She finds that she can diagnose people's diseases and she can sense people when they are around her. Her family loves her and they have been looking for a cure for years. Her mom won't talk about it when she goes to the hospital with her uncle and help with diagnosing. Her mom is a little scared (I would be too!).
Her uncle and his coworker found Henry, a doctor who says he can help her, so she goes to Belgium to get her Lucid extracted. That is what has been making her faint. She makes too much of it. It kind of gives you a high but it helps you sense people and other things. People desire this, and some are addicted to it. Some people make it naturally and some of those don't feel anything from their own Lucid that they make. Those just get extractions to give to the scientists for study or for the black market. This is where I started to see the lines of right and wrong start to blur.
Henry explains everything to her. I like him. He is a kind man and a genuine Scientist. While there she meets Rho from the designed who in bad shape after being extracted to near death. The designed are those who were made scientifically to make this drug. But the designed are twelve brothers all with Greek names. Raleigh gives him a long transfusion of her own Lucid and he gets better. He is grateful and wants to take her with them. Woooo, stop right there! Why would Henry allow her to go with these guys? I don't know either; I guess it is a book thing. She is more like Rho and people will use her for her Lucid when they find out that she was born and can make an abundant amount. Rho takes a liking to her and feels he needs to protect her. There are people after the Designed. They want them to be killed or captured for their Lucid and extreme soldier like qualities that makes them dangerous. To Whom though? When they leave, she meets some of Rho's brothers. Sigma is very harsh. He is scary too! I wouldn't want to be around him. He decides to use her to see if she can be trusted to go find the two brothers Mu and Tau who have been captured by their enemies. So she infiltrates and is alone.
From there the two sides become blurred to me. In the beginning, Raleigh heard Rho's story now she is in the scientific community and hears their story both have advantages and disadvantages and both sides have mistakes. Raleigh seems to be in the middle and does what she feels best to do. She makes friends and gets some of them to see that they can do more and others she chooses not to trust.
The story goes back and forth between different Points of View.
Then it is all action. I like that; action, drama, suspense and medicine. I like that Raleigh has to determine who is good and bad and what to do and who to trust. She wants to do well in the world and she feels like she can. I want to have the next book now, because I want to see what happens to them all!
a Rafflecopter giveaway
a Rafflecopter giveaway
Kate Tailor lives in Boulder, Colorado. She has a background in molecular biology and pharmacology. Writing has been a passion of hers since she was young.
Goodreads | Amazon | The Book Depository | Barnes & Noble
Goodreads | Website | Twitter | Facebook