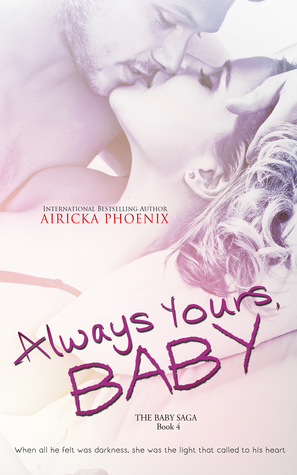 Always Yours, Baby *Damon & Willa* (The Baby Saga #4)
by Airicka Phoenix.
Audience/Genre: New Adult, Contemporary Romance.
Publication: May 25th 2015.
How could someone so pure want filth like him?

Damon Comb was no stranger to pain, hunger, loneliness, and abandonment. Being given a family that would die for one another didn't erase six years of torture. It didn't take away the nightmares. She did. She was everything someone like him should never be allowed. She was goodness and strength and she made him human.

How could someone so broken complete her?

Willa McClain had it all, a family that adored each other, the love of an entire town and a future she worked her butt off to get. But all she wanted was the boy with the sad blue eyes and the crooked smile. He was her best friend, her protector and the only one who really understood her.

How could a love like theirs be extinguished?

But nothing ever lasted forever. Damon knew better than anyone how quickly the tides could change. Can he keep his past at bay before it consumes the only light in his dark world? Can he finally tell Willa the truth, or will his fears tear them apart forever?

How could love so strong ever fail?
Reviewed by Kelly
I loved how they Willa and Damon were friends who loved each and were afraid to lose each other by voicing it. Their relationship was so sweet and everyone but them knew that they loved each other more than just friends. When they did voice it, their relationship was deepened by their feelings. It was so so powerful and romantic.
Kudos to the author for showing that people wait to have sex. I hate books that start off with sex and I thought this is where it was starting out with. Then when it didn't my ratings for it went higher. There first time was awkward just like everyone else and I loved that she described it that way. But it was okay for them; they still loved each other and worked on it. It's not about the sex here but the fact they love each other and would work on it and learn to help each other in that regard.
Usually books start with two people getting to know each other. This book was different. They knew each other since they were kids and were always there for each other. I got comfortable with that. Get to the part where the tension started and I became anxious. I had to put the book down for a while. I so thoroughly was comforted by their relationship and how they were so kind and perfect for each other that I was caught off guard by something that would threaten it and had to step back for an hour to get myself together. How pathetic is that, for me to stop for a book. It had me worked up. I didn't want there to be anything wrong with them. Theirs was a fairy tale. I got back to it and I got into the action and the problems confronting them and then felt the warmth the whole family gave to each other and the love they have for Damen. A boy who was abused as a small child and adopted by the McLain's.
I am not going to say much more than I thoroughly enjoyed it. It had me tearing up and at times giggling. I found myself laughing at the memories they shared of their childhood. Ugh, can you tell this book has me whipped!!It was a book that showed how much family means and that with them and trust, love and honesty you have the world!
Now to go back and read the other's stories before Toby's comes out!Because this was the first book I read in this series!
a Rafflecopter giveaway
Airicka Phoenix is a romance junkie with an incurable addiction to chocolate. She is also a prolific author of several novels written for young adult and new adult romance addicts who love bad boys, hot kisses and a gritty plot. Airicka prides herself in producing quality material her readers can fall in love with again and again.

When she's not hard at work bleeding words onto paper, Airicka can be found cuddling with her family, reading, watching TV shows, or just finding excuses not to do chores.

Be the first for giveaways, teasers and upcoming releases by joining Airicka's newsletter on her website www.AirickaPhoenix.com

Goodreads | Amazon | The Book Depository
Goodreads | Website | Twitter | Facebook