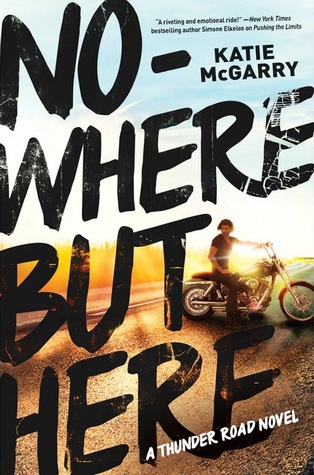 Nowhere But Here (Thunder Road #1)
by Katie McGarry.
Audience/Genre: Young Adult, Contemporary.
Publication: May 26th 2015 by Harlequin Teen.
An unforgettable new series from acclaimed author Katie McGarry about taking risks, opening your heart and ending up in a place you never imagined possible

Seventeen-year-old Emily likes her life the way it is: doting parents, good friends, good school in a safe neighborhood. Sure, she's curious about her biological father—the one who chose life in a motorcycle club, the Reign of Terror, over being a parent—but that doesn't mean she wants to be a part of his world. But when a reluctant visit turns to an extended summer vacation among relatives she never knew she had, one thing becomes clear: nothing is what it seems. Not the club, not her secret-keeping father and not Oz, a guy with suck-me-in blue eyes who can help her understand them both.

Oz wants one thing: to join the Reign of Terror. They're the good guys. They protect people. They're…family. And while Emily—the gorgeous and sheltered daughter of the club's most respected member—is in town, he's gonna prove it to her. So when her father asks him to keep her safe from a rival club with a score to settle, Oz knows it's his shot at his dream. What he doesn't count on is that Emily just might turn that dream upside down.

No one wants them to be together. But sometimes the right person is the one you least expect, and the road you fear the most is the one that leads you home.
Time is running out to preorder NOWHERE BUT HERE and fill out the form to receive Katie's full-length novel, CHASING IMPOSSIBLE. Don't miss this chance to get a free novel! This is the only way to get CHASING IMPOSSIBLE. Receive Chasing Impossible before it goes back into the Harlequin Teen vault! See below to get this amazing offer.
ABOUT CHASING IMPOSSIBLE

Tough and independent, 17-year-old Abby lets very few people into her inner circle. It's common knowledge in her Kentucky town that she deals drugs, but not even her closest friends know why. But when a deal goes south and Abby's suddenly in danger, she finds herself reluctantly forced to lean on daredevil Logan—a boy whose restless spirit matches her own.

Logan has his own reasons for wanting to keep Abby at arms' length. But he never expected to find in her the one person who might help him face the demons he's tried so hard to run from.

Together, Abby and Logan will have to make a decision: let their current circumstances weigh them down forever…or fight for the future they both thought was impossible.
Register your Pre-Order
and you'll get the eBook you've been asking for, Abby's Story, CHASING IMPOSSIBLE absolutely free! PLUS, you'll also be entered to win a $500 VISA Gift Card! Register at
http://bit.ly/1Mt8cjr
.
Katie McGarry was a teenager during the age of grunge and boy bands and remembers those years as the best and worst of her life. She is a lover of music, happy endings, reality television, and is a secret University of Kentucky basketball fan.

Katie is the author of full length YA novels, PUSHING THE LIMITS, DARE YOU TO, CRASH INTO YOU, TAKE ME ON, BREAKING THE RULES, and NOWHERE BUT HERE and the e-novellas, CROSSING THE LINE and RED AT NIGHT. Her debut YA novel, PUSHING THE LIMITS was a 2012 Goodreads Choice Finalist for YA Fiction, a RT Magazine's 2012 Reviewer's Choice Awards Nominee for Young Adult Contemporary Novel, a double Rita Finalist, and a 2013 YALSA Top Ten Teen Pick. DARE YOU TO was also a Goodreads Choice Finalist for YA Fiction and won RT Magazine's Reviewer's Choice Best Book Award for Young Adult Contemporary fiction in 2013.
Goodreads | Amazon | The Book Depository
Goodreads | Website | Twitter | Facebook