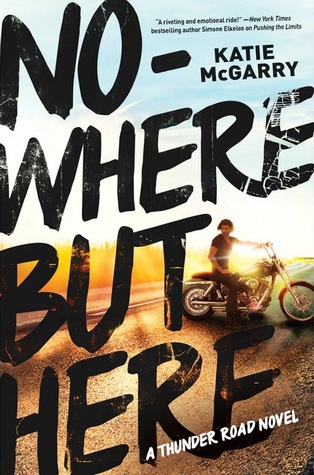 Nowhere But Here (Thunder Road #1)
by Katie McGarry.
Audience/Genre: Young Adult, Contemporary.
Publication: May 26th 2015 by Harlequin Teen.
An unforgettable new series from acclaimed author Katie McGarry about taking risks, opening your heart and ending up in a place you never imagined possible

Seventeen-year-old Emily likes her life the way it is: doting parents, good friends, good school in a safe neighborhood. Sure, she's curious about her biological father—the one who chose life in a motorcycle club, the Reign of Terror, over being a parent—but that doesn't mean she wants to be a part of his world. But when a reluctant visit turns to an extended summer vacation among relatives she never knew she had, one thing becomes clear: nothing is what it seems. Not the club, not her secret-keeping father and not Oz, a guy with suck-me-in blue eyes who can help her understand them both.

Oz wants one thing: to join the Reign of Terror. They're the good guys. They protect people. They're…family. And while Emily—the gorgeous and sheltered daughter of the club's most respected member—is in town, he's gonna prove it to her. So when her father asks him to keep her safe from a rival club with a score to settle, Oz knows it's his shot at his dream. What he doesn't count on is that Emily just might turn that dream upside down.

No one wants them to be together. But sometimes the right person is the one you least expect, and the road you fear the most is the one that leads you home.
Reviewed by Kelly
And we have a Touchdown!! Score another great story by Katie McGarry!
This book went by way too fast! The characters were intriguing. The plot more than fantastic! There was an element of mystery and suspense that kept me more than just engaged, it kept me wanting to know more and more and not allowing me to stop for anything. (Sorry to my family!) I really had no idea what the secrets and the lies were about! I had some inkling but I didn't see it coming until it was revealed and my heart was pumping hard in a "NO WAY!" fashion. I also liked the dual POV.
I was reluctant to read this book. I am not into MC books. But it was Katie McGarry here and so I read it! I am so glad I did. Because I judged and this book was like a slap to my face for judging others! And I needed Kleenex in the end because I was so wrapped up in all that was Emily and Oz and their MC family that I was happy for them and all that they went through to get to the end.
Anyway, Emily met her biological father a few years back. She was curious. But it was always awkward. She was happy with her mom and her adoptive father. But a message came that kind of said that Olivia had died. So, Emily's mom decided to go to the wake. They all get separated and Emily is talking to her biological father, Eli, when Olivia (Emily's biological grandmother) sits up in the coffin and scares Emily to screaming. Then after some major chaos, Emily is with Oz (a boy about her age and very attractive to Emily) and still scared but she has just enough spunk to both admire Oz and let him have it. And Oz is interested!
They're probably wondering if I'm going to spaz any any second. So here's the thing: they may not be wrong.
Oz is tasked to follow Emily and protect her from some kind of danger in the form of a rival MC that is illegitimate. While waiting outside their motel, Oz falls asleep. He wakes to noise seeing Emily outside getting a drink from the vending machine and someone else outside. He calls to alert Eli and grabs Emily and they are backed up in a spider web infested corner, waiting for danger to pass. Meanwhile, they both notice how close they are to each other and they both don't seem to mind. The chemistry is palpable between them. Yet at the same time, Oz can't wait for her to leave. Her family has been a sore spot for the Reign of Terror MC
Next thing you know, Emily is staying with her grandmother. Emily's parents go home and let her spend time with Eli's family. There we find out that there are secrets and lies. Because nothing adds up in Emily's mind. Why would he be so interested in her if he gave his rights up? What is this picture about that Olivia gave her that has a baby picture of her in it? Oz is waiting to become a full fledged member for the Reign of Terror MC. It's family. He is so sweet and kind to others and he screwed up his mission and he won't do it again. He wants to be part of this world so badly. But his family wants more for him. He lived with Olivia for years before going back to live with his family.
I loved the witty banter between just about anyone in this book. But I loved this one between Oz and Emily...
"You almost kissed me and so now you're going to behave like an ass?" "I didn't hear you telling me to stop, and if your going to call me a name, get it right. I'm an asshole." I cross my arms over my chest. "My apologies. I forgot that you wanted me to own my opinions. You're right. You are an asshole."
Now Emily has a very limited time to figure out the lies and secrets that are about her. She is also growing very fond of her grandmother Olivia. Olivia is dying of cancer and wants Emily to figure the truth out and be happy. Emily wants the truth too. Everyone seems to know things and even Oz won't tell her the secrets. But Oz doesn't even know it all. Time is ticking and as Emily gets closer to answers, she only finds more questions and now she is in more danger. Or is it all a game as her adopted dad seems to think it is.
The only thing I didn't like was their makeout scenes. I dunno but it was …. Weird?
One thing is for sure, you will have your own questions and you will demand nothing less than the truth as you read this and find yourself wanting Emily to figure it all out and find happiness with Oz.
Katie McGarry was a teenager during the age of grunge and boy bands and remembers those years as the best and worst of her life. She is a lover of music, happy endings, reality television, and is a secret University of Kentucky basketball fan.

Katie is the author of full length YA novels, PUSHING THE LIMITS, DARE YOU TO, CRASH INTO YOU, TAKE ME ON, BREAKING THE RULES, and NOWHERE BUT HERE and the e-novellas, CROSSING THE LINE and RED AT NIGHT. Her debut YA novel, PUSHING THE LIMITS was a 2012 Goodreads Choice Finalist for YA Fiction, a RT Magazine's 2012 Reviewer's Choice Awards Nominee for Young Adult Contemporary Novel, a double Rita Finalist, and a 2013 YALSA Top Ten Teen Pick. DARE YOU TO was also a Goodreads Choice Finalist for YA Fiction and won RT Magazine's Reviewer's Choice Best Book Award for Young Adult Contemporary fiction in 2013.
Goodreads | Amazon | The Book Depository
Goodreads | Website | Twitter | Facebook