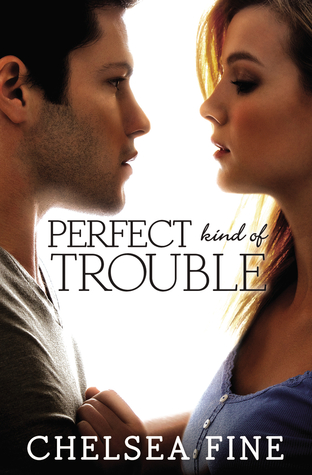 Perfect Kind of Trouble (Finding Fate #2)
by Chelsea Fine.
Audience/Genre: New Adult, Contemporary Romance.
Publication: June 17th 2014 by Forever.
Source: Net Galley
Sometimes when perfect falls apart, a little trouble fixes everything . . .

Twenty-one-year-old Kayla Turner has lost everything. After spending most of her life taking care of her ailing mother, she just wants to spot a glimmer of light at the end of the tunnel. So when her late father-a man she barely knew-leaves her an inheritance, she finally breathes a sigh of relief . . . until she learns the inheritance comes with strings. Strings in the form of handsome playboy Daren Ackwood, her father's protégé. To see any of her inheritance, she's forced to team up with him. From his expensive car to those sexy dimples, Kayla's seen his type before. But Daren isn't who he seems to be . . .

Struggling to make amends for his family's mistakes, Daren has a life more Oliver Twist than Richie Rich these days. He's beyond grateful that James Turner included him in his will, but working with Turner's princess of a daughter to fulfill his cryptic last wish is making Daren wonder if being broke is really so bad. Still, she's just as beautiful as she is stubborn, and the more time he spends with Kayla, the less it feels right being without her. Soon Daren and Kayla begin to wonder if maybe the best gift Kayla's dad could have left them . . . was each other.
Reviewed by Kelly.
Ugh, I balled like a baby with this book. I mean this is a story of a boy, Daren, who grew up with lots of money but no love from his parents. And then lost everything else, so he is penniless and sort of homeless. There is also an old scandal from his family. But Daren doesn't want anything to do with his alcoholic father who is currently in jail. Darren has the sense of right and wrong, he is responsible and isn't who you think you see on the outside. Then we have this girl, Kayla, who had money and a family and her parents divorced and her mother took her away from her wealthy father. Then her mother just couldn't be responsible enough and they were always broke, while Kayla grew up thinking her father wanted nothing to do with her and stopped sending them child support and alimony and stopped calling too. So she kind of didn't want anything to do with her father either.
Then when Kayla's father dies, she goes to the funeral with barely just the clothes on her back and her mother's old car. Kayla's mother died a little while ago. Now she is alone because she didn't even know her dad was sick. She has mere dollars to her name. Her mother left a $20k debt to her name because she was such a user and now the lender wants Kayla to pay it back.
Daren also goes to the funeral. Kayla's dad was more of a father to Daren then his own dad was. He taught Daren responsibility and kindness and life lessons. But Daren didn't know he was sick either.
So, they are both called in to the lawyer's office for the will. Kayla is angry when she finds out that in order to get inheritance money, she would have to be handcuffed with Daren and find clues to get the money for them both. Kayla and Daren both want all the money. Each thinking the other is spoiled and rich from the rumors they heard over the years.
And this is what I liked about the story. They had time together, handcuffed, but still with time to learn about each other and find the realities of each of their current state of affairs. They were both good people and did the best they could in life. They have a wonderful journey in finding more about each other and about letting go the hurt and finding love in its place.
The story kind of reminds me of Pride and Prejudice!
I cried because Ms Fine writes stories that really let you see what the characters are really deep inside. They show all the hurt, anger, hopes and dreams and lay them out with all their ugliness and beauty for everyone to see. It is more real than most stories I read. It shows how people care, how people can be selfish, and how people will hold on with hope that you will love them unconditionally.
Favorite quote:
"This is the best lunch I've ever had," he says, shoving the last of his pretzel into his mouth."I know." I say over a mouthful of popcorn. Two middle-aged women walk past us with looks of confusion. I glance over our appearances and try to see us through their eyes. We have dirt on our faces, candy in our mouths, and metal restraints around our wrists as we stand in a corner of the park. We look like two jacked-up toddlers in time-out.
Chelsea lives in Phoenix, Arizona where she spends most of her time writing stories, painting murals, and avoiding housework at all costs. She's ridiculously bad at doing dishes and claims to be allergic to laundry. Her obsessions include: superheroes, coffee, sleeping-in, and crazy socks. She lives with her husband and two children, who graciously tolerate her inability to resist teenage drama on TV and her complete lack of skill in the kitchen.
Goodreads | Amazon | B & N
Goodreads | Website | Twitter | Facebook