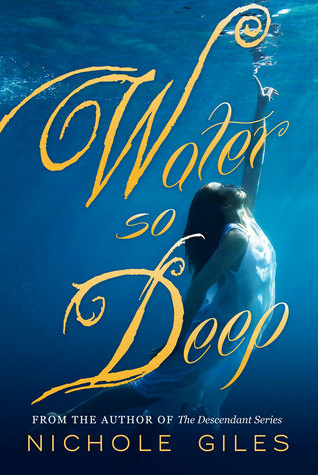 Water So Deep
by Nichole Giles.
Audience/Genre: Young Adult, Fantasy.
Publication: February 2nd 2015 by Jelly Bean Publishing.
Seventeen-year-old Emma Harris is drowning on dry land.

No one knows what's happening to her, and she'd like to keep her evolution from human to mermaid a secret, but the truth is getting harder and harder to hide. From her adoptive family, from her friends, and especially from the irresistible James Phelps.

Her time in the ocean is spent dodging a possessive merman, while her time on land is split between caring for her special-needs brother and squeezing in every last possible moment of human life. She soon realizes falling for James is unavoidable when he constantly comes to Emma's rescue and somehow manages to see through her carefully constructed icy facade to the vulnerability she lives with every day. Everything about James makes Emma yearn for a life on land she just can't have.

When Emma's brother disappears on her watch, James is the only person she trusts to help her save him. But even if they can save her brother, nothing can prevent her return to the sea. Whether she likes it or not, Emma is changing—unable to breathe without yielding to the tide—and it's only a matter of time before she's forced to surrender forever.
Reviewed by Kelly.
First, don't let the title fool you because there had better be a second book to this one or I just might explode! I might explode any way waiting for it! If I could give it 10 stars I would. Water So Deep sucked me in from the first page, so at the last page when the cliff hanger happened I was like, "NO. WAY."! I want answers now! I was left so sad and furious at the ending!
Water So Deep is an easy to follow storyline. It isn't totally original but it yet it had its own twist to it. Which I really liked.
We start off with Emma who has this horrific experience after prom one night. Her then sort of boyfriend wanted more than just dancing at prom and when Emma makes him take her home, he hangs around and follows her to her secret hiding place by the ocean. There she changes into her bathing suit and swims. She swims because she is changing into a mermaid and needs the salt water more and more as she gets closer to eighteen. Emma has learned that she is betrothed to Merrick, a merman. And he always seems to be there when she goes swimming. So when Tom (her scum bag prom date) sees her coming out of the cove and a very naked Merrick (the merman who can change and breathe air) arguing with her, he accuses her of being a slut and attacks her. She ends up in the hospital. Tom is sent to jail. Good riddance!
Emma was left on her Gran's doorstep to be raised until it is time for her to go back to Atlantis. She is the only one who knows about who Emma is. And Gran and she decide it is best to keep it to themselves for the time being. I don't get why!?! Emma is really likeable but since she has this secret, she has to lie. She needs her Gran help her to figure out what to do because ever since the day she was attacked everyone believes she is easy. She doesn't correct them because she will be leaving. But it still hurts. She just wants to spend time with her special needs brother Keith, whom she utterly adores and will do anything for him, and her parents before she has to leave forever to live in a place she knows nothing about. To a place where she has to marry this merman she doesn't like. To a place where her parents live, the ones who have never visited her. She wants nothing to do with it, but she will die if she doesn't go and she so desperately wants to find a way to stay on land.
James is a sweet guy who happens to really like Emma. He is the new guy in school. James finds himself falling for her. He doesn't take no for an answer, like for anything. The more time they spend together, the harder they fall for each other.
Emma goes hot and cold on him. She wants him, but doesn't want to put him through the heartache when she has to leave and she doesn't want the heartbreak either. But it is too late; they both are in too deep with each other. I can't imagine what it would be like to have to go somewhere all alone to a place she knows no one except this guy she doesn't like.
So, Emma's parents go to Greece and leaves Emma in charge. James is at the house when someone throws a rock in the window and it totally freaks Emma out. Is it Tom? Is it Merrick? Emma is scared and James, the good guy that he is, even though Emma sometimes treats him badly to save him from heartache, is there for her and helps her patch the window and stays on the couch overnight. How many guys would behave their raging teenager hormones and be what Emma needs?
The last quarter of the book, kept me on my toes. There was so much going on and so many twists, that I gobbled up the rest of the book and then bam! I need to know now what happens. Because Emma and James are good for each other and Keith needs Emma. I know a lot of people didn't like it. I liked it because Emma and James are a little more mature than most teenagers. Emma loves her family. She wants to stay on land instead of live in a life she knows little to nothing about. Emma and James have been through a lot and I want to see them together.
Contents: While there is abuse to Emma it isn't described in too much detail. There is mention of nudity but it is only to say he is naked and make you believe something bad happened.
Nichole Giles had early career plans of becoming an actress or a rock star, but she decided instead to have a family and then become a writer. Writing is her passion, but she also loves to spend time with her husband and children, travel to tropical and exotic destinations, drive in the rain with the convertible top down, and play music at full volume so she can sing along.

Goodreads | Amazon | The Book Depository
Goodreads | Website | Twitter | Facebook