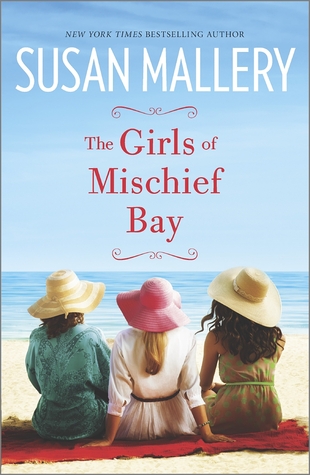 The Girls of Mischief Bay (Mischief Bay #1)
by Susan Mallery.
Audience/Genre: Adult,Contemporary Romance.
Publication: February 24th 2015 by Mira.
Nicole Lord wants to be a good wife, but there's a difference between being supportive and supporting her husband, who quit his job to write a screenplay she's never seen. He won't even help take care of their son, leaving Nicole to run the house and work full-time at her Mischief Bay Pilates studio. Can she say enough is enough without losing the man she loves?

Sacrificing a personal life for her career is how Shannon Rigg rose to become vice president in her firm, but she wonders now whether she made the right choice. An exciting new relationship with a great guy convinces her that it might not be too late—until he drops a bombshell that has her questioning whether she can have it all. And if she can, does she want it?

Although Pam Eiland has a beautiful house and a husband she adores, she feels… restless. She wonders who a stay-at-home mom becomes after the kids are grown. Finding sexy new ways to surprise her husband brings the heat and the humor back to their marriage, but when unexpected change turns her life upside down, she'll have to redefine herself. Again.

Through romance and heartbreak, laughter and tears, three very different women will discover that friends can become family, and that life is richer with sisters at your side
Nicole turned on the coffeemaker and leaned against the counter to wait for it to work its magic. It was early still. Quiet. The time of day she liked best - except when she was exhausted, which was most of the time.
She told herself that eventually the situation would get better. That she would figure out a schedule that worked, that her son Tyler would get older and need her less, that Eric would get a real job and started helping support the family again.
The last thought made her feel both guilty and angry. Because as much as she loved her husband, there were times when she didn't like him very much.
No, she thought. She didn't like what he'd done.
Before he'd quiet his well-paying software development job to write a screenplay, things had seemed more balanced. But lately... not so much.
She told herself she had to be fair. That he had the right to follow his dream. Only it wasn't the dream she minded as much as the fact that he hadn't asked her first. He'd announced it two days after he'd already resigned.
It had been a Friday morning. Eric had walked in to the kitchen, wearing shorts and a T-shirt.
"Don't you have to get dressed for work?" she'd asked.
He'd taken her hand. "I've quit my job. I'm going to write a screenplay."
Then she hadn't heard anything beyond the keen screaming of fear that had filled her head.
Quit? How could he quit? They had a mortgage and she was still paying back her old boss for buying out the exercise studio. They had a four-year old and nearly no savings. They'd put off having a second kid because they couldn't afford it.
"Mommy?"
She turned as Tyler walked into the kitchen. He was tousled and still half-asleep. One hand held his battered, red stuffed toy, Brad the Dragon.
She pretended to stagger as she lifted him. "You grew!"
He giggled at the familiar comment. "I can't grow every night."
She kissed his cheek and breathed in the scent of his skin. Whatever else went wrong in her day, Tyler was always right.
"How did you sleep?"
"Good." He snuggled close. "Brad had bad dreams, but I said he was safe with me."
"I'm sure he appreciated having you to protect him."
She carried Tyler over to the table. He released her to stand on his chair. With a quick, graceful movement, he settled into a sitting position.
She walked over to the pantry. "Oatmeal and berries?" she asked.
Tyler looked at Brad the Dragon, then nodded. "We like that."
Nicole would have been worried about her son's constant companion, except Brad stayed home when Tyler went to preschool and from everything she'd read, his attachment was completely normal. She was sure having a couple more siblings would ease his dependence on the stuffed toy, but there was no way that was happening anytime soon. She was barely able to keep him financially afloat as it was. If she got pregnant... She didn't want to think about it.
Not that it was much of an issue. She barely saw Eric these days. They passed in the hall and their brief discussions were generally about logistics regarding Tyler. Sex wasn't happening.
As she measured out the oatmeal, she mentally paused to wonder if Eric was cheating on her. He was by himself every day. She didn't know how much time he spent writing. Once he was done surfing for the day, he could be seeing anyone.
Her stomach tightened at the thought, then she turned her attention back to getting breakfast for her son. She had to get Tyler fed and dressed. Once she got him to preschool, she had a full day of classes to teach, payroll to run, groceries to buy and life to deal with. Worrying about Eric's possible affairs was way down her list.
As she carried the oatmeal over to Tyler, she thought maybe her lack of concern was the biggest problem of all. The question was - what, if anything, did she do about it?
Go Here to see a map of Mischief Bay and then HERE to see Susan's website just for Mischief Baay
Giveaway:
In USA only
One person will win a copy of The Girls of Mischief Bay
Another person will win a Susan Mallory Prize Pack of:
· Map of Mischief Bay
· Map of Fool's Gold
· The Girls of Mischief Bay Post-It Book
· Susan Mallery Lip Gloss
· Susan Mallery Pen
a Rafflecopter giveaway
New York Times bestselling author Susan Mallery is known for emotionally complex stories told with charm and wit. With a keen eye for human nature, she breathes life into characters on the page and was recently honored with the prestigious National Readers Choice Award. Susan has lived all over the United States, including a childhood in the suburbs of Los Angeles, gradute school in the hills of Pennsylvania and several years in Texas. These days, she makes her home in Seattle, Washington. She's there for the coffee, not the weather.

Find Susan online at susanmallery.com. She's also very active on Facebook, Twitter, Goodreads, and has been known to invite her fans to help her name characters and brainstorm aspects of her books.
Goodreads | Amazon | The Book Depository
Goodreads | Website | Twitter | Facebook