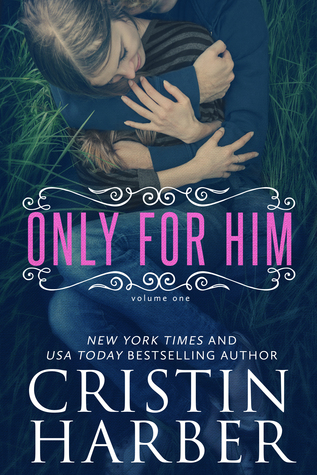 Only for Him (Only #1)
by Cristin Harber.
Audience/Genre: New Adult, Contemporary Romance, Military, Abuse.
Publication: February 24th 2015 by Mill Creek Press.
Grayson Ford and Emma Kinglsey—close since they were kids, opposites in every way. He's the stuff high school crushes are made of, Mister Popular, and captain of every team. She's artsy, cute, and not in his league, though fully aware of Summerland's "I Dream of Dating Grayson Ford" support group.

I can't say no. The girl's had my heart since before I knew it went missing.

He hides a life of hell. His father hates him, his mother's gone. Emma is his only savior, yet she doesn't know her power over him. She's the only girl he wants, the only one he could ever tell—though he won't.

I'm stronger, bigger, more of a man than he'll ever be, but because I ruined his life, I've taken his crap, his attacks, the vulgar nature of his existence.

Until she discovers Gray's embarrassment, his humiliation. Emma fights for him, for a chance. Theirs is a Cinderella story that she believes impossible. But as the layers peel back, it's just a guy who needs a girl in order to keep breathing.

My mind is already doodling Mrs. Grayson Ford in imaginary notebooks. He has no clue where my head is at… But, given that I didn't see what just happened coming, maybe I have no clue where his head is at either.
______

* ONLY FOR HIM is the first book in the Only series, all of which will release in Spring 2015.
Reviewed by Kelly.
For a book with only a handful of pages, it packs a wallop and leaves you with your jaw hanging wide open! Because, dang it, it is a cliff hanger and has some major changes that … I. Did. Not. See. Coming.
In the beginning we see Grayson with his abusive dad. We also get into Grayson's head where he somehow feels like he deserves it for some reason. Which by the end we only get a glimpse of the possibility of what happened to make him feel this way.
Grayson has always loved Emma. Grayson is also Emma's brother's best friend. So, Grayson is always at their home. No one has ever been to Grayson's home. (Ugh, if you can call it a home, it is just a house where people live not a home with a loving family) Grayson and Emma are also best friends but both have harbored strong feelings for each other and never voiced it. Until one day, he does.
Grayson's bruises are mostly ignored or tossed off as from Football or baseball practice. But everyone has suspicions just no one does anything about it. My heart just breaks for him while reading all he has endured. No one should live like that and feel that way about themselves.
From there on, I don't want to spoil any of it for you. It is intense. It shows their bond. And then everything falls apart.
There is so much emotion and turmoil that I can't even begin to put into words because it's just wow and I want the rest of the series now because I can't be left hanging. I got to know what happens to both of them.
If you want an emotionally charged book with abuse, and love, and becoming your own person look no further because this is it!
Cristin Harber is a New York Times and USA Today bestselling romance author. She writes sexy, steamy romantic suspense and military romance. Fans voted her onto Amazon's Top Picks for Debut Romance Authors in 2013, and her debut Titan series was both a #1 romantic suspense and #1 military romance bestseller.
Goodreads | Amazon | The Book Depository
Goodreads | Website | Twitter | Facebook